Bedpage 24 is a classified to list your adverts for a miniature amount, and you can list as many adverts as you wish. It is also a useful "tool" for SEO bloggers and marketers looking to garner more high DA backlinks to their websites or clients' sites. The Bedpage 24 website is pretty intuitive and loads fast on any browser.
Bedpage 24 launched as an alternative to the famous Backpage website that reigned in the early 2000s. The website attracts a huge number of visitors daily, and there are many categories to list your ads. Here's a comprehensive review of Bedpage 24 and how to use the website for ad listing.
Bedpage 24 Overview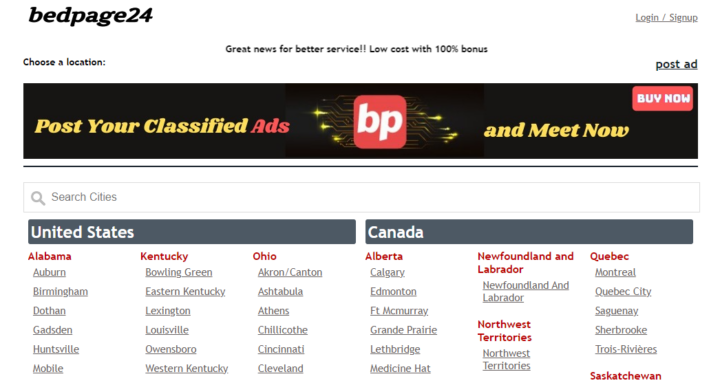 Bedpage 24 is a free website where marketers and advertisers go to post adverts or build backlinks at a much cheaper rate. The Bedpage 24 website gets massive daily traffic from visitors around the globe who are coming to click on ads and read articles or watch videos.
Of course, the Bedpage 24 website has links and ads that lead to different adult websites where you can watch erotic content or stream live top-rated content. There are links to other useful resources – in case you want to read books, magazine news, and more.
Generally, Bedpage 24 is a popular online (digital) newspaper that publishes updates (news, videos, articles, books, and magazines) across various categories. Bedpage 24 advertises itself as the best alternative to Backpage, featuring a simple UI and safety measures.
How to Use Bedpage 24?
If you do not intend to list your ads or publish them on the website, you can use the Bedpage 24 website like every other classified website out there. This means you wouldn't have to sign up and have an account. Notwithstanding, you can only explore all features of the Bedpage 24 website when you're a registered user.
1. Sign Up on the Platform

Visit the official Bedpage 24 website and click/tap on the "log in/signup" button on the top page to create an account. You can create an account using your Google Gmail (no additional verification is required). After signing up, you will be redirected to your dashboard page.
2. Post Free Ads or Buy Credits

You can post ads for free on Bedpage 24, however, free ads are not shown to more visitors. To promote your ad postings, you need "Credits" and these credits can only be bought with Bitcoin. Free ads also get clicked on and get lots of responses – you probably do not need to buy the "Credits."
3. Create an Ad in One City or Multiple Cities

When you select the type of ad you want to publish, you'd have to choose the location (country) you are targeting. You can target multiple regions with the "Post in multiple cities" option. After choosing a target country, you have to choose a category for your ad, and also pick a subcategory.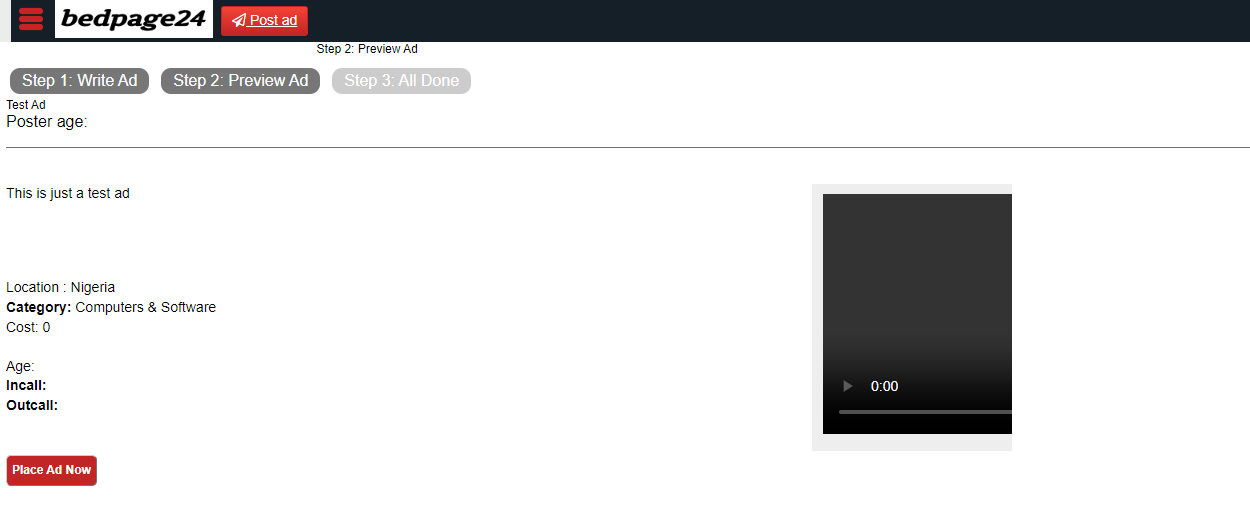 Furthermore, you have to provide detailed information about your ad, as well as add relevant images and links. More so, you could add a short 45 seconds video to your ad description, and include phone numbers (if necessary). You must enter an email address and phone number for your ad to be published.
4. Manage Ads

If you have multiple ads on Bedpage 24, you can manage them on the "Manage Ads" page. You can edit, pause, resume, or stop an ad from running. It is possible to publish multiple ads for free on Bedpage 24.
Note: If you do not intend to post ads on Bedpage, there's absolutely no need to sign up to have an account. To buy "credits," you need Bitcoin cryptocurrency, that's the only supported payment method.
Bedpage 24 Review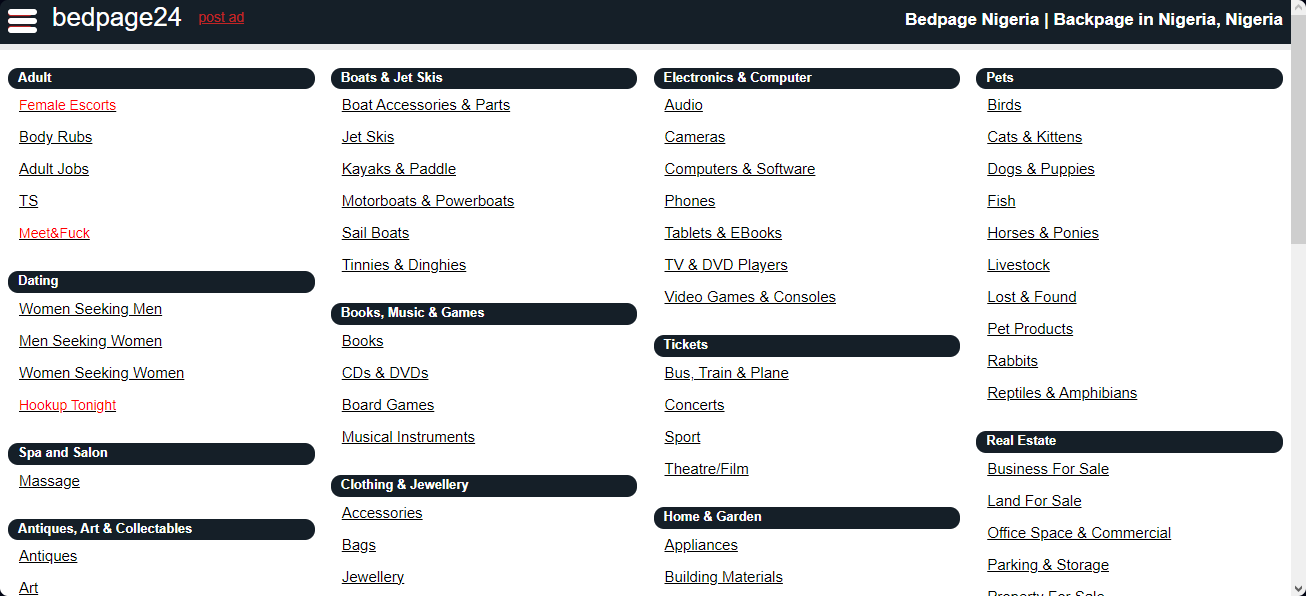 Bedpage 24 is a classified website that lets you post ads for free, while also allowing you to provide much-needed details about the product, link, or topic you're publishing on the platform. Signing up is free and has to be done with a Google Gmail account.
The platform is quite intuitive and easy to navigate; there are lots of sections to explore, and you can search for specific content on the website. Bedpage 24 is free for virtually everyone, you only have to pay when you need "credits" to promote your ads.
Also, you can choose to access content from a selected country or region. There is no need to use a VPN to access the Bedpage 24 website; it is accessible from virtually any part of the world, and the website is safe to browse – with no intrusive ads.
But then, most links and ads on the platform are FAKE and malicious/misleading, you have to be careful which one you click. The dating and meetup links are the most spam links on the website.
What More?
This Bedpage review and how-to-use guide aims to explain the core aspects and purpose of the website. Firstly, the platform operates as a decent alternative for Backpage fans, while also serving as a go-to classified site for publishing free ads and building backlinks (for bloggers and digital marketers).
Nevertheless, some ads on Bedpage could be FAKE and may sometimes, include bad and malicious links in them.