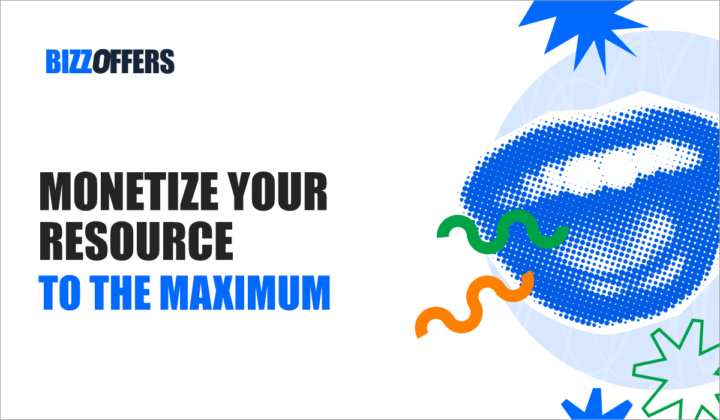 So, you've got a platform, a voice, and the power to get a message out there. Maybe you're a blogger, a YouTuber, a traffic manager, or an ad network rep. Here's the deal: You've got an audience, but you're not quite sure how to make money from it. First thought: Join an affiliate program and start promoting stuff. Anything really. Seems like an easy path to cash, right?
Well, not always. If you pick an affiliate program that's got tons of products for you to promote, you might find yourself lost in a sea of options. That's where BizzOffers comes in. This affiliate program is all about a few specific areas, and each one has just a handful of standout products.
If you're looking to rock the affiliate marketing world, BizzOffers might just be your new best friend. Keep reading to see why.
3 Cool Niches to Make Money From
Looking to boost your affiliate marketing exploits in 2023 and increase your online income potential? BizzOffers brings you some popular offers from three main areas. Here's a quick look at what they cover:
Parental Control Products
In today's digital world, where everything's happening online and on phones, parents want to make sure their kids are being responsible on the internet.
When you become a BizzOffers affiliate, you'll get access to promote the best parental control apps out there. These apps are in demand, with top-notch features that parents all over the world are loving.
Mobile Tracking
Users often face the difficulty of finding a lost phone. Even more often the user wants to know where someone important to him is, even if it is many kilometers away.
Well, mobile tracking apps are the answer, and they're getting more popular by the day.
Wellness
Everyone's after that quick fix, right? But truth be told, there's a flood of products promising the moon but delivering nothing special. BizzOffers has teamed up with some big players in the wellness game.
That includes a meal planning tool that's all about healthy, steady weight loss.
Getting Help and Insights
When you jump into the BizzOffers world, you're not alone. The team is right there with you, ready to help. They know their stuff and they're totally on your side, starting from day one.
And it's not just talk. BizzOffers actually care about you succeeding. They work together with you on the ideas and different ways to get the word out. They want to see you make bank, and they're ready to put in the work to make it happen.
How To Get in Early
Here's the issue with a bunch of affiliate programs: Everyone's shouting about the same thing. It's hard to stand out. But BizzOffers changed that game. They're onto some unique products before everyone else.
These products might already be awesome, but they're not everywhere yet. Being an affiliate early on gives you a leg up.
Know-How Matters
Ever joined an affiliate program where the person in charge doesn't get what you're promoting? Yeah, it's frustrating. Especially when the program's got tons of different products.
BizzOffers isn't like that. Each affiliate manager knows their products. They get what they're talking about, whether it's the products or the area they're in. They know the ins and outs, what's cool about each product, and even the techie details.
Different Ways to Get Paid
BizzOffers has got a great deal for you. And they've made it super easy to start making money. Here's the lowdown:
You can get a cut starting from 40% of the revenue.
You could score from $20 for every sale you bring in (that's CPA).
Your link stays active for 120 days, giving you credit for sales.
You get paid every week. No waiting around.
You can push some unique products straight from the makers.
They're cool with traffic from all over the world.
How to Dive into BizzOffers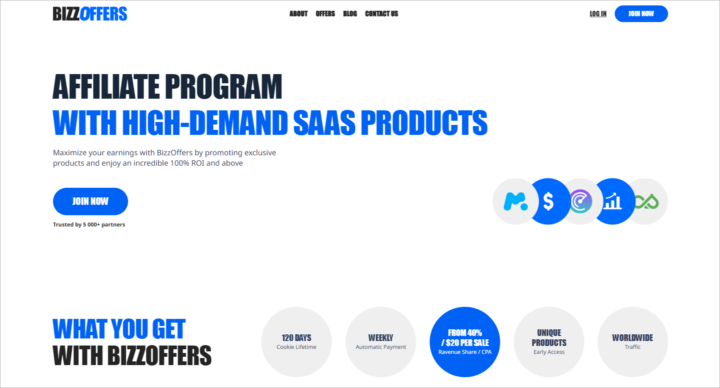 Go to the BizzOffers registration page.
Fill in a quick application.
Wait a bit – an affiliate manager will hit you up (usually within a day).
Once you're in, BizzOffers sets you up with their tools. You'll find all sorts of things to help you shout about their products. And if you want something custom, just ask the BizzOffers team.
Tips to Get the Most Out of BizzOffers
Before you go full-on affiliate mode, check out these tips to set yourself up for success:
Push products that make sense for you. It's not just about money, it's about being real. If you're all about fitness, don't start talking about fast food.
Put your own spin on things. Be different when you talk about the products. Don't just say they're great – show why in a way that's totally you.
Have a plan. Don't just jump in blind. Your affiliate manager is there for a reason. Brainstorm, test things out, and tweak to get it right.
Bottom Line on BizzOffers
If you're thinking about diving into the affiliate world, BizzOffers is a smart move. Their focus on a few key areas and their deep know-how of what they're pushing make them stand out in the crowd.