Remote access tools come in handy when you need to host or join a remote business conference/meeting, do technical fixes from a remote location, help out a friend or colleague in fixing PC and networks issues from the comfort of your home, etc.
It is the best way to work from your favorite location even when not close to the system that's being fixed. In a straightforward term, Remote Access Tools are utility software solutions or apps that let you gain access to another remote computer from another device/location.
The Best Remote Access Tools That Are Cross-Platform
While some remote access tools work only on Windows computers, these robust remote connection tools work across all platform, as long as they're internet-enabled. This implies that you can install any of them on your PC (Windows, Linux, macOS) or mobile device, and access/utilize all the remote access privileges even while on the go.
Come along with me as I show you these amazing remote access tools for day-to-day users.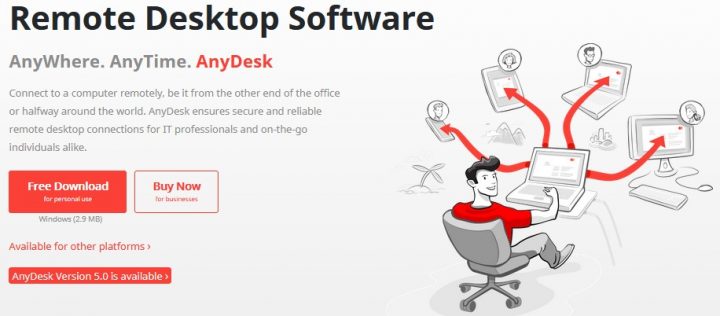 AnyDesk is a popular lightweight remote access utility with tons of handy features for its need. This utility software is well-secured to use, and its interface is straightforward to understand.
Also, AnyDesk is available for Windows, Linux, macOS, iOS, and Android. IT professionals virtually make use of AnyDesk while on the go to record sessions, as well as transfer files across systems.
Features:
Bi-directional remote access and control between computers
It is compatible with all common OSes for both PC and mobile
The interface is simply intuitive and very easy to comprehend
AnyDesk packs a whole lot of handy features; supports online collaboration, sessions recordings, file transfer, and more.
It is entirely free for personal/home users.
This is one of the best remote access tools that are available across all platforms. TeamViewer comes with an unparalleled interface and a set of comprehensive features to its need. The software allows you to remotely connect to a computer or other supported systems via its mobile client app or desktop software.
With TeamViewer, IT professionals and every other group of persons can hold remote conferences or help out each other to resolve an underlying issue on the PC or network systems. This utility app is also freely available for personal or home uses.
Features:
The interface is quite comprehensive and integrates a bunch of handy tools/options.
It is 100% free for personal or home uses.
It's fully compatible with Android, iOS, BlackBerry OS, Chrome OS, Windows, macOS, and Linux OSes.
Supports fast-speed file transfer across connected systems.
Multi-user support sessions.
Remote device control (computers, Android, or Windows 10 mobile devices).

Here's another professional remote access/remote control software solution that's available to anyone that needs such a tool. Splashtop provides a wide range of remote access features, and it can be installed on various operating systems.
This remote access tool allows one to chat, transfer files, or carry out some other support remote actions on a connected system via mobile phones or computers. It comes with a detailed interface and allows you to print files from a local printer via remote control.
Features
High-speed performance
Well-secured and easy to use on various deployable platforms/systems
Supports remote file transfer and print
Works perfectly on devices or systems running the following OSes – Mac, Windows, Android, Chrome, and iOS
Remotely reboots a connected computer
Although not as popular as the TeamViewer and AnyDesk remote access tools, Mikogo remote access utility is a simplified remote access solution which is also available for all popular platforms. It also comes with a bunch of very useful features for its users.
The software features a clean, user-friendly interface that supports voice and video conferencing. This is a remote access utility app that's used by many professionals and business owners to schedule business meetings and chat with all the members of a team. Mikogo is flexible; thus, its users can actually customize the app to meet their needs and preferences.
Features
Seamless voice and video conferencing.
Schedule or record sessions, as well as chat with other connected users.
Supports an Annotation Tool that multi-user whiteboard illustrations.
File transfer support across platforms.
Free for all users.
This cross platform remote access tool is among the handiest options for professionals and personal users. It is a full-featured remote access utility that allows you get into connected system virtually from any device/platform.
The solution is quite intuitive to use, thanks to its simplified interface that gives you straightforward access to the various features/tools the app has to offer. Privileged Remote Access tool works across Hybrid environments, and can be integrated with the developer's password management tool.
Features
Accessible from the web and mobile consoles
Highly secured and private
Quite easy and intuitive to use
Supports a variety of security features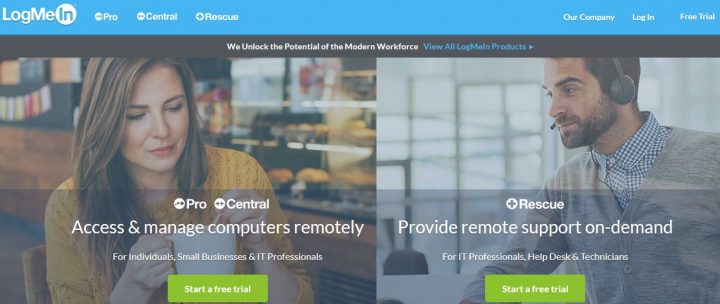 LogMeIn is an imperium remote assistance utility app that's designed to allow users to access a connected/synchronized system from any platform. The applications work on all common OSes while supporting a wide array of handy features packed into an intuitive interface.
This is apparently one of the best tools in its category that serves very well for the need of its users. Quite a lot of business are already using LogMeIn, thanks to the TLS1.2 AES-256-bit encryption technology, all sessions recorded with this app are pretty much secured.
Features
All sessions are secured with a robust encryption technology
Efficient/effective endpoint management
Multi-platform compatible (works on PC, Mac, iOS, Android, and more)
Supports task automation
An understandable interface that is easy to use
The name already gives an impression of what this remote access tool does. RemotePC is a reliable software that grants you unrestricted access to a specific computer system virtually from any device, including handheld mobile smartphones.
This program supports a variety of features which are actually useful for its user's need. Plus, the app is verified as a secured app to run across support platforms. RemotePC app runs on many versions of Windows, Mac, Android, and iOS.
Features
You can invite someone else to access your system within a specific time frame temporarily
Allows data transfer, as well as prints files from the connected remote computer
The interface is acceptable and intuitive on all supported platforms
Can be installed on more than 100 business computers
8. Zoho Instant Remote Access Software
Zoho Assist is a PC software as well as a mobile bundle. It can be installed on mobile smartphones running on Google Android or Apple iOS. It is one of the best free remote access tools that are cross-platform.
The superb Zoho team has carefully designed this utility app to meet the demanding remote access need of all users, plus, it flaunts a simple but comprehensive interface.
Joining session is much easier with this app even while on the go. Interestingly, irrespective of the number of connected monitors, Zoho's remote access utility allows you to switch and control any one of your choices quickly.
Features
Stocked with a whole of features you may not expect from a completely free remote access utility
The program supports multiple monitor sync
Allows you to reboot and reconnect any connected PC or Macbook
Also supports file transfers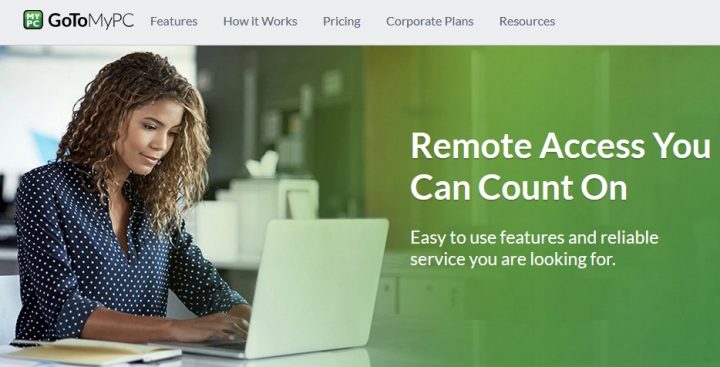 This remote access utility software does not really have any special difference from the others; however, it works pretty fast and perfectly well for the need.
GoToMyPC is developed by a US company and is stocked with formidable features, fortified to seamlessly suit all demanding business needs, as well as personal needs. The program is, however, not available for free.
Features
Allows you to access your PC or Mac virtually from any location
Supports speedy file transfer across connected computers
Lets you listen to music, sound, or voicemail from the PC you are accessing
Copy and paste support
Multi-monitor support
RealVNC is going to be the last on this list. It does not come with the best interface a basic computer operator would love. However, it is yet an intuitive remote access utility software that's available for use on all popular platforms.
This utility app has support for printing, chatting, as well as remote deployment. It is a remote access tool you can run on virtual desktops under Linux.
Features
Online team management and remote deployment
Multi-lingual support
Attended and unattended access
Direct and cloud connectivity.
Works on PC and mobile devices seamlessly
Wrap Up
These are ten of the best remote access tools that are cross-platform. All of these apps work on mobile devices running on Android, Blackberry 10, and iOS operating systems, as well as run on PCs and Mac OS X devices.
With any of these remote access tools, you can get into a specific computer and run various actions or host a conference and chat with your business partners or colleagues on the go. Did I miss any of your favorite remote utility software? Tell me about it in comments.