The importance of backlinks to a web page, blog, or website, in general, cannot be overemphasized. This is because search engines believe that a particular web page is more important than the others based on the number of links that are pointing back to it. In fact, backlinks are one of the key tactics for ranking high on SERPs, hence a need for this Backlinks Indexer Review content.
In this short review, I'll introduce a wave-making SEO tool code-named Backlinks Indexer. It is a backlink indexing tool from backlinksindexer.com and surely a helpful tool to track and manage all the links that are pointing back to your website and apps.
Before going to the review proper, I'll like to say a thing or two about the working model of the backlinks indexer tool. Come along with me as we explore this handy tool for bloggers and digital marketers.
Backlinks Indexer Overview
Backlinks Indexer is not the first or only cloud-based backlink indexing tool; however, it can easily make any top 5 list. This tool allows you to index your backlinks easily and without the long wait time for most link sources. It makes it super easy to rank your websites/pages higher on SERP listing.
Non-Indexed backlinks are as good as useless, which is one of the reasons why every serious marketer needs a tool like Backlinks Indexer. It will be a complete waste of time and money to build backlinks that aren't indexed or picked up by search engines.
So what does BacklinksIndexer help you do?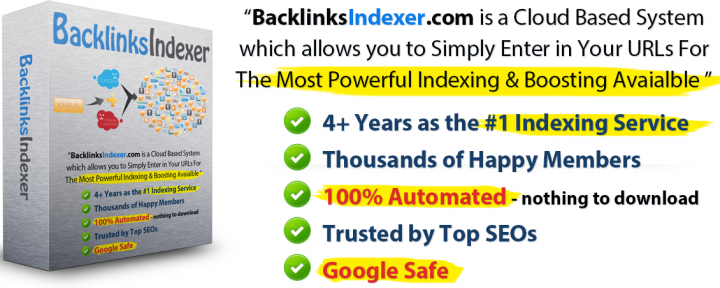 This tool helps you to automate your link indexing tasks. It let you index your URLs quickly for high ranking and improved SERP listing by merely pasting them on the platform. It is a cloud-based tool, fully automatic, and does not require you to download real software for its effectiveness.
Backlinks Indexer is safe to use; plus, it offers quick indexing for Wiki Links, Social Signals, Web 2.0 Links, RSS Aggregators, Automatic Drip Pinging, Permanent Backlinks, and more.
Features of Backlinks Indexer
Here are some of the most notable features of this handy link indexing app from backlinksindexer.com.
Safe and secure
Backlink Indexer is a safe and secure SEO tool to use. There are many digital marketers on the platform already, and several users have voted the platform as a stable platform for doing quick backlinks indexing services or as an SEO professional.
100% automatic processes
There is nothing to download as this tool is fully automated. Every action takes place right on your dashboard or once you're signed in to the app. Unlike some other indexing tools out there, Backlinks Indexer is stylishly unique; its method of application is entirely different from the others.
Quick indexing
Naturally, it takes some days or even months, and years before search engines bots detect, index, and rank new URLs that are pointing to your website/blog. But with a tool like Backlinks Indexer, you can quickly index your URLs for improved ranking, and overall performance on search engines.
Easy-to-use dashboard
The dashboard is straightforward and easy to use/understand. Frankly, anyone using this SEO tool will easily navigate on the panel/dashboard and carry out various actions that apply to the plan or package they're subscribed to.
Easy WordPress Integration
Backlinks Indexer doesn't neglect WordPress ( being the world's most popular content management system). No matter your theme, WordPress hosting plan, and plugins, you can directly download and install their official WordPress plugin from backlinksindexer.com.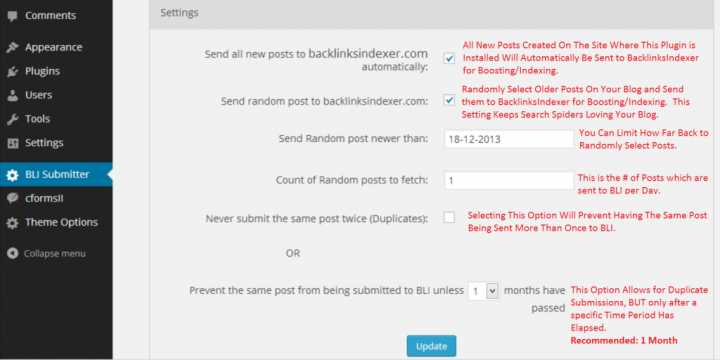 The plugin is codenamed –  bli-submitter. It lets you work directly from your WordPress dashboard and can be used on any kind of WordPress hosting setup.
Backlinks boosting
Interestingly, not only does Backlink indexer indexes your URLs, but it also goes further to increase and strengthen them for best performance and better ranking on search engines.
How does it boost your backlinks?
First, the tool individually pings each link to ensure it is crawled. Then, secondly, the tool also powers up your URLs using web 2.0 blogs, high DA blogs, microblogs, bookmarking sites, plus RSS feed aggregators. This way, your links will be boosted automatically, and they will rank very well for your targeted keyword(s).
How Does Backlinks Indexer Work?
Well, you'd have to visit the official website and create an account with them (you can sign up here). New customers are awarded a free five days trial for just $0.01, after which you'll have to choose any of the available plans/packages which suits your purpose.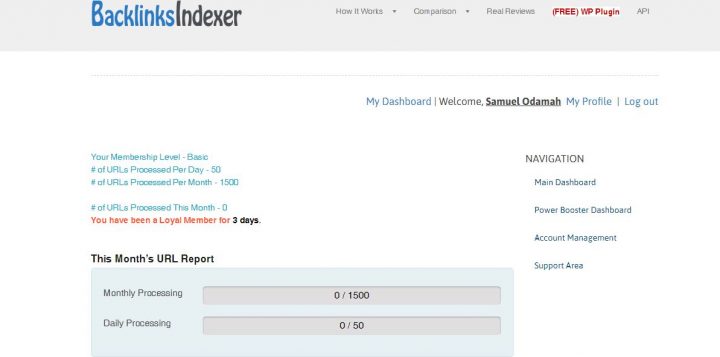 Once you're done creating an account, log in to your account's dashboard and start submitting the URLs you want to be indexed or boosted quickly. You can get in touch with their support for anything else that isn't very clear to you.
Backlinks Indexer Plans and Pricing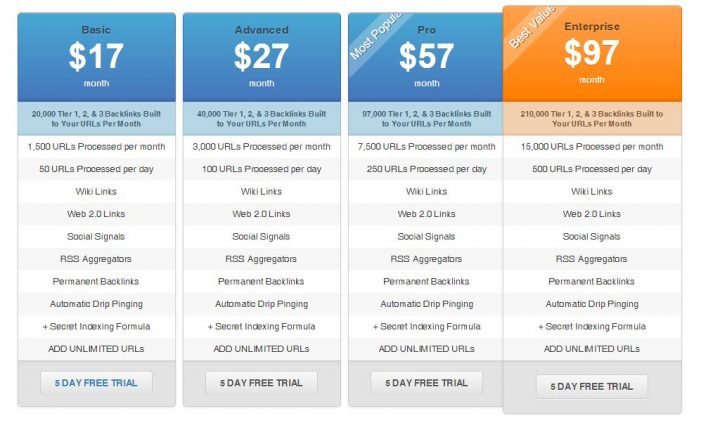 The basic membership plan of Backlinks Indexer is available for $17 per month, while $27 is for the advanced plan. The pro plan goes for $57, while the enterprise plan (which is their greatest plan) is valued at $97. All plans are billed monthly; however, you'll get a free 5-day trial period to explore the tool. Also, the BacklinksIndexer.com team promises a no-obligation 30 days money-back guarantee to anyone that isn't satisfied with their tool/services.
All plans include the advertised features and support indexing for; –
Wiki Links
Web 2.0 Links
Social Signals
RSS Aggregators
Permanent Backlinks
Automatic Drip Pinging
+ Secret Indexing Formula
ADD UNLIMITED URLs
Now, depending on the plan you subscribe to, you may get up to 15,000 URLs Processed per month (500 URLs Processed per day).
My Review and verdict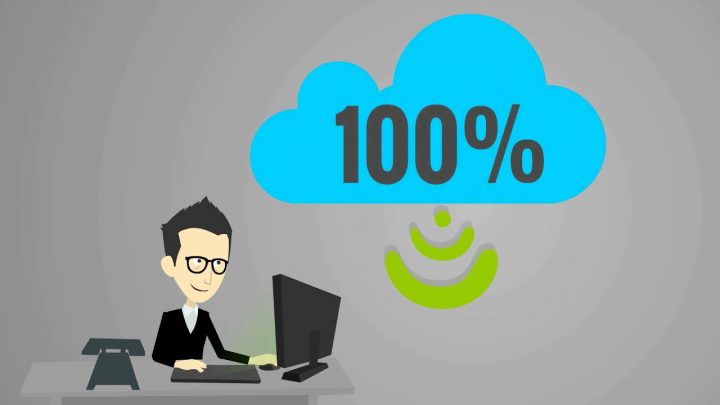 When I signed up for the basic plan, which is the default plan you get subscribed to, it was difficult for me to access/log in to my dashboard initially. I had to contact customer support, but, unfortunately, I never got quick feedback. However, I checked back after some days, and I was now able to access my dashboard. Probably, there must have been an issue with the server as at the time I registered. So, hopefully, the problem won't surface for new users anymore.
Backlinks Indexer is an excellent SEO tool for handling your bulk link indexing tasks. It ensures you aren't doing SEO links indexing the wrong way and helps to skyrocket your website's performance on search engine results. It does not only index your URLs but also boosts them (adding 100% more backlinks to your backlinks) for higher ranking.
Also, it is not difficult to find your way around the Backlinks Indexer dashboard, and it has many other handy functions. You'll equally get social signals on your links, which is a crucial ranking factor these days. Generally, It is a recommended SEO tool for almost everyone, but mostly for bloggers and internet marketers.
What's your thought on this handy SEO tool? Do you think it'd be valuable for Marketers, Bloggers, Startups, SEOs, Advertisers, etc.?
Share your Backlinks indexer experiences with us in the comments section below.