Summary
PandaVPN is a cross-platform virtual private network application from Seychelles-based WildFire, Inc. With over 3000 servers in 80 countries and 170+ regions supported by PandaVPN, users can hide and change IP addresses to anywhere they want for better internet privacy, bypassing geo-blocking and having free access to the virtual world as they like.
Many people claim that "privacy is dead in the online world" since more and more netizens become the victims of data breach events happening in various places, social media platforms, video game companies, credit rating agencies, cybersecurity analytics firms, just to name a few. Is that really the truth? Not exactly. On the contrary, although we are living in a not-so-optimistic internet world, we should still make efforts to fight against external intentional online hacking, ubiquitous internet surveillance, data collection, and censorship, giving our best to shield the privacy on the web. 

Speaking of online privacy protection, VPN is an item that everyone should know about and still cannot avoid mentioning. VPN was initially a tech to enable private and secure data transmission and the very first VPN protocol just came from "Microsoft" company and called PPTP. Over 25 years have passed, despite this PPTP having become a thing of the past, VPN tech and services have gained fame in many corners of the online world.

VPN can be divided into many types according to the working environments, purposes, who set it up, etc., among which commercial VPN software from dedicated VPN service providers is the main part. In view of this, a good-to-use VPN program called PandaVPN is introduced and reviewed in detail today, delivering all of the users in need another good bet to choose from except for the big names starting with "Nord" or "Express".

PandaVPN Overview and Features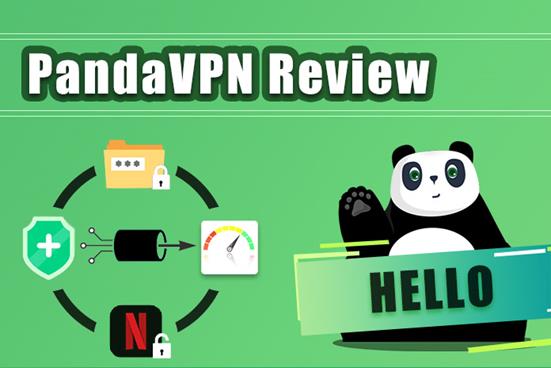 PandaVPN is a cross-platform virtual private network application from Seychelles-based WildFire, Inc. With over 3000 servers in 80 countries and 170+ regions supported by PandaVPN. Internet users can hide and change IP addresses to anywhere they want for better internet privacy, bypassing geo-blocking and having free access to the virtual world as they like.
| | |
| --- | --- |
| Jurisdiction: | Seychelles |
| Platforms: | Windows, macOS, Android, iOS, Linux, and Android TV |
| Servers & locations: | 3000+ servers in 170+ locations |
| Bandwidth limit: | No |
| VPN protocols: | OpenVPN, Shadowsocks etc. |
| Encryption: | 256-bit ECC |
| Log policy: | 100% zero-log policy |
| Extra features: | Simultaneous connection, split tunneling, adblock, etc. |
| Torrenting/Gaming/Streaming: | Good for them all |
| Customer support: | 24*7 tech support |
| Refund: | Yes |
PandaVPN is a simple, fast, secure, stable, and cross-platform VPN program that's based in the Republic of Seychelles. available in mainstream platforms including Windows, macOS, Android, iOS, smart Android TV, and Linux. Multiple connections
are allowed with a single account and by default three devices are permitted to be connected to PandaVPN at the same time.

Known by you or not, the core reason to leverage a VPN to secure one's web privacy simply lies in its unique encrypted VPN tunnel link between the smart device to the external network. For one thing, VPN conceals people's original IP address and supply another virtual one from the server he/she selects from VPN. For another thing, since the tunneling process is locked by VPN protocol plus another encryption method, you will not be tracked and monitored by third parties at all like advertisers, governments, and hackers.

As to PandaVPN, it now has over 3000 servers in 80 countries and 170+ regions
all over the world, and the number and covering locations are still growing. That said, users can change IP addresses to anywhere they like to either be anonymous online or get around local censorship and geo-restriction.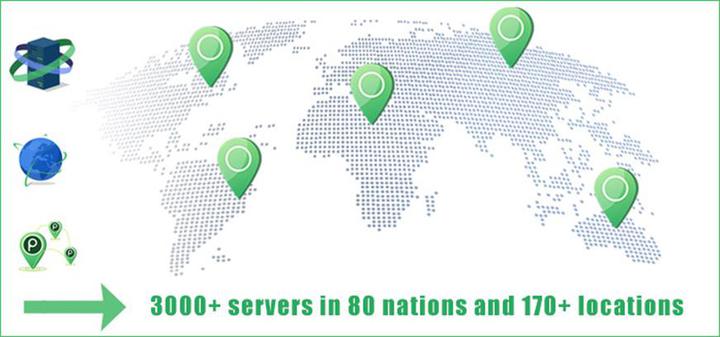 To help users pick the favorite server location fast, PandaVPN sorts out all of its available server places into a dozen of groups according to most popular spots and usage, for example, Europe, Asia Pacific, Americas, Middle East, United States, China, BitTorrent, Streaming and Game Proxy. If you have no target place to obtain, simply use Smart Connect to automatically connect to the best servers recommended. For any preferred servers, you can add it into the Favorites to do a one-click connection next time.

Then multiple modes are offered to route all or partial traffic according to your situation. Smart Mode is made to bypass LAN and the sites that run normally in users' home country, only routing non-LAN and other unblocked websites. While Global Mode will route all traffic via the VPN service to supply comprehensive privacy protection.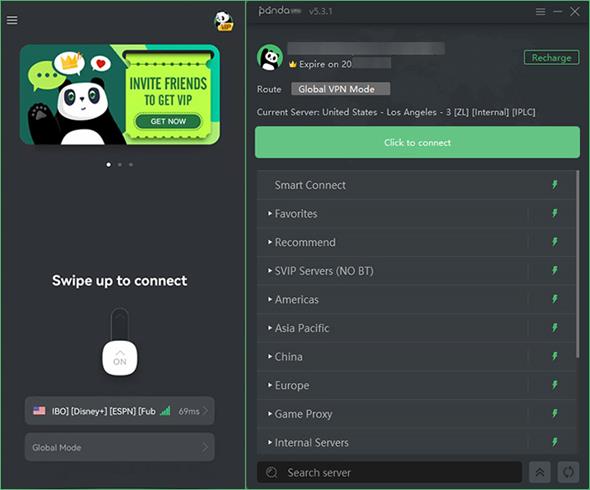 PandaVPN does own the simplicity for beginner users, and meanwhile is preloaded with features for advanced users, say Split Tunneling to enable what app(s) to use or bypass VPN, Adblock to filter annoying ads, DNS forwarding to make it work on TCP or UDP, and routing rule customization to define which domain(s) to route through the VPN or not.

Is PandaVPN Safe and Friendly to Privacy?
From the point of VPN software itself, as mentioned above, the VPN protocol and specification details really matter. Hereby supporting the first-in-class strong OpenVPN protocol and the highest level of ECC encryption, PandaVPN is reliably safe to use.

From the point of the VPN developer, only when its business is outside the signals intelligence alliances (e.g 5-/9-/14-eye alliance) and the company keeps the minimal (surely better no) data logging can users keep their data away from sharing, selling, or leakage at the root.
PandaVPN comes from Seychelles that's not a member of any intelligence nation and strictly performs the 0-log policy, promising not to record user actions for any profit or nonprofit usage. In addition, it does generate random digital IDs and accepts Bitcoin cryptocurrency payment, which also enhances the internet privacy to some degree.

How Fast And Stable Is PandaVPN?
VPN speed is determined by many factors such as server location, server load, and VPN protocol. Therefore, it's impossible for any VPN to claim itself the fastest ever virtual private network.

Through our test on multiple different servers from PandaVPN like the United States – Los Angeles, Australia – Sydney, Turkey, and Hong Kong (China), they tend to deliver quite a smooth web browsing, social chat, online steaming, gameplay, and file sharing experience, at about 300-700Mbps download speed and less than 100ms ping value.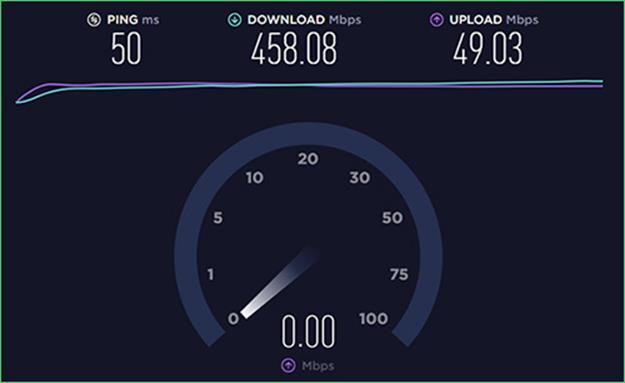 Hence no matter how you'd like to get rid of bandwidth throttling for gaming, HD/4K media content viewing, and P2P file downloading or remove content filtering and geo-blocking, PandaVPN won't let you down as of connection speed and stability.
Even when some servers encounter unexpected IP bans by governments from heavily-censored nations or big streaming services like Netflix, Disney Plus, and BBC iPlayer, PandaVPN is able to add new servers and IP addresses timely for a normal connection.

PandaVPN Pricing and Availability
Like general VPNs do, PandaVPN provides several purchase plans for both short- and long-term subscriptions still, but with a surprisingly cheaper price as follows:

1-month subscription: $9.99/month

3-month subscription: $6.99/month

6-month subscription: $3.99/month

12-month subscription: $2.77/month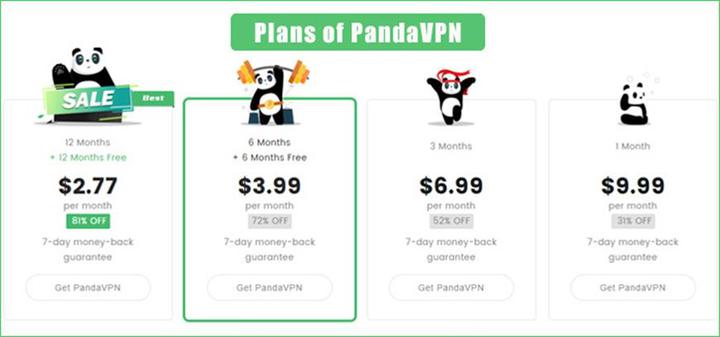 Each plan's price is lower than the market normal level. Better still, you can enjoy an extra discount if there goes on any holiday promotion on its official site. So for those who have a tight budget for a VPN solution, cheap yet quality PandaVPN can be a go-to resource.
Moreover, all plans are equal to enjoy the 7-day money-back guarantee. You can either contact them via the official support email or go on in-app instant communication at any time for help and support. 

Some people may find questions about "is PandaVPN free" or similar. Actually, PandaVPN only has free versions for iOS and Android mobiles. If you are interested, search the brand name on Google Play or App Store to experience its Lite version as you like.
In summary, PandaVPN is a safe and affordable VPN option for those on a budget. You can easily give it a try – as it works on PC, phone, and tablet devices.