If you haven't embraced digital marketing yet, now is the time. More people rely on the Internet for information than ever before, seeking everything from the latest fashion trends to the closest restaurants. No matter the industry or size of your business, you need digital marketing.
So where do you start, or how can you improve your existing efforts? Here are some tactics you can use to help market your company online.
Top Best Digital Marketing Tactics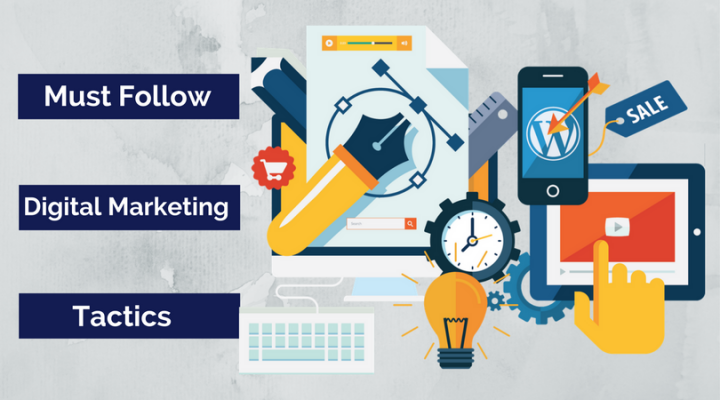 If improving on your old digital marketing strategies is one of your goals this year, you'll need to learn and use all of these tactics as part of a broad digital marketing strategy or implement them one by one.
Integrate Chatbox
As long as conversion and reader's retention is concerned; Chatbox integration is the latest buzz in the digital marketing space. With the plethora of free apps that let you integrate chatboxes and/or connect web services to the internet of things; there's absolutely no reason to ignore these newest AI-powered digital marketing automation.
Early adopters of this newest digital marketing strategy recorded a huge increase in conversion and user retention. Positive feedback was gotten from owners of hosting review websites, coupon directories, entertainment websites, and busy social media pages.
You can start practicing with Facebook Messenger chatbots by creating a simple chatbot that automatically gives a response to the user's questions. From there, you can advance to complex AI-powered bots that let you increase conversion in seconds.
Synergize Content & SEO
Search engine optimization (SEO) is important in helping your business rank high in relevant search engine results. Content is a key aspect of SEO and it is one of the top two factors Google uses to rank websites. Your content marketing and SEO need to work together.
Research keywords for which you wish to rank and include these keywords and keyword phrases in your content. Make sure your content is original, readable, and knowledgeable. The content you write should always:
be an appropriate topic for your business
support your SEO efforts.
Host Webinars
One undervalued tactic involves hosting webinars. Webinars are great to:
Establish yourself as a thought leader
Provide valuable information to your audience
Gather contact information for newsletters
Conduct real-time conversations with your audience
Webinars are best for B2B (business-to-business) companies, but B2C (business-to-consumer) companies can benefit as well if the topic is proper and the audience is amenable to this format.
You can also take the results of a webinar and break it up to create even more content. For instance, you can write a blog and/or white paper about the information presented or pull a memorable quote to share on social media.
Craft Long, Digestible Content
Know a lot about a particular topic? Sometimes, a topic is better suited to long-form content like white papers and eBooks. These will take longer to write, but they're also likely to drive more traffic to your site. Share these on your social accounts and to your newsletter subscribers.
Like webinars, you can split your long-form content into content for blog posts, email blasts, and social media posts. These posts can serve as "teasers" and link to the full white paper/eBook or stand on their own.
Use Paid Search
Supplement your organic search results by using paid search marketing. Paid search gets your advertisements and content in front of more people—especially those who may not know you exist. Use pay-per-click advertisements for your business on search engines and direct traffic to your site. You can also promote specific posts and tweets on Facebook, Instagram, and Twitter to reach audiences whose interests match your business.
You'll want to continue growing your organic searches, but if you're just starting out—or find that you're staggering a bit—paid search can help.
Tell a Story
Customers today care more about the "why." Why is a company in business? Why was a product developed? Why should they give you their business? To best sell your products or services, you need to tell customers your story.
People are more likely to support a company that shares similar values or missions, such as saving the environment or support veterans.
Share stories with your customers about how the company lives out its values and mission. When your story resonates with your customers, it establishes a personal connection that can make them loyal to your company.
Advertise with Influencers
Advertise your product with people your audience love. Celebrities and public figures use their Instagram and Twitter accounts to share products with their followers. Research your audience and find influencers they follow and trust, then reach out to them.
You can offer them your product to try for free and ask that they post their unsolicited opinion on their social accounts. You can also pay them to guarantee they will post about your product and on a more frequent basis.
Create an Editorial Calendar
To make sure you are posting quality content frequently, set up an editorial calendar. An editorial calendar lets you plan the month. You can anticipate and prepare for holidays and events that matter to your audience. You also have an archive of past posts, so you won't accidentally create duplicates.
Embrace the use of social media automation tool(s) like HootSuite to schedule your posts across your social media accounts. It makes it easier by consolidating all schedulers and social analytics into one dashboard.
Use Content Syndication
Content syndication means posting content to third-party websites. Doing so helps gets your content in front of other websites' readers. You want to post on websites that are authoritative, publish quality and knowledgeable content, and have a high readership.
Publish content of all kinds, from blog posts to videos (whatever the website accepts). These can be posted in their entirety or as snippets. Be sure to link back to your site and provide a way for them to sign up for your newsletter.
Different websites have different rules, so do some research to find out what they require.
Optimize for Mobile
You'll lose customers if your website is not optimized for mobile. Make sure it isn't slowed down by large images or tons of ads. If a page doesn't load in three seconds, people are more likely to close out of it.
And websites that aren't responsive can be difficult to navigate on a mobile device. Since most people view websites on their mobile devices—especially when they are on the go—optimizing for mobile is non-negotiable.
Market Using Future Technologies
Take advantage of current technologies that are paving the way for the future, like activity trackers, smartwatches, and augmented reality. Sponsor a Snapchat filter that uses augmented reality and have your audience interact with your brand in their own environment.
When creating emails, keep smartwatches in mind: Users may open your email on their smartwatch; how does it look?
Pay attention to the new technologies, especially as they become available and improve. Think about how your audience might use these technologies—and how you can use these technologies to connect with them.
Put Them Into Practice
Now it's time to amp up your digital marketing strategy. Take these tactics and create a new strategy, testing them out with a new campaign. Or use a few of these tactics to supplement your current strategy. Happy strategizing!
Credit: The making of this content is credited to Chris Hickman of Adficient and GetBackonGoogle.com.