The marketing scene has embraced diverse channels to reach out to potential customers over the years; however, text messaging remains the most effective, with a whopping 98% open rate within five minutes of delivery.
Unlike other marketing channels, text messaging enables you to reach a large audience without breaking the bank. And even better, it has one of the highest ROIs and is the easiest to integrate with multiple channels. However, considering that SMS marketing tools are not created equal, the bigger question is: how do you identify the best solution?
To give you a hands-on experience of how you should evaluate a text messaging marketing solution, we are reviewing Smarter Contact, one of the leading high-conversion SMS platforms, as an example.
Product Overview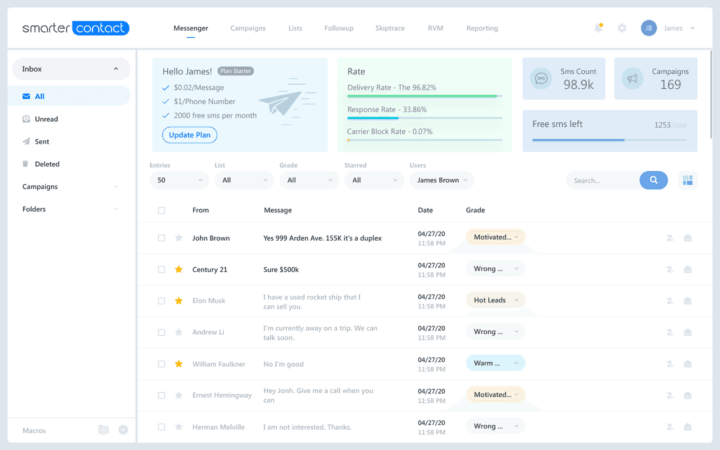 Before you dig into the nitty-gritty of your prospective SMS marketing solution, it's wise to get a general overview of how the product functions.
Smarter Contact is a cutting-edge and one-stop ​​business messaging solution that enables businesses to send bulk marketing messages to potential customers with just a few clicks. The platform has a vast clientele target that includes SMEs, enterprises, and individual marketers.
While getting started with an SMS platform often seems like rocket science, Smarter Contact made sure to make their system as user-friendly as possible. The platform is intuitively designed from the ground up with the user in mind to be simple, efficient, and deliver results.
Key features: What's in it for you?
Advanced skip-tracing
Allegedly the undisputed leader of skiptracing (number lookup), Smarter Contact leverages the industry's most cutting-edge geolocation data gathering techniques. With remarkably high hit rates, Smarter Contact users can rest assured that they are contacting the right clients. In addition, the platform provides the latest phone data categorized between mobile and landline information.
Automation & Unrivalled SMS delivery rates
Smarter Contact users significantly save time on repetitive tasks with the platform's pre-built messaging campaigns that enable users to follow up with leads automatically. As a result, they can manage their entire marketing funnel with just a few easy clicks and achieve the highest delivery rates in the industry. Even better, Smarter Contact has advanced reporting and analytics tools that users can leverage to track performance and see the ROI they are getting out of every text.
Built-In CRM + Top Integrations
Smarter Contact comes with a built-in CRM to help users store customer and prospect contact information, track their customer interactions, record service issues, and monitor marketing campaigns, all from one user interface. That means with Smarter Contact, all the information about every customer or prospect can easily be made available to anyone in your organization who might need it.
Simple and easy-to-use interface
When it comes to user-friendly platforms in the SMS marketing industry, Smarter Contact is undoubtedly one of the best ones we have encountered. As a new user, you can literally sign up on the platform, import contacts, manage user lists, and bulk send messages to over 100+ countries and 500+ mobile networks the same day.
This is quite impressive considering that most platforms have steep learning curves, and it will take you a lot of effort and hundreds of tutorial videos to get started.
Other Features
Bulk messages
Message templates
Call forwarding
Duplicate filter
Advanced data merge
A phone verification tool
Daily backups
A calendar follow-up system
Ringless voicemail campaigns
Campaign scheduling and throttling
Text suppressions
Mobile text alerts
Multi-User interface and
A dedicated account manager
As hinted earlier, the features you get on Smarter Contact depend on the package you sign up for. However, you will notice that the more you pay, the more advanced features you can access.
Product Pricing
The price you will incur for using Smarter Contact depends on several factors, such as the number of messages and the inclusive special features. For instance, the cheapest package called "Starter" is priced at $99 per month and has a limit of 3000 messages. In addition, this package includes features such as call forwarding, advanced data merge, templates, calendar follow-up system, daily backups, among others.
The next package, known as "Pro, " comes at $199 per month and a 7,500 messages limit. In addition to the Starter package features, the Pro features include campaign scheduling, campaign throttling, ringless voicemail campaigns, and text suppressions, among many others.
The third package is called "Elite", and as the name suggests, it comes with several noteworthy additions. The Elite package is priced at $299 and interestingly lets you send unlimited messages. It also has CRM integration, mobile text alerts, allows multiple users, and a dedicated account manager. Moreover, when you pay an annual subscription for this package, you will get two months free!
Another fantastic thing about Smarter Contact is the 7-day free trial offer for clients to try out any package they like.
How to achieve 10x, 20x ROI with Smarter Contact
Smarter Contact provides a very reliable and efficient platform for your business to easily get in touch with leads and close sales quickly.
Step 1:
Create an account on the platform by clicking on the "Sign Up for Free" button on the menu bar or the "Start 7-day Trial" button on the homepage. During the sign-up process, you will be required to provide a few details about your business. Once your account is set up, you can book a free demo with the team, where a Smart contact representative will walk you through the process.
Step 2:
Once you are all set up, you can adjust automation parameters for your campaigns, skip trace, and send the message. For a visual walkthrough, watch this short and to-the-point video.
My Verdict on this Product
Smarter Contact is a platform that can be used by any business, large or small. It has a very easy-to-use interface that virtually anyone can handle. In addition, the fact that it comes with a multi-user feature makes it ideal for larger businesses with more than one person running the account.
In a nutshell, Smarter Contact is a perfect SMS marketing platform your business can rely on. It has pocket-friendly prices and practical features tagging along. You can take advantage of the high returns from SMS marketing with Smarter Contact.