Video editing does not necessarily require you to download bulky software programs or mobile apps, you can leverage web-based solutions and still achieve professional results. CapCut offers classical video editing solutions available as software programs and web-based.
The CapCut online video editor is just as good as their mobile app and PC software version. It is intuitive and can be used by an absolute beginner without going through a lengthy learning curve. This online video editor provides a suite of handy tools for quick professional video editing. In this Capcut online video editor review, we'd extensively cover how the CapCut online video editor works and how you can supercharge your video marketing games with it.
CapCut Online Video Editor Overview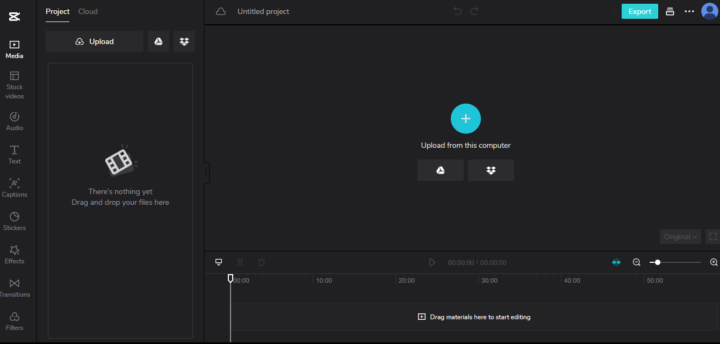 The CapCut Online Video Editor is a free online video editor that's beginner-friendly and also suitable for professionals as well. It flaunts the typical "video editor" interface and allows instant access to many available tools on the video editing workspace. To use CapCut Online Video Editor, you'd need to download Google Chrome, brave, or Microsoft Edge web browser.
With a quick glance at the app's interface, you'd discover there are many ways to upload your video file. More so, you can remove backgrounds from videos using this online video editor. There are many things you can do with this free online video editing tool and it supports multiple video formats.
Features of CapCut Online Video Editor
One would expect a free tool to come with limited features, but the CapCut Online Video Editor does come with a handful.
1. Speech to Text
This video editor is built with AI algorithms. It can detect your spoken words and turn them into written text; using this feature, you can easily create subtitles for your homemade videos. The speech-to-text feature works with near-perfect accuracy.
2.
Text to Speech
Flip it the other way around and this online tool will still help you out. CapCut video editor can convert text files into natural voiceovers to align with your video need, which will make your video even more informative and captivating.
3. Transcribe Video Speeches
Utilizing an automatic speech recognition technology, the CapCut online video editor is able to recognize the speeches in your video or audio and automatically generate captions using the words. These captions can be translated into Chinese, Japanese, English, or Korean languages.
4. Background Remover
If you've got some awful backgrounds in your videos, the CapCut video background remover feature can help to remove those sights in a few clicks. The app does background removal using automatic face recognition technology, so it is able to change background colors and images or add new backgrounds.
5. Filters and Effects
As expected, the CapCut online video editor comes with a plethora of filters and effects you can use to customize and beautify your videos. You can also add overlays and audio effects to your videos using this all-inclusive tool.
My CapCut Online Video Editor Review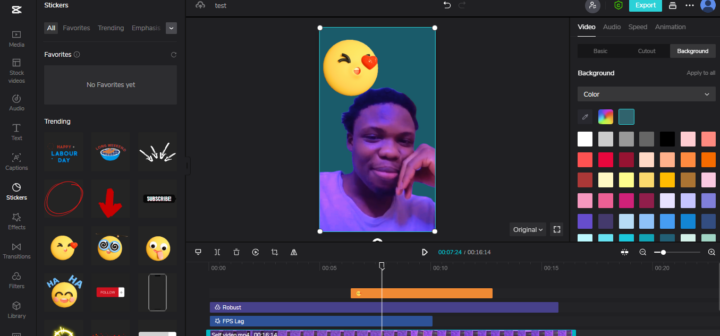 This is a clear-cut video editor that does not require you to download any software before you can start using it. It's pretty intuitive to the point that you can figure out how to use the app without going through a guide.
The CapCut Online Video Editor works like most video editing software out there and includes a handful of impressive tools to turn a boring video into a masterpiece – even for a novice. You can change your video's background to any plain color of your choice.
From stickers to effects to filters and even stock videos and audio, the CapCut Online Video Editor offers a ton for FREE. The text-to-speech and speech-to-text features work pretty well, although I noticed some glitches while testing it out.
How to Create Amazing Videos With CapCut Online Video Editor
The CapCut Online Video Editor runs on Chromium browsers – mainly Google Chrome and Microsoft Edge browsers. You don't need to download any software, simply visit the app's URL and start editing your videos.
Step One: Download a Chromium Browser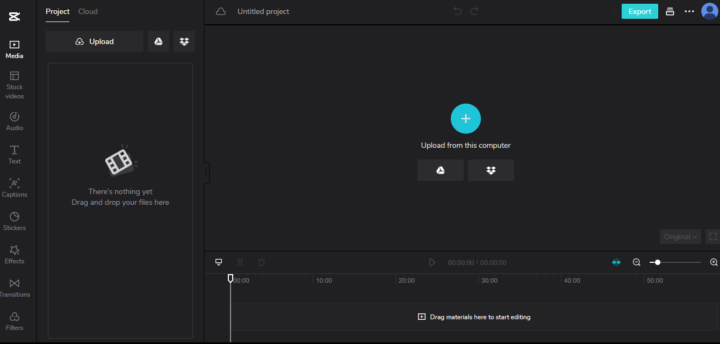 If you already use Chrome or Microsoft Edge, there is no need to download them again. But if you don't use any of these browsers, you'd need to download one of them to proceed with using the CapCut Online Video Editor.
Step Two: Upload Your Video File(s)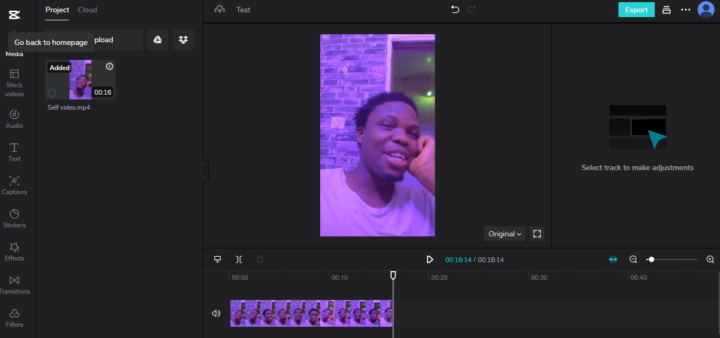 There are quite a lot of video upload options available. You can either upload video files from cloud services like Google Drive and Dropbox or import them from your local storage.  After you have uploaded your video(s), drag the video down to the timeline to start editing.
Step Three: Edit the Video(s)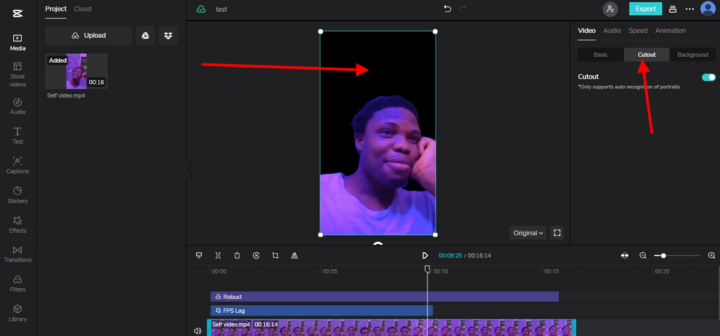 This is where it gets personal – everyone will want to edit their videos in a different way. Here, I'd simply add a few effects to the test video being used, and also remove the background. If you need to do more editing, the tools are arraigned on the left pane of the video editing interface.
As you can see in the screenshot above, I successfully removed the background on the original video for free. The background remover is actually named "cutout" – click on your video, look to the right pane, select "cutout" and there you go.
Step Four: Export Your Video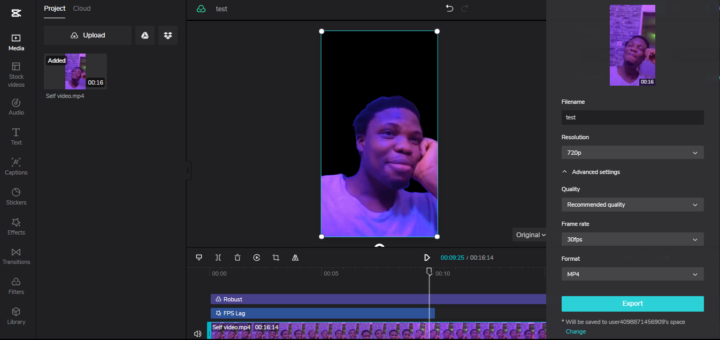 After you are done playing around with the editing tools and feel like your video is now perfect for download, click on the bold "Export" button at the top right corner to save the edited video to your local storage.
Basically, the edited video is saved automatically to CapCut's cloud as you're adding new changes. While exporting the video, you get to choose your preferred resolution quality, frame rate, and format.
Verdict
Overall, the CapCut Online Video Editor is a handy FREE video editor for everyone. Using this tool, even a novice can edit boring videos and make them pretty interesting for an audience. This web tool loads quite fast on supported browsers and your progress is saved to the cloud – so you can always come back to continue.
It's an impressive free video editor after all, and being that it is completely free to use makes it even more interesting. However, the background removal isn't too smooth, they could improve on it going forward. But then, if you've always needed a free tool for editing videos, CapCut Online Video Editor is highly recommended.