Summary
HitTail is a premium SEO & keyword research tool to grow the organic (Search) traffic of any website. It suggests the best keywords with most potentials for any blog or website.
HitTail is a premium SEO and keyword research tool to grow the organic (Search) traffic of any website.
It imports your actual keywords from Google Webmaster tools & uses its superior algorithm to look at the keywords imported and determines the highest potential keywords for your website/blog.
Keywords normally suggested by HitTail long tail keyword tool are those that you can rank higher for. Typical websites will have thousands of incoming long tail keywords, but only a fraction of them are worth trying to optimize. This is the core value of HitTail.
Hit tail does not only work as a keyword suggestion tool but can be used to see valuable keywords that you ordinarily wouldn't border looking for in the 10th page of Google analytics search terms.
Investing on this tool is definitely a good decision considering the fact that Google analytics "search terms" are mostly reported as not provided.
Google searches from users logged in are usually encrypted, making it difficult for webmaster and/or bloggers to know what keyword brings the most traffic to their website.
A tool like HitTail builds on your blog or website's traffic by discovering the most profitable keyword suggestions that are already being used organically but are currently underperforming for the website.
Our Experiences with the HitTail Keyword Suggestion Tool so far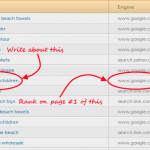 We started using this tool not too long ago and must reaffirm that the results so far is on the positive. With over hundred long tail keywords suggested already, we are sure heading on to the right direction.
We tried a paid per click (PPC) campaign using the low competitive keywords suggested by this awesome tool; the result was extremely impressive, we paid far less for 100% targeted visitors.
We recorded almost zero percent bounce rate, unlike before when the bounce-rate is usually outrageous.
Another area this tool has improved our site is on the title and heading formats; over five articles have been re-written to target the right audience and with the right title and heading.
We have about 10 articles in our "to do list" out of the over hundred titles suggested by HitTail premium keyword research tool.
A Blogger and HitTail Keyword Suggestion Tool
I wished I'd known this tool early enough, it gets things really automated, saving you the time of thinking about what to write about and focusing on what brings the most organic traffic.
HitTail also eliminates the chances of unnatural keyword stuffing as it focuses on what brings the most users to your website and suggests related keywords (long tail) that will help you keep them for long.
As a blogger, blogger's block is one thing that happens to us from time to time. HitTail can make you really productive by suggesting the keywords that pays during those blank moments. Go back to your "to do list" in the HitTail suggestion dashboard and produce an evergreen content.
How to use HitTail
HitTail just like other automated SEO tools (see Rob SEO Crawler) is just a webapp that connects to your Google webmaster's data to give related keywords suggestion to improve your website's organic (search) traffic.
To start using HitTail keyword research tool, you need:
Sign up for a test account on their homepage
Select a plan that fits your blog and/or website
Install the plugin/widget suitable for your website's platform
Connect to Google webmasters and visit the suggestion panel to start seeing related keywords
Final Words and Verdict
Your website now has a great pal in HitTail long-tail keyword research tool. This tool is definitely going to improve your website's traffic.
I'd recommend this tool if growing your organic (search) traffic is of deep concern to you. Leave us a feedback below, if you have used or have issues with getting the tool to work for your site.