Nokia Asha series have been quite popular with the crowd firstly because of the brand Nokia and secondly they are highly unique and set their features apart from similar range devices.
The trio of Nokia Asha 500, 502, 503 was launched together and slightly seemed like a refurbished version of Asha 501. Although, these phones beautifully define quality under very affordable price.
Thanks to this series by Nokia, many people can experience a decent mobile experience that too without burning their pockets.
Well, these three handsets differ in a number of ways. But first let us go through some of the similarities these phones carry.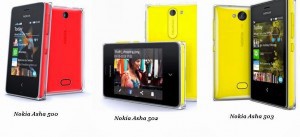 Similarities:
Very much taking their exterior design and appearance from its sibling Asha 501, they look quite similar. Although there is one huge difference that sets them apart from its predecessor.  The feature of a box-like layer of transparent polycarbonate that surrounds the colorful casing, giving them a new fangled and modish look which hasn't been seen before. This also keeps the phone protected from any harm or scratches with that extra layer.
The software and hardware specifications are similar and stunning. These phones come with the Fastlane key feature which is embedded in all Asha series phones. This feature allows swifter access to apps, functions and notifications and also offers customization in an easy way.
These phones has a enhanced version of imaging technology that provides fast access to camera, its gallery and easy sharing across social networks. With one tap you can share a photo and with a single swipe you will be redirected to the gallery or the viewfinder.
The fastlane option allows the users to set the type of content or apps they want the screen to flash. They can select the most used apps and place it on the display.
Differences
Nokia Asha 500 flaunts a display screen of size of 2.8 inches. Asha 502 and 503 have screen size of 3 inches which is slightly bigger than 500. Also Asha 503 has a protective layer of Corning Gorilla Glass 2 for guarding the screen against harm and scratches. All the three phones deliver the LCD display with a QVGA resolution of 320 x 240 pixels.
Talking about their cameras, firstly none of these have a front facing camera. Moving on the rear part, Nokia Asha 500 has a 2MP camera at the back whereas the other two are embedded with a gorgeous 5 MP camera.
The connectivity options possessed by these handsets are Dual SIM standby, 2G, Wi-Fi, Bluetooth and more. Only Asha 503 comes with the option of 3G connectivity making it better in terms of connectivity.
On the battery life front, these three phones are incredible. Asha 500 is embedded with a Li-Ion BL-4U 1200 mAh battery that delivers a talk time of 14 hrs, standby time of 840 hrs and up to 46 hours of music playback. Asha 502 comes with a BL-5A 1010 mAh Battery that provides a talk time of 13.7 hrs, standby time of 24 days, music playback time of 42.3 hrs and 12 hours of video playback time. Asha 503 facilitates its users with Li-Ion BL-4U 1200 mAh battery that has a talk time of Up to 12 h (2G) or Up to 4 h 30 min (3G). It has a standby time of Up to 840 h (2G) or Up to 840 h (3G). it delivers a music playback time of about 34 hours.
All and all, Nokia Asha 500, 502 and 503 are exceptionally designed and carry performance with elegance. These new phones are crafted to cater to people who wish to own the best under affordable price tags.
Credits:
The making of  Nokia Asha 500, 502, 503- What are the differences? is by Alisha Singh, who is working with naaptol.com. An online shopping website that offers price and specification details of Nokia Mobile Price, Intex Mobile Price, IBall Mobile Price and many more.