Summary
LastPass is an online password manager from lastpass.com
If like me you own multiple online accounts, login credentials and security pins. Caring about those will be like a primary responsibility to you.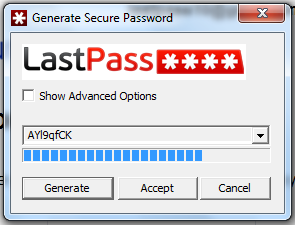 There are some of my online login details I consider inevitable such as;
My facebook and other important social networks accounts login details
My forum and blog admin details
My cpanel details and that of clients
My paypal and other online banking related details
My primary email account details
While there are the others I can play around with, without having any form of fear  such as;
Random forums login details
Random blogs that require registration to comment
Random sites and individual social networks that requires registration
Some freelancing sites with low trust rating
Apps and low trusted services that requires login
Why this analysis?
I decided to point this out to alert you of the security risk it can pose using same credentials as number one group [inevitable] above and number two group below.
In fact, most websites gets hacked 'cos of this loophole. Most of this website owners [ the group 2 category] aren't all trusted individuals to start with and can manipulate their php-myadmin to get your individual passwords and login details to try on your other important services.
This is the reason I will personally advice against using same password for both your important and unimportant services. Even in rare cases, a hacker can break this forum and blogs just to steal the login details of the users, same with some untrusted apps out there that has no respect to your overall security.
This is where LastPass comes in, making sure that you are saved from the pain of having to remember each of your individual passwords each time you need to access the sites.
LastPass does not only save you from the stress of having to remember these passwords but will also auto-generate secure login credentials for you and will also log you in automatically whenever the need arises.
This is the reason why LastPass is earning my sincere review today.
also see : How to secure sdcard and Usb Pendrive with a password
Introducing LastPass and the Features
LastPass as long as I'm concerned is the best online password manager and form auto-filler that makes web browsing easier, fun and more secure. LastPass could save you the stress of having to use same login details across all websites as a blogger or freelancer and will also save you the stress of having to remember any one except your master password. Below is the main features that comes with LastPass.
One master Password – ensures that you aren't gonna be bothered any longer remembering those long list of websites and their passwords
  Synchronize across browsers – this ensures that your login is saved across all browsers installed in your phone or computer
Automatic form filling and One click login – auto-login or tab a click on your mouse to login to websites
Secure data – helps protects against identity theft
Store secure notes – helps you to store notes and other form of data securely
Share password details with friends securely – this ensures that you aren't gonna be sending sensitive login details via email or chat
Import and export secure data – you can import or export your secure data for futures uses and across all web browsers too
Backup and restore secured data – can be used to securely store your encrypted credentials
Generate secure passwords –  this helps a lot in making your passwords so secured, since you aren't got the need to remember them yourself
Screen keyboard – helps protects against key-loggers and malicious programs that intends to steal your password and security details
Identify weak passwords – this is to ensure that your are using the most secured form of passwords always
Phishing protection –  it easily identify bad sites and phishing apps just to make sure your details aren't stolen at all
Universal Access – LastPass works across all browsers and so wouldn't need numerous login except your master login to access the features.
also see : Surefire Tips for Protecting Your Credit Card Personal Information
My Verdict
LassPass is the best for managing your passwords, profiles and  keeping your online identity secured. It comes free and needs only a dollar upgrade for those that needs super-fast support and other mobile specific features it brings.
You can download and access other numerous features of LassPass from their official website here.