January 2016 was the month I moved the last chunk of our websites from Arvixe epileptic servers. This is not unconnected with the many issues we had and the notorious acquisition by Endurance International Group (EIG).
Arvixe has been on a downward spiral ever since the acquisition and has finally lost all forms of credibility.
We experienced the best days of Arvixe, the evil days, and now the untimely demise.
In this post, I am going to share with you – our Arvixe hosting experience, the EIG hosting experiences, and the seven best non-EIG hosting options for reliable business hosting.
Our Arvixe Hosting Experience
We got hooked up with Arvixe years back via a recommendation from a Facebook group and had nothing but praise for their stellar services and top-notched servers.
We enjoyed our stay for years and even upgraded to their VPS/business-class shared hosting plan that promises more extensive resources and a better-performing server.
Arvixe worked for us for several years, and we started recommending their services to our friends, even before signing up for their affiliate program which earned us about $2k before we quit promoting them to our readers.

2014 was the evil days of Arvixe as the servers were over-sold, and technical support was being handled by non-English freelancers that spoil more than they mend.
Our friend, Nosagie Nosa-Ero of Techrez.com, was also caught up in this mess after upgrading to one of their VPS plans and shared his disappointment with me since I was one of the persons who were instrumental in his moving to Arvixe Hosting.
Overall, our experience with Arvixe web host was stellar at the beginning, below par along the line, and utterly useless of recent that we had to delete all of our websites from there.
In fact, our most recent experience with this joke of a host was nothing short of fraud. We bought a full-year plan for one of our private blog networks (PBN) and had the setup delayed for over three weeks despite the multiple tickets we sent.
We tried canceling but can't do that without activating the service first, we had to turn our eyes to another host and had the account set up within a few minutes but still, Arvixe support could neither cancel nor activate ours.
In the end, we managed to activate and cancel the account, but a full refund wasn't given (in spite of their 60 days money-back guarantee), instead Arvixe billing refunded a meager $2 in the name of a partial refund for an account that was never used for a day.
Our Negative EIG Hosting experiences
Endurance International Group (EIG) is no mean name in the hosting industry today as they control over 50 separate web hosting companies.
We cared very little about this monster called EIG before making a move to find better Arvixe hosting alternatives. This led us to try out some more EIG hosting options that were even worst than Arvixe and Hostgator services put together.
We are going to draft in the full list of web hosting companies and other brands that are owned by Endurance International Group (EIG) for your references. And then share our review summary for this section.
Berry Information Systems
BigRock
BizLand
BlueDomino
Bluehost
BlueFur
BuyDomains
Constant Contact
Directi
Dollar2Host
Domain.com
DomainHost
Dot5Hosting
Dotster
easyCGI
eHost
Escalate Internet
EntryHost
AptHost
ArvixeHostMonster
HostNine
HostYourSite.com
HyperMart
IdeaHost
IMOutdoors
Intuit Websites
iPage
IPOWER/iPowerWeb
JustCloud
JustHost
LogicBoxes
MojoMarketplace
MyDomain
MyResellerHome
NetFirms
ResellerClub
SEO Hosting
Site5
Southeast Web
Spry
StartLogic
SuperGreen Hosting
TypePad
USANetHosting
vDeck
Verio
VirtualAvenue
VPSLink
WebHost4Life
WebHosting.info
Webstrike Solutions
Webzai
Xeran
YourWebHosting
FastDomain
FatCow
FreeYellow
Glob@t
Homestead
HostCentric
HostClear
HostGatorNetworks Web Hosting
Nexx
PowWeb
PureHost
ReadyHosting2slick.com
AccountSupport
A Small Orange
ApolloHosting
From the list, we have used (as well as tested) site5, Hostgator, Arvixe, Bluehost, ipage, and a few others and can tell how bad an investment it is, to entrust your business's future into any of the web hosting companies owned by EIG.
Their servers are usually slow, over-sold, and hack-prone. Proper technical support with any of the EIG hosting companies is non-existent; sometimes, you'll be misled or asked to buy a service that is completely unrelated to the problem your website is facing.
Our last experience with Bluehost was particularly pathetic as the technical support staff messed up our server and asked us to hire a programmer for the problem he created, needless to say, that the issue was resolved as soon as we left Bluehost for a customer-oriented web host.
The 7 Best non-EIG Hosting Services
Nothing beats a reliable host with fast servers, an excellent tech support team, robust security, and solid-state drives (SSD). We have tested the worst, average, and most reliable guys in the business of hosting and won't settle for anything less than the best!
Any web host with SSD and LiteSpeed server support is going to be faster than the ones with regular spinning HDD and Apache servers.
We have used and tested the hosting companies below for rock-solid Security, customer-oriented Support, unrivaled Server Uptime, speed, and scalability. We can recommend them as the best guys in the business of hosting.
A2 Hosting
A2 Hosting is an excellent option for hosting serious businesses online. Their turbo plan does come with great speed and really fast servers.
We have had no single complaint so far and can easily recommend the A2 Hosting company to anyone that needs a customer-friendly host with knowledgeable staff and stable servers.
A2 Hosting offers various hosting options such as –
Shared Hosting (with premium server option)
Dynamic and Managed Virtual Private Servers (VPS)
Reseller Hosting (best targeted at web design agencies, multiple website owners, and for those intending to start a mini-hosting business).
Cloud Hosting and Dedicated servers
A2 Hosting servers use the solid-state disk type for serving your web files and do come with superior technology that makes your website load fast. They have been in the hosting business for a long, and so far, we haven't had a negative experience with them.
A2 Hosting lets you directly use their best-discounted offer without entering any Promo Codes. The best discount is applied by default for any new hosting plan you chose to go with. They promise an anytime money-back guarantee and use the award-winning Cpanel software for most of their plans. You can simply use the link below to get a faster hosting plan for your business needs.
MDD Hosting
MDDHosting is so far our most preferred choice for hosting our clients' websites. Their servers are lightning fast, rock-solid, and give steady peace of mind.
MDD web host uses the award-winning LiteSpeed server and solid-state drive (SSD) to deliver awesomeness to every one of their customers. Their support staff is very efficient and works round the clock to give a real technical approach to challenges.
You'll be amazed at the speed the MDD hosting staff uses to resolve real hosting problems; sometimes, you'll be attended to in less than five (5) minutes with the actual solution and not some random links that lead to nowhere reasonable.
You can hardly get this kind of support elsewhere, except you've opted into a sort of VIP or priority support program. MDD Hosting gives their 180% in helping their clients resolve issues and keep up a reliable business online.
Update: We have written a comprehensive review of our experiences with MDD hosting services so far, you can read all of it here. They offer;
Rock-solid shared hosting plans with SSD and LiteSpeed server (One of the fastest on the internet)
Semi-Dedicated hosting (code-named – Premium hosting)
Reseller Hosting
Virtual Private Servers (VPS) and dedicated servers
MDDHosting Pricing: Honestly speaking, MDDhosting services aren't one of the cheapest around. But one can hardly fault their pricing model as their robust hosting infrastructure, VIP-level technical support, and regular platform update compensate for the price.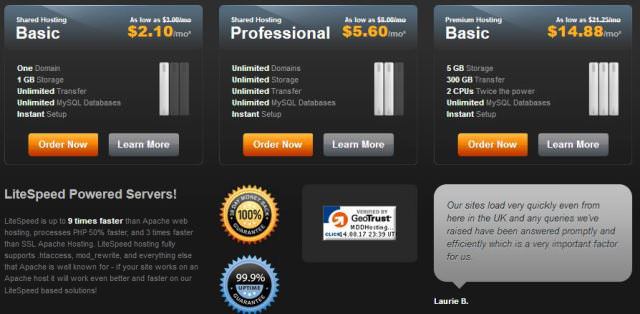 Their most basic shared hosting plan starts from $2.10, while their premium hosting server costs more, as seen in the screenshot above. In all, their price Vs. feature offering is perfect for all business classes.
MDD Hosting Promo Codes: These guys usually spend more time optimizing their servers than they spend running various promotions, but we've secured these two coupon codes for first-time users.
Using the coupon code "WHT50" will get you a  50% off discount on your first invoice and works on every one of their hosting plans.
Using the coupon code "monster10" will get you a 10% off lifetime recurring discount. This can also You with any of their products and works for all new customers.
You'll also enjoy a 30-day money-back guarantee with any of their products. We trust their services and can recommend them to anyone that needs a serious web host. They are a bit pricey but are really value for money.
CloudWays Hosting

Speed, Security, Support, and Simplicity are some of the best things people look out for in any products or services they buy online. No one loves a hosting service with a remarkably complex, deceptive, and upsell-oriented dashboard. CloudWays is one of those managed VPS hosting providers with a simple interface.
CloudWays bot is always online and helps keep you on track with constant updates and insights about your hosted apps or websites. There's also live chat, ticket, and email support for all customers.
With a single Cloudways VPS instance, you can install an unlimited number of applications as well as get access to Free SSL Certificates, $1/month CDN, Varnish cache, Redis, and Nginx performance-tweaked environment for all your applications.
click to Visit CloudWays Homepage
StableHost
Stablehost came highly recommended and didn't disappoint when we gave it a shot. They aren't just like the everyday host that promises unlimited everything but gets you locked out once you start getting traffic and hits.

StableHost is moderately priced and comes with the RAID-10 type disk and pure solid-state drives. The speed and resources that come with their enterprise plan are amazingly fantastic, judging from the affordable rate that's placed on it.
You can hardly go wrong with a qualified plan at stablehost.com as their servers are neither slow nor over-sold. Their support team works round the clock to get issues resolved and on time too.
StableHost Promo Codes: From shared servers, and enterprise plans to Reseller Hosting and Virtual private servers (VPS), Stablehost has got some stellar coupon codes for their new customers. These promo codes are advertised on their homepage and would be automatically applied to your new hosting orders.
click to Visit StableHost Homepage
HawkHost
Hawkhost semi-dedicated plans are highly optimized for speed and work flawlessly with WordPress and other popular content management systems (CMS).
Their shared hosting plans use the solid-state drive type disk to deliver your files. They offer great customer support with highly knowledgeable tech heads that work seamlessly to offer support and optimized services.
click to Visit HawkHost Homepage
Squidix Web Hosting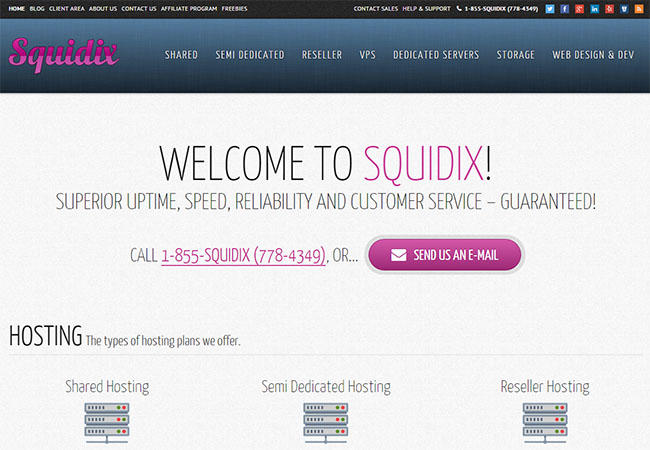 Squidix might be a new name to you, but definitely not a new name in the hosting industry as they have been in business for more than five years already.
They are one of those web hosting companies whose sole aim is delivering awesomeness, dedicating more time to their service and customer support than they do to advertising and shameful promotions.
We have been with them long enough to vouch for their service uptime and reliable tech support staff with the technical skills to manage all forms of server complications.
Squidix web host offers various types of hosting plans that are fully optimized for speed. At Squidix, you'll generally get the value for your money.
Shared Hosting: Their shared server is as good as what you'll typically get with VPS plans of most web hosts with over-sold servers; It is that good! It might seem very pricey on the surface, but it's worth every dime spent on it.
Semi-dedicated Hosting: We are using a higher level of this plan and can tell how significant an investment it has been to our business.
VPS Hosting: Squidix VPS hosting offers more resources than the earlier plans and comes with the popular cPanel and WHM at no additional cost. It is the preferred plan for software that needs root access to work, else, the semi-dedicated package works flawlessly
Reseller Hosting: Squidix reseller hosting is reasonably priced and comes with cPanel, a 1-click installer, and WHM.
Dedicated Server Hosting
Our Squidix Experiences
With Squidix, we have had nothing but applause for their timely support, fast servers, and improved search engine ranking on some of our content.
Our experiences so far 's been excellent and nothing short of awesomeness: From the trend, it does seem like we are not alone in this, as there is only but applause from users of Squidix hosting services.
We noticed an above 100% increase in speed and 100% up-time so far (using the topmost up-time monitoring tools such as; Jetpack Website Monitor,  Pingdom website monitoring tool, and freewebmonitoring.com) as against the below 92% up-time we had on Arvixe and Namecheap.
So far, the support, services, and overall experiences we have had on the Squidix web host are second only to Namesilo and MDD Hosting. If you care about quality and reliability above cheap and oversold servers, then,  Squidix web host is the go-to guy for a modern hosting company with robust infrastructure!
Discount & Promo Codes: Squidix doesn't throw around so many coupon codes but does have some really good discount codes for most of their plans.
If like us, you've chosen to go with their semi-dedicated plans, using the promo code "7YWMBJR3N2" is going to give you a 25% off discount for life and will be recurring for the lifetime of your Squidix Hosting account.
If you opt for any other plan, using the coupon code "TEN" is going to give you a 10% off recurring discount for life and works across all Squidix hosting plans.
SiteGround Hosting
SiteGround is a host we have used, promoted, and recommended as a reliable option for small and medium-sized businesses. We have been with them long enough and can tell how reliable their customer support staff are.
It doesn't matter if it is an email ticket or phone support; the SiteGround hosting techs would work with you until all the issues are resolved completely.
The only minor issue we have had with SiteGround is the billing system where a monthly billing scheme isn't allowed; this makes it a bit pricey as there's only the annual renewal option for all of their shared hosting plans.
All in all, Siteground hosting is a reliable hosting provider with fast servers, great support, top-notched infrastructures, and an excellent security system in place. All real users' review points to the speed and competent technical support that comes with all SiteGround products.
SiteGround hosting uses no promo codes but offers an above 50% off discount for their new customers.
click to Visit the SiteGround Hosting Homepage
Some Notable Mentions
Here are some more EIG Hosting alternatives that are well-tested, reliable, fast, and customer-oriented. While they are not top on the list, they are better than what you'll normally get with EIG hosting services.
Inmotion Hosting
Inmotion Hosting is a decent web host with excellent support staff. Their shared servers aren't particularly as fast as that of Squidix and MDD hosting but work flawlessly on WordPress and HTML websites.
Inmotion hosting is developer friendly and works great for high-traffic websites. You can go with any of their shared, VPS, or dedicated plans with great confidence and assurance of a level-headed support team that stands up for you when the need arises.
We have worked on the inmotion hosting platform a lot and can vouch for the speed, security, and level-headed support. Their server uptime is great, and so are their security and response rate.
So far, we have had a good experience with Oxwall, WordPress, and SMF on Inmotion hosting platform. You can find out more about their hosting features and server capability from inmotionhosting.com.
Veerotech: Some of the best techs with the technical know-how for managing websites professionally resides here. Their support is quick, servers are fast, and plans are flexible enough to meet your business needs. Trust me, they're a great non-EIG host for those in need of better EIG hosting alternatives.
KnownHost: Knownhost is my go-to guy for managed VPS hosting services. While I've used their Managed WordPress hosting services in the past, I haven't tried their shared hosting plans yet, but I believe they'll deliver based on my steller experiences with their VPS and managed WP hosting services. Their support is top-notched with excellent uptime and speed.
NameCheap: Namecheap isn't particularly great but does have very cheap and affordable hosting plans for starters and private blog network (PBN) owners. We usually have multiple downtimes a month, but the downtime hardly exceeds 3 minutes at a go. While they do not have the fastest servers around, there's Cloudflare Railgun, SSD drives, and top-notched support you'll never get with an EIG host.
WiredTree
Closing Remarks
Most EIG hosting companies started as the top destination for premium hosting services before being acquired by the endurance group.
This is the reason why I'll recommend that you follow honest hosting reviews when looking out for the best EIG hosting alternatives. Go with a non-EIG hosting service that's tested, tried, and proven by many experts and novices alike to offer a great server, robust infrastructure, and quick customer support.
Even though we do strongly recommend the services of mdd hosting, SiteGround hosting, and A2 Turbo Hosting servers: We'll ask that you go through this list carefully to see the pros/cons of each hosting company before picking your preferred  EIG hosting alternative for a better business hosting experience.
Disclaimer: This post was created to share our web hosting experiences and make intelligent recommendations based on our years of use and the other criteria listed above. It is not a 100% assertion or a guarantee that these EIG hosting alternatives recommended on this page are 100% flawless or will never go the way of other popular hosts in the future. Our best bet is to keep this page updated with tested, trusted, and reliable non-EIG hosting options for Blogs, businesses, and organizations.