If you are a web developer, application developer, or one that has just outgrown the little resources that comes with shared hosting, an Unmanaged VPS SSD hosting can save the day for you. This is because they are cheaper, faster (without bloated Cpanel plugins), and can be managed easily with any of these free web management tools.
Since today's list is huge, we are going to separate the best and high-speed options from the untested ones. In a glace, here are the top best Unmanaged VPS SSD hosting companies that are fast, cheap, and reliable.
Top 7 Cheapest Unmanaged VPS Hosting Companies that are Really Fast

This is the most important section of this article as they include – hosts that's been rigorously tested for speed, performance, and excellent server response. The tools used for testing would be discussed in detail for your learning.
The tools used?
Since these Unmanaged VPS hosting providers are well popular, I decided to get some websites that are hosted on their servers. For some I couldn't get, I bought an entry-level plan to get an IP address to test them with.
For the records; I bought the entry-level plans from Cloudcone, Vultr, Digital Ocean 2GB, and a few from other Unmanaged VPS hosting providers.
Now that I have a handful of IP addresses in my arsenal, I went for the real deal with only these few providers coming atop.

For the latency test, I used the free services of CloudHarmony to get a detailed insight for listed providers. For unlisted providers, I used CMD, free Ping tools (like this one), and other VPS testing services to test for: Time to first byte (TTFB), server response, and the overall performance of the VPS server.
All in all, the test(s) was worth the time as it helped me to filter these providers from the rest.
Vultr High-Frequency SSD VPS Servers
(Get $100 Free Vultr hosting credit here)

With 15 data-centers strategically placed around the globe, Vultr offers the best value for money as long as unmanaged VPS hosting is concerned.
There's a data center in Seattle, Los Angeles, Dallas, Silicon Valley, Chicago, New Jersey, Atlanta, Miami, Paris, London, Frankfurt, Amsterdam, Sydney, Singapore, and Tokyo.
Vultr servers give 100% root access, are configured with 100% Intel Cores, and comes with Infinite OS combinations. Their starting plan of $2.5/month for a 20GB SSD VPS is definitely a great bargain for young developers, students, and digital marketing trainees.
For more… See Vultr's Homepage
Digital Ocean Cloud Servers
(Click here to get $100 Digital Ocean hosting credit)

Digital ocean is the second unmanaged VPS hosting provider to consider for your big projects. It has 12 solid data centers and comes with SSD for all droplets.
For the tests: It was a very close call between Linode and Digital Ocean, but we settled for DO by looking at the excellent price point. For most server locations, Linode performed better while Digital ocean did very well in our latency tests.

The $15/month droplet offering: 2 vCPUs, 2GB RAM, 60GB SSD, and 3TB bandwidth comes atop the pricing plans with the best value for bloggers and internet marketers.
For more… See Digital Ocean Homepage
Linode Unmanaged VPS SSD Servers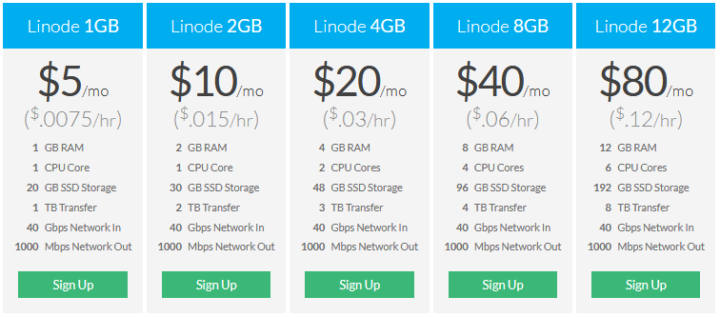 Linode is no mean name among the top unmanaged VPS hosting providers. They have 9 data centers with a physical presence in North America, Europe, and Asia-Pacific.
Their cheapest VPS plan comes at $5/month with 1GB RAM, 1 CPU Core, 20GB SSD, and 1TB monthly transfer. Linode VPS works well with WordPress and can be combined with the Cloudflare network for better DDoS protection.
See all features at Linode.com
Cloud Cone VPS

Cloud cone is a VPS hosting company that lets users enjoy free DDoS protection service irrespective of the plan subscribed to. Their cheapest server configuration is priced at $2.6/month while the 16GB memory plan goes for $69.99/month.
There's a specialized managed WordPress hosting option for an additional $10/month. This add-on comes with assisted migration for existing websites.
Click to Sign up for a free account at cloudcone.com
StableHost Unmanaged VPS Hosting
We are pleasantly surprised with the performance of StableHost's VPS servers, hence the mention in this publication. StableHost VPS server is priced higher than the earlier options but comes with better technical support.
Users on Stablehost's unmanaged VPS hosting plans can install any operating system of their choice as it uses KVM and Virtuozzo technology. There are only 3 data centers with StableHost SSD VPS. To wit: Amsterdam, Chicago, and Phoenix.
New users of StableHost services can use stableunvps coupon code to get a 40% Off discount on any of their unmanaged VPS hosting plans.
Click to Visit StableHost's Homepage
Interserver VPS
With a starting plan of $6/month, Interserver VPS is a solid option for bloggers and App developers. It comes with a decent-enough control panel and very flexible software options.
Users can choose between New York (Equinix NY4), New Jersey and Los Angeles data centers. There's full support for KVM Linux, KVM Windows, and OpenVZ technology on Interserver.
Check out Interserver VPS slices at interserver.net
OVH VPS SSD
With a starting plan of just $3.35/month for VPS SSD, OVH has established itself as one of the finest unmanaged VPS providers from Europe.
OVH VPS SSD users can scale up their servers at any time and also get access to industry-standard Anti-DDoS protection at no extra cost.
The uptime guarantee of 99.95%, OpenStack KVM technology support, and the generous resources for their entry-level plan make them a formidable option for the top best unmanaged VPS hosting companies of 2018.
Click to check out OVH's VPS Offerings
Notable Mention: UpCloud
UpCloud, although new to us is not a new player in the almost-saturated VPS SaaS hosting business. They sell unmanaged VPS servers that are fast, solid, and work great for eCommerce hosting.
We bought a 2GB server from them on October 21st, 2020, and were greatly impressed with their speed and overall performance. They are, Imho, a top unmanaged VPS hosting company for startups, business applications, and eCommerce websites.
Their pricing starts from $5/Month and they have data centers in Helsinki; Finland, Seattle; the US, London; UK, and Singapore.
Other Really Cheap Unmanaged SSD VPS Hosting Option for Businesses
This section includes tested and non-tested unmanaged VPS hosting companies. Some were tested but didn't make the cut above, while the rest were tried/suggested by our in-house editors.
Although the pricing point of most of these cloud hosts seems interesting, it is important to take note of the difference between OpenVZ and KVM technology. While OpenVZ (or Virtuozzo) does not give your processes the full amount of allocated resources due to overhead, KVM or XEN does so.
All in all, these VPS option is great for small businesses, development environment, hosting digital marketing applets, short-term servers, and remote communication tools.
8 RamNode VPS

RamNode VPS is powered by RAID10 SSD storage drives and has support for both OpenVZ and KVM virtualization technology. There are multiple data centers to choose from and a free SolusVM control panel system for every server plan.
Their lowest KVM plan costs $3/month while that of OpenVZ is $3.5/month. Each of their VPS plans comes with a 3 days money-back guarantee for new customers.
Website: ramnode.com.
9. VPS.net
VPS.net is among the only VPS hosting companies that can boast of more than 20 data center locations. There's a total of 24 data-centers across five continents.
USA, Canada, Brazil, India, France, Germany, Netherlands, England, Singapore, Japan, and Australia are the countries with VPS.net cloud presence.
Their cheapest VPS hosting plan is priced at $5/month while the highest is $192/month. There are both phones and live chat support for each of their hosting plans.
Website: vps.net.
10. BuyVM OpenVZ/KVM VPS
Like RamNode, BuyVM servers are powered by RAID-10 SSD storage drives and use both OpenVZ and KVM virtualization technology.
Their cheapest OpenVZ VPS hosting plan is capped at $15/year while their KVM VPS hosting plan is $3.5/month. VPNs and tunneling protocol(s) work well with their OpenVZ server hosting plans.
Website: buyvm.net.
11 SSD Nodes
We tried SSD nodes VPS for a few days and were really impressed with the overall server performance. Their VPS servers have support for Ubuntu, Debian, and CentOS. There's also a 14 days money-back guarantee for new customers.
Website: ssdnodes.com.
12. VPSserver.com
VPSserver.com cloud data center is available in the US, Europe, and Asia. Their server is powered by 100% pure SSD drives with global DDoS protection.
Their cheapest KVM VPS hosting plan is $4.99/month, and the Popular VPN protocol is supported in all of VPSserver.com KVM/SSD VPS hosting plans.
Website: vpsserver.com.
13. Scaleway VPS
Scaleway is very popular among European users. They offer cheap and highly affordable VPS hosting with a starting plan of €1.99 (or $2.36)/month for 1GB Ram, 25GB pure SSD drive.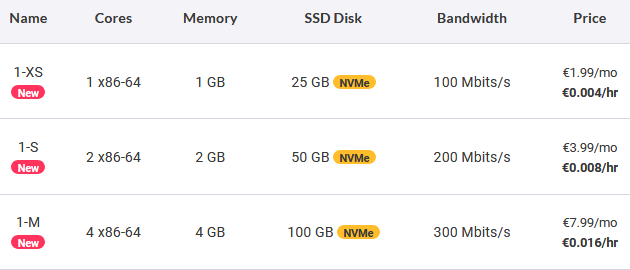 Scaleway VPS hosting plan includes Pure SSD VPS hosting, ARMv8 SSD Cloud, and BareMetal performance hosting. Their plans are highly scalable with built-in support for Hot-Snapshots.
Website: scaleway.com
14. Hostodo VPS
Hostodo unmanaged SSD VPS servers are super responsive and fit for high-traffic apps and businesses. Their competitively priced NVMe KVM plans let you get access to ultra-fast NVMe SSDs for launching your app or business website.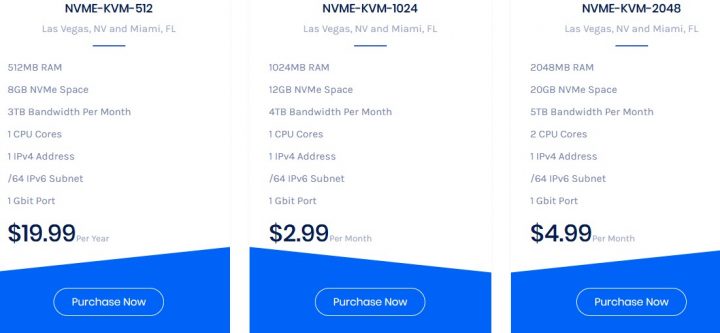 They have multiple server locations in the US and allows you to load your desired operating system from the control panel. Their technical support team is super responsive as we got attended to within 24 hours of raising a ticket.
Hostodo cheapest NVMe KVM plan is priced at $19.99/year, while their standard SSD KVM VPS plans start from $5/month. You can find out more about Hostodo unmanaged VPS plans and offerings by checking out their homepage.
15. VPSCheap.net
VPScheap.net is the last on our list today. We had other options including cheap VPS services from vpsdime.com, hetzner.com, owned-networks.net, and colossuscloud.com, but settled for that of VPSCheap.net. All thanks to the honest contributions from our fans and in-house editors.
So far, the VPS offerings from VPScheap.net are mouth-watering as their lowest plan is billed for only $28/year. Their VPS plans are unmetered which means unlimited* data transfer monthly.
With VPScheap.net VPS, you'll get full root access, free IPv6 connectivity, DNS management, and 30 days money-back guarantee.
Website: vpscheap.net.
Notable Mention: LeaseWeb VPS
Leaseweb VPS servers are built on a fully redundant platform with built-in support for DDoS protection. They have data-centers in Europe, Asia, the US, and Australia.
LeaseWeb cheapest VPS SSD plan is priced at €4.95(or $5.86)/month while their 8GB vRAM plan is kept at €29.40/month (or $34.84).
Website: leaseweb.com.
Top Best VPS Management Tools (Free/Paid Options)
Apart from Cloudcone and StableHost that have some sort of management plans with their unmanaged VPS servers, the large chunk of unmanaged VPS providers out there either charge exorbitantly for the management or comes with none of it.
Irrespective of your VPS provider's management options, these tools/services would help you manage your raw VPS servers with little to no bloat.
Free VPS Server Management Tools
Paid VPS Server Management Tools

CloudWays: If there's any reason to opt for a paid VPS management tool, then cloudways is the right one to go for. It is faster, cheaper, and with little to no bottleneck when compared with similar services. Everything from backups, staging, UPscalling, SSL, Caching, CDN and etc. can be enabled in just a few clicks.
RunCloud: runcloud is a premium-only PHP cloud server management tool. It can come in handy for managing self-managed VPS servers. Their official website is seated at runcloud.io.
Cloudron: cloudron is another PHP cloud VPS server management panel with premium-only plans. Their official website is cloudron.io.
Moss.sh: moss.sh is available for paid users only. Their pricing plan starts from $15/month, and their website is seated at https://moss.sh.
Wrap Up:
These are the cheapest unmanaged VPS servers for bloggers, app developers, freelancers, and business agencies. We'll update them from time to time and would let you know once there's another really fast VPS hosting provider.
Have you used a really fast unmanaged VPS server you'd like us to know about? Please do share your experiences with us in the comments section below.