A domain name is usually the first thing to buy when planning to take your business online; the choice of a domain registrar can affect your business's longevity. If like us, you are a web developer, a freelancer, or a niche blogger, you must have been faced with the challenges of choosing a domain name registrar that cares more about your business than its profit.
A few hours ago, we published the list of Top Best and Worst Web Hosting Companies and thought it wise to do the same thing for domain name registrars since we've used a lot of them and can confidently share our experiences as well as give a perspicacious verdict based on –
Customer support
Security
User-friendliness and ease of cancellation
Upselling and cross-selling techniques
Hidden fees and other negative marketing tactics
The Best Domain Name Registrars
We'll like to start with the best domain name registration companies as they should matter to you first before the average and worst domain registrars.
1. NameSilo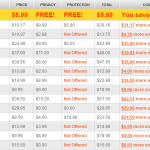 NameSilo made us realize that there are still honest companies that value its client more than profit. They are focused on selling and protecting your domain name than they are with upselling or cross-selling one useless add-on to you as some other domain registrars do.
At Namesilo, there's neither a hidden fee, transfer and renewal charges nor minimum orders, bait, and other negative tactics most registrars use to hoodwink users to their services.
Namesilo does not sell domain names at $1 and then renews at $16. All premium add-on such as domain defender, free whois privacy, free domain parking, email forwarding, and registry lock comes for free. With a Namesilo account, you'll get a free –
Lifetime WHOIS Privacy
Email Forwarding
Domain Name Parking (You earn 100%)
Domain Defender Protection
DNS Management Tools
Custom WHOIS Records
Domain Forwarding
Portfolio Management (with a plethora of templates)
Registry Lock and
Sub-Account Tools
We have written a review of NameSilo here; you can read about them from there or visit their official homepage for more. Using the NameSilo coupon code "silorocks15" (without the quotes) will remove a dollar (1USD) from your total order.
2. Name Cheap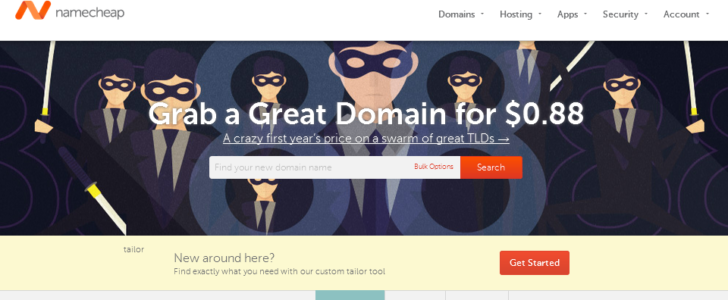 NameCheap is another domain name registrar that served us well enough to be listed among one of the best domain name registration companies to trust. Their interface is worth it; their support (for domain) is excellent and knowledgeable enough to attend to every domain name-related technicalities.
They have lots of TLD support, including the .xyz extension. We've used their services long before deciding to go with NameSilo.
One great feature we appreciate from the guys at NameCheap is the ease of payments and services' cancellation. You can add as many funds as possible to your Namecheap wallet and use them to renew and purchase new services.
It is super easy to make a budget plan for your domain and businesses with the Namecheap wallet function. Real human answer troubles tickets at Namecheap, and customer support is never treated with negligence.
NameCheap Promotions: Just like other top domain registration companies, Namecheap does have promotional prices for new users and old customers alike from time to time. There is the DOMBLOOM coupon code that lets one buy top-level domain names (TLD) at a discounted rate.
One of their best promotion is the one that lets you buy a full-year NameCheap value hosting server for less than $10, and you can host up to three (3) websites on it.
3. Google Domains
Even though support is usually a major issue with most mainstream services providers (such as Yahoo small business, EIG, and co), Google domains are surprisingly different.

Just like Namesilo, they added 100% free Whois privacy, 100 email forward aliases, zero Upselling, and 24 hours customer support.

With Google Domains, you'll have the chance to use a highly intuitive domain management dashboard with zero ads, zero distractions, and zero upselling/cross-selling tactics.
There's a $12 flat pricing for domains bought from Google domains, and this is without any hidden charges. You can see more from their official website at google.com/domains.
4. IwantMyName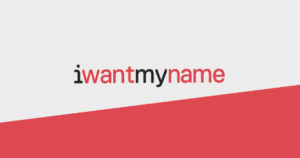 iwantmyname came highly recommended by friends and colleagues in the industry, so we decided to give them a shot for some of our recent projects.
Namesilo (as stated above) is usually our most-preferred choice for buying simple domain names, but their TLDs support is limited.
This normally gives us the room to try out other domain name companies when signing up for domains with country code domain extensions (ccTLDs).
IwantMyName has served us so well and does have one of the simplest management dashboards so far. Their billing/sign-up process is straight-forward, with zero cross-selling/up-selling.
There's the pre-configured DNS tool that lets you install blogger, Weebly, Wix, Tumblr, Squarespace, Google apps, TypePad, and other popular services in seconds. This tool comes for free and works well with all popular services on the web.
Their support team is responsive, and like Namesilo, they offer completely free Whois privacy protection for all top-level domains (TLDs).
The only down-side with IwantMyName domain services is in pricing and (maybe) their ICANN accreditation status. We paid as much as $19 for a ccTLD. This is about $8 more than what's obtainable at most popular registrars.
Such amount can be traded for top-notched support and fast DNS servers on a single domain name purchase but can become too pricey for bulk domain orders.
In all, I-want-my-name is an excellent place to buy your domain names if pricing is not the sole driving force. You can key-in to their services by using the domain search bar at their official website.
The Average Domain Name Registrars
The domain registrars listed here aren't bad at all; they just didn't cut into the ones we could list in the best category. We've had one dissatisfaction or the other with them and will recommend any other one from the top before coming to them.
Name.com
Name.com is just as good as name cheap. Like what we like and appreciate, they do not use bait and switch tactics as most greedy domain registrars do. We have had all-around great experiences with name.com services and recommend the same to clients and developers alike.
Their prices aren't just fair enough but are also very transparent, unlike some domain registrars that will sell a domain for cheap and renew at ridiculous prices.
With a name.com domain name, you can transfer your domain name to another registrar (like we transferred to Namesilo) in a short while without waiting for ages to get the EPP code for transfer. We already made a short review of their services; you can read it up from here.
Domain.com
domain.com hosted about three domain names for us and really served well; we weren't that much impressed with their support team handling of technical issues but can vouch for their response time.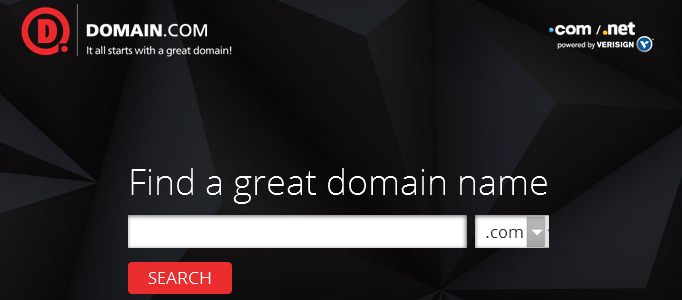 Their interface is user-friendly enough that a novice user will blink an eye in awe. They neither offer free Whois privacy nor domain protection but do for domain forwarding and custom DNS.
Warning: Domain.com DNS update is extremely slow and disappointing, except you opt-in to their premium DNS extras. The last two experiences I had while trying to set up a custom domain name mapping for squarespace.com services were so bad that I have to source for an external DNS service to map them correctly.
Enom Central
enom is no mean name in domain name registration services and powers the majority of domain name resellers. We've used them in the past and can tell their support is really top-notched and answers technical questions like a pro.
Their dashboard might seem complicated at first, but it provides access to tools and DIY guides needed to make the best out of your domain name.
Dotster
We've only had to contact dotster support team once and were not that much impressed with it, but their services are really great and worthy of a recommendation.
With a domain at dotster, you'll get custom DNS management tools, domain forwarding, and sundry. Even though they do not offer free whois privacy and formidable domain protection tools, their services are great overall.
Dynadot
In Dynadot, there is the domain auction for expired domains and a support team that really cares for the clients. Our experience with Dynadot isn't as great as it is with Namesilo and Namecheap but wasn't as annoying as the ones below.
Below Average Registrars
They just didn't make the cut for us; Upselling and cross-selling techniques are not frowned at here; to them, it is all part of the game and makes them masters at the game of greedy marketing techniques.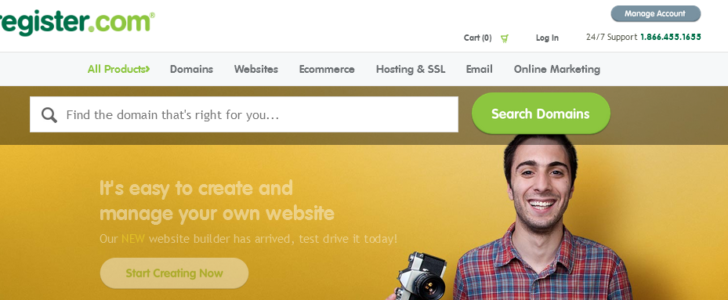 Their support is usually not the best for technical challenges and is better off avoided.
The Worst Domain Name Registrars
We have had the worst domain name registrars and web hosting provider in these two and can not recommend them to someone else.
From their bait and switch method, tedious cancellation process to aggressive Upselling and cross-selling techniques, these two companies have decided to shun all ethics and standard practices.
Searching for a good name that's available in Godaddy should be snapped ASAP, else the domain name will be gone forever or will be listed at a ridiculous amount (in the name of 'premium domain name').
A peep into the Pennsylvania State Attorney General office Chester Pa, USA: has in quantum- customer complaints regarding 1and1 shady practices/services.
I fell for 1and1 services in the first place due to their aggressive promotion for a 1st-year domain name and hosting services. It blinded my eyes from looking around the internet for honest reviews from real users of their services.
Of course, there are many painful complaints from real users of the 1and1 domain and hosting services that would have deterred me from patronizing them.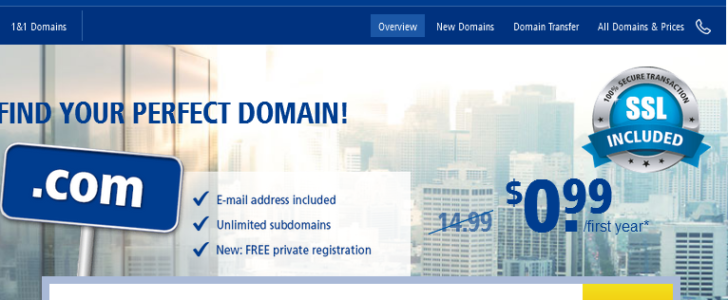 Attempting to transfer a service from 1and1 is typically not straightforward, so you must prepare to read tons of tutorials when making plans to move away from them.
In the Worst case scenario, they will continue billing your credit card for a difficult-to-cancel service, even after getting in touch with their ('never-interested-in-resolving-issues') customer support.
Update: Godaddy has improved in their domain name services but will still bug you with their hosting and services' up-selling that most-times pushes one to buy something he's really not interested in.
We'll remove them from this worst section for domain name registrars as soon as they improve their aggressive cross-selling tactics.
What More?
This is our submission and meant to serve as a guide and not a sanction; you will not lose your domain name to any of the listed providers except when not renewed on time.
Recall that the domain name registrars used, grouped, and shared in this list is: –
NameSilo
NameCheap
Google Domains
iwantmyname
Name.com
Domain.com
Enom Central
Dotster
Dynadot
Register.com
Yahoo Small Business
Network Solutions
Godaddy and
1and1
We can afford to use even the worst domain name registrars in our list because we are used to all the technicalities associated with domain name setup.
NameSilo provides the best support and domain security – that we can assure you. You can improve on this list by sharing your experiences on the best domain registrars or worst domain name registrars based on your review. Remember to choose wisely as – the domain name registrar used would play a significant role in your business success.