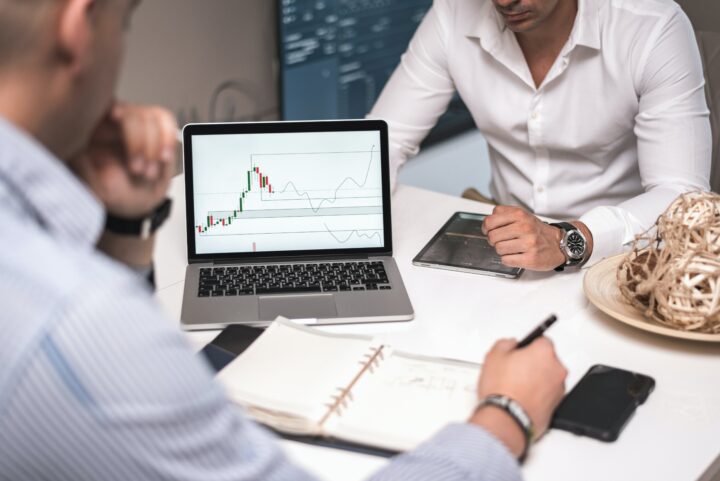 Crypto trading platform plays a pivotal role in trading, and the choice of one can significantly influence the security, efficiency, and success of a user's transactions. When choosing a platform, it's crucial to consider several key parameters: fees, liquidity, platform reputation, the availability of various trading tools, and the quality of customer support.
Furthermore, it's vital to consider the level of security, the presence of two-factor authentication, and other measures that prevent unauthorized access to user funds. Many platforms on the market offer unique features, so investors should carefully examine all available options before making a decision. Cryptorobotics stands out as the best platform for crypto trading. Let's take a closer look at this platform and its functionalities.
What is Cryptorobotics?
Cryptorobotics is a crypto trading platform that offers a range of analytical tools combined with automated solutions for trading in the cryptocurrency market. On this platform, not only can you execute cryptocurrency transactions, but you can also create crypto bots without any programming knowledge.
With these bots, users can automate their trading on both centralized and decentralized exchanges. Additionally, the crypto trading platform has a marketplace where users can monetize their developed bots, offering them to others and receiving compensation in return.
What sets Cryptorobotics apart in the market?
Support for a broad selection of coins and crypto pairs.
Access to 11 spot exchanges, 3 futures, and 2 decentralized exchanges.
Modern market analysis methods: detailed charts, up-to-date indicators, and news summaries.
Accurate data on the current rates of digital coins.
Functionality for developing and implementing your own trading algorithms.
The ability to trade both on mobile and through the web version.
Manage your risks using smart orders like stop-loss, take-profit, and trailing orders.
An educational crypto course to enrich your experience.
Free tools for manual trading in the terminal.
The ability to use crypto trading bots (for spot, futures, and DeFi markets), crypto signals, copy trading, and autofollowing.
The possibility to use a grid trading strategy.
Reasonable costs for using algorithmic trading tools, as well as the opportunity to use a profit-sharing system.
Let's delve deeper into all the features of this crypto platform.
Cryptorobotics' Crypto Bots
The crypto trading bots on the Cryptorobotics trading platform are capable of automatically executing operations across various cryptocurrency exchanges. They operate based on pre-set strategies and algorithms. These crypto bots are adept at analyzing the market to determine the optimal moments for buying or selling cryptocurrency.
Moreover, Cryptorobotics' bots continuously monitor market dynamics, tracking price changes and trade volumes on crypto platforms. Each bot offered by Cryptorobotics is designed to trade in accordance with specific market conditions. For example, they might act when the price reaches a certain level or when the trading volume exceeds a specified threshold.
The crypto trading platform also offers users the ability to evaluate various trading strategies and implement risk management tools, ensuring safer trading practices.
Among the types of bots available are DeFi bots, bots for trading futures and cryptocurrency, and Hold bots.
Trading Signals
Trading signals are trading instructions provided by analysts about potential profitable trades. Indicators for cryptocurrencies are formed based on expert data from reputable and qualified traders. Even considering the volatility of the crypto market, these indicators demonstrate high accuracy.
Such signals provide information about the current price, technical analysis, fundamental valuation, and other factors that can influence the cryptocurrency's value. The Cryptorobotics platform for trading signals offers users developed smart orders that are vividly visualized on charts.
This tool doesn't require any setup since the strategy is already embedded in the tool's algorithms. However, users can deviate from the strategy and make adjustments to the parameters.
Copy Trading
Copy trading is a tool for copying trades, allowing users to automatically replicate the operations of other traders. This approach is especially valuable for beginners and those who lack the experience or knowledge to trade independently.
On the Cryptorobotics trading platform, users can choose the traders whose trades they wish to copy. Subsequently, the system automatically replicates the same operations in the user's account, following the trading strategy of professionals.
Users can avail of this service either through the "Profit Sharing" payment system, where they share profits, or through a subscription to a trader's channel.
Auto following
Autofollowing is an innovative solution that facilitates the automatic replication of trading operations in real-time. This mechanism shares similarities with crypto signals tools, but it has some significant distinctions.
Unlike crypto signals, where an investor independently chooses analysts for the automatic execution of trades, autofollowing works differently. The trader selects a specific channel with a crypto bot that utilizes advanced artificial intelligence methods. The AI bot analyzes signals from analysts, studies the market, and then executes trading operations.
CryptoRobotics Terminal
The CryptoRobotics Terminal is an advanced software solution designed for the effective management of cryptocurrency asset buying and selling processes. Its features include numerous tools for deep market analysis, monitoring of current quotations, and automation of complex trading strategies.
Moreover, the terminal allows for placing various order types: limit, stop-limit, market, and ladder smart orders. It also facilitates risk management, including stop-loss, take-profit, and trailing mechanisms. Thanks to its intuitive interface design, traders can quickly and easily access up-to-date information for informed decision-making and ensure the safe storage of their assets.
Cryptorobotics Mobile App
Cryptorobotics platform has developed a mobile application available for the Android operating system. This app provides users with quick access to their accounts for conducting cryptocurrency trading operations. Its features include viewing charts, managing trading operations, handling the investment portfolio, and much more.
For iOS device users, the crypto trading platform does not have a separate app. Instead, they have access to a mobile version of the website with full functionality, similar to the PC version. This mobile web version offers users the opportunity for comprehensive cryptocurrency operations on their devices without the need to install an additional app.
Cryptorobotics Tariffs and Pricing
Cryptorobotics offers several pricing plans to cater to different user needs:
Free Package — Unlimited Time
Cost: $0
Benefits:
Trade on 15 crypto trading platforms
Set up to 10 stop-limit orders
Creation of 2 smart orders
Technical analysis tools with template-saving options
Analytics tools available for 30 days
Standard PRO – Monthly Offer
Basic PRO – Monthly Offer
Cost: $19
Benefits:
Stop-limit order setup
Smart orders
1 automated robot with an individual strategy
Advanced analytics tools
Demo trading possibility
Support for multiple accounts
Automated trading with robots
Trading based on analytical signals and automatic tracking
Access to all features of the free package
Expert PRO – Monthly Offer
Cost: $119
Benefits:
Robots for stop orders
Futures trading robots
5 automated robots with user-defined strategies
Smart orders
Support for multiple accounts
Trading based on expert signals
Automatic trade tracking
Advanced analytics tools
Access to all features of the free package
You can subscribe to one of the packages here.
Besides the pricing plans, users can also subscribe to one of the channels for copy trading, crypto signals, or autofollowing.
For traders who don't want to buy a subscription, Cryptorobotics offers the Profit Sharing service. This allows paying for tools like crypto bots, copy trading, and autofollowing based on profitable transactions. It's a perfect option for those who prefer to share only a portion of their profits rather than a fixed monthly payment.
Is using the Cryptorobotics platform worth it?
The Cryptorobotics platform is a cutting-edge tool for cryptocurrency trading. Here are several reasons why you should consider using this platform:
Versatility: Cryptorobotics offers a wide array of tools, including technical analysis, stop-limit orders, and automated trading solutions.
Mobile Application: Users can easily trade on the go with the Android mobile app. For iOS users, a mobile version of the site with full functionality is available.
Intuitive Interface: The cryptocurrency trading platform is designed in such a way that even newcomers can easily get started with cryptocurrency.
Diverse Trading Bots: Users can deploy a bot developed by the Cryptorobotics team. They can also automate their trading strategy by selecting a ready-made solution from the marketplace or crafting their own.
Transparency and Security: Cryptorobotics adheres to high-security standards, ensuring the confidentiality of its clients' data.
Payment Model: Depending on their needs, users can choose different pricing plans or opt for the Profit Sharing model, where payment is made only from profitable transactions.
Support for Multiple Exchanges: The cryptocurrency platform allows trading on various exchanges via API, providing flexibility in choosing a trading venue.
These features make Cryptorobotics a convenient and efficient crypto trading platform for those wishing to engage in cryptocurrency trading, regardless of their experience or knowledge level.