It happened last year, and this year, it promises to be awesome!, even more than the Black Friday sales. It is The Jumia Mobile Week 2016 and i hope you are ready?
Just in case you are hearing about this for the first time, The Jumia Week is a one Week Mobile fiesta organized by Jumia, where all Smartphone lovers can repackage or revamp their Phone library since you surely should be getting them at awesome prices. Following the release of the Samsung Galaxy S7 and S7 Edge, i think this is going to be a one time opportunity to get hands on these awesome Mobile devices.
There have already been much gaud on social media and trust me, you would not like to miss this opportunity.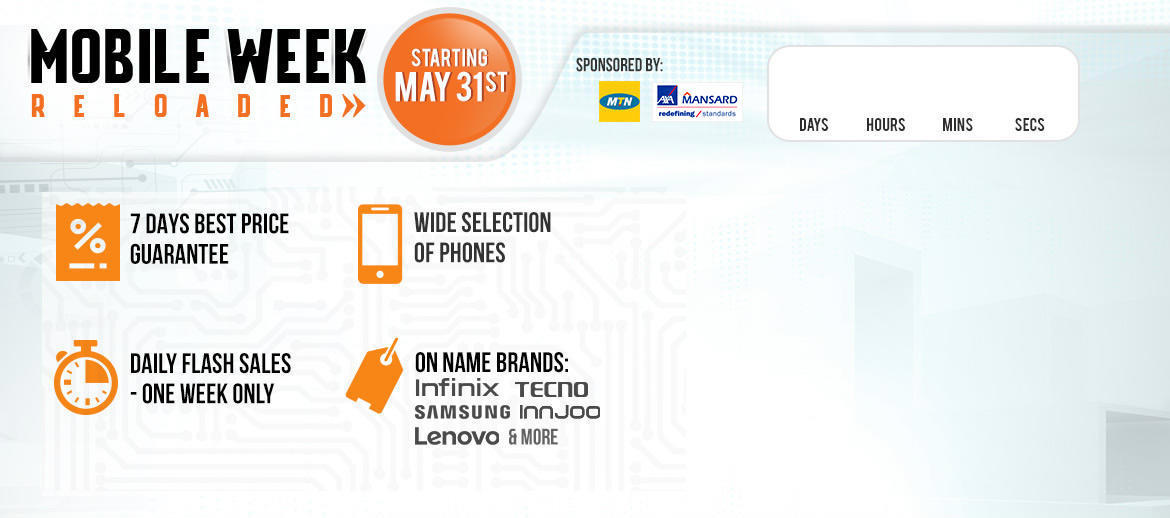 The Mobile Week would be starting from the 31st of May down to the 4th of June. All through this period, Consumers would be getting awesome devices from the likes of Innjoo, Infinix, Tecno, Samsung and many more at mouth-dropping prices.
Why the Jumia 2016 Mobile Week is the Real Deal?
7 days Money Back Guarantee
Meaning there isn't any need for trust issues, you get an awesome smartphone for a cool price.. if you don't likey, you can always return within 7 days. How cool?
Wide Selection of Phones
…Because You are the Boss, you deserve the best, select, having seen the phone of your choice, you can then order.
Sharp Brands
.. Because you just read the first point, you should be sure of getting a from an Already boosting Mobile Company. You can visit the banner below for more!
We would be publishing deals Here on this platform once we capture the best among all best. So… Watch this Space! :)