Funny enough, I have been using Gmail for so long without knowing that this feature actually exist. This has saved me the stress of going to webmail.mysite.com each time I want to log in to any of my custom domain email accounts.
At  a time, I opted for email forwarding on all my accounts which isn't a good practice considering the possibility of  spam attacks that can in turn lead to host blacklisting.

From a professional point of view, I will consider this the best approach to managing your company's email accounts without having to log on to them separately.
Google has this awesome tool integrated into all their free Gmail accounts, for me it is a very good replacement for the free Google Apps account that is some how sent down to Jupiter.
Introducing Google Mail Fetcher
Google mail fetcher is a free tool that makes it easy for you to combine and manage multiple email accounts via gmail.
With this you can synchronize your company or website's webmail accounts with your primary Gmail account. It allows you to send mails from gmail using the custom domain email.
Gmail's Mail Fetcher when configured will import all your old messages to Gmail and then continues to bring in new messages sent to your custom domain (any other) account.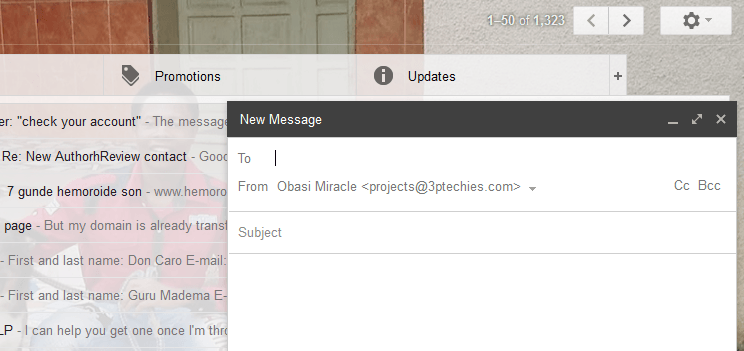 How to Set Up Google Mail Fetcher
Setting up Google mail fetcher is very easy and can be completed under few minutes. Under listed is the steps to follow when setting up Gmail's mail fetcher for your accounts.
Log into your Gmail account
Locate & click on the gear icon in the upper right corner of the page and select Settings
Navigate to the Accounts and Import
Check mail from other accounts (using POP3):
click on Add a POP3 mail account you own
Enter the full email address of the account from which you'd like synchronized
Tap on Click Next Step to proceed and enter account password
Leave the settings at the default or select Port 995 for secure email connection
Make sure that you check the box "Leave a copy of retrieved messages on the server" and "Label incoming messages"
Check the option to allow the added custom account to be use for From address
Select Google servers and verify that you own the account.
Save to start sending and receiving emails
Note that you can only add as much as 5 custom email accounts. You can also add other types of account (eg. AOL mail, another Gmail, Yahoomail etc.) other than custom domain ones.
Can I do the same for other email providers other than Gmail?
Yes, you can follow the guidelines above to sync your company or website's custom email accounts with your primary electronic mail services provider.
Microsoft Outlook/Hotmail even allows you to add as many as 13 different email accounts. Yahoo and AOL mail has got the same provision as well.
It is always best to fetch from your primary email account.
For guide on how to sync with Yahoo mail – go here
For guide on how to sync with AOL mail – go here
For guide on how to sync with Microsoft Outlook – see here