We informed you earlier on this year of the newly introduced feature that allows Nigerian Google Adsense users to Start Receiving Payments Directly to their Bank Accounts via international wire transfer.
This is a welcomed development, I personally consider it a big upgrade to the tedious check system that will normally force you to wait for days or even months before cashing your Google Adsense earning to your domiciliary account.
The international bank wire transfer introduced to Nigerian Google Adsense users was believed by majority of  Nigerian bloggers to work only with a domiciliary account in US Dollars ($).
But that isn't the case as I have personally cashed my Google adsense earning via a Diamond Bank Savings Accounts and my closest buddy down here cashed his with Zenith Bank Savings Account.
With this prove we can say that most bank's savings account in Nigeria can actually withdraw the  Google Adsense earning without requiring you to open a domiciliary account.
The List of Banks Already Confirmed to Pay to Directly to Nigeria Savings Account
Most bloggers are already aware that GT Bank Savings Account can't receive funds from international bank wire transfer done in US Dollars ($), this means that you can't cash your Google adsense earning via a GTB savings account except  you're ready to link it up with a Dom account.
Below we're going to look at the few banks we have confirmed pays to savings account by converting the US Dollars ($) values to NG Naira (N).
Access Bank Savings
Diamond Bank Savings (Best option for savings)
First City Monument Bank (FCMB)
UBA Bank Savings
Zenith Bank Savings
We have had first hand experience with this four (4) and can confirm they pay via savings account. It is also rumored that First Bank & ECO bank pays via savings but we haven't confirmed it at the time of writing this article.
How to Add Your Savings Account to Adsense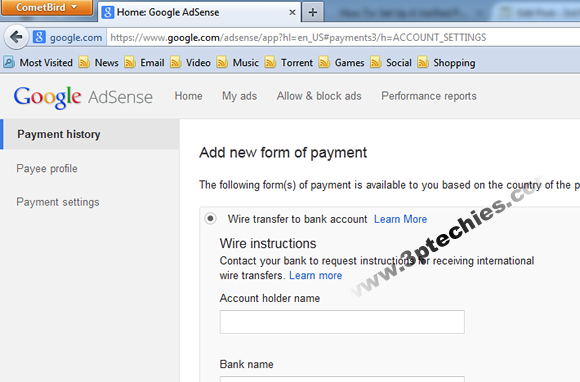 Adding your bank account to adsense is very easy and can be completed just under five minutes, all you need do is follow the instruction below accordingly.
Log  in to your Google Adsense Account
Locate and click on the gear icon in the upper right corner of the screen tabs
From the drop-down menu list items, select  Payments
From the left sidebar menu, locate and  click on Payment settings
Tab the Add new form of payment link
Select Wire transfer to bank account
Enter your savings account information taking note of the SWIFT-BIC
Update! –  March 2015, A user reported that United Bank for Africa (UBA) declined paying to his UBA bank savings account, so he allowed the funds to be refunded back to his Google adsense account and now sent via his Access bank savings account.
The SWIFT-BIC Codes of the Banks Listed
We listed about five banks already and will be listing more when Google sends out their payout this month, you can also help us grow this list by dropping list of other banks you're sure pays with Savings Account.
Under-listed is the SWIFT code for:
Access Bank –   ABNGNGLA
Diamond Bank – DBLNNGLA
ECO Bank – ECOCNGLA
First Bank – FBNINGLA
UNITED BANK FOR AFRICA  (UBA) – UBNINGLA
Zenith Bank – ZEIBNGLA
For list of all Nigerian Banks SWIFT-BIC codes, check out the comprehensive list here.
Note: We termed diamond bank the best option for using a Nigerian savings account to withdraw your Google adsense earning because you'll normally get alert the same day Google makes the payment, usually the 21st of every month.
To see more option for receiving your Google adsense earning via bank wired transfer and with prospects for huge profit, see our number three (3) option at the Surviving Buhari's De-Dollarized Economy post.