Following the release of Facebook's feature that lets you upload videos on the instant social networking platform, users have been craving to leverage this feature and bring it down into the comment section. If you are one of these, i think it just came to live as you can now add video as a comment on Facebook.
Of recent, the facebook team added a new feature on the social networking platform which they tagged, "Videos in Comments". Just as the name goes, it would be helping users add video(s) as comments to posts, replies etc which obviously should create a more interactive section on the social media platform, helping them to help you "connect the world" better as they have fondly been known for.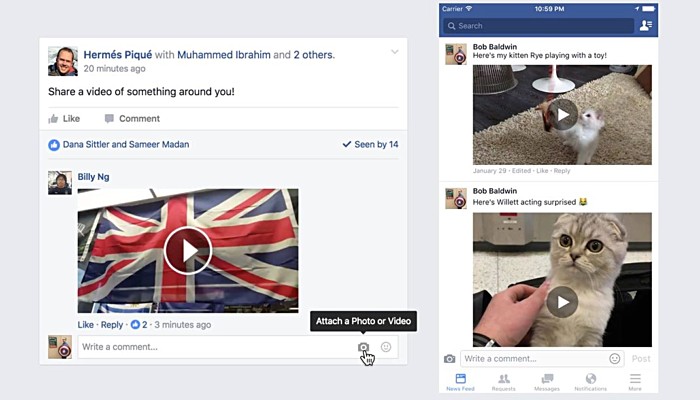 As reported by Facebook's Bob Baldwin, this feature was added in the 50th facebook hackathon which held sometime this year. He said and i quote, "At the hackathon, we coded as quickly as we could all day, and by the evening we could feel the pieces starting to come together. A little past midnight, we had the feature mostly working on both desktop and mobile apps. And when we demoed our hack to fellow employees the following week, they absolutely loved it!"
The feature would be coming on all platforms you can think of. Web, Mobile, iPhone, Android just name it. Facebook got you covered and then one last thing, the feature would/should be available to all countries.
So, How do i add Videos as Comment on Facebook?
It is simple. When you want to comment on any post whatsoever, just click on the icon by the right and you should see the "Video" stuff as comment.
Tried this out already? How do you see it? Cool or Nay?