Camera360 Ultimate for Android
FREE
Summary
Camera360 Ultimate for Android is a super-useful Photography app by PinGuo Inc.
Camera360 Ultimate for android is one unique camera and mobile photography app you can never say no to. The features are mind-blowing, thought-provoking and full of fun.
It is completely a freeware without annoying ads
Has support for wide range of devices (has an alternative app for low-end devices)
Doesn't lag and/or drain the battery
Lags and crashes in most low-end devices (except the alternative app is installed)
Could be confusing for new users
Could do better with more useful effects
Camera360 Ultimate has already replaced my default camera app icon on the home-screen of my phone: this is as a result of the fun and effects that comes with it.
Camera360 Ultimate app for android can serve as a  free photo editing app as well as a mobile photography app with wide range of exciting and unique tools such as;
Picture frame and effects
Selfie Capturing
Photo Sharing
Cloud Services
Video Capturing
Album and Gallery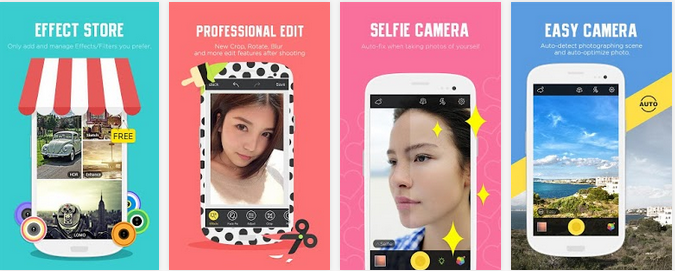 The picture editing capability of the Camera360 Ultimate app for android isn't as basic as other camera apps with photo editing features as it can be used to: resize, crop, rotate, blur, adjust and perform several editing options immediately after capturing a picture.
Why Camera360 Ultimate?
In my opinion, it is one of the best and free photography app out there in the Google play store, the tools keeps improving  on every update.
The recent update to v5.2  introduced about 3 new awesome features that gives flexibility to the user without draining the battery as most other apps will usually do.
The New Features
New user center and email register for Camera360 cloud services
New ID Photo Cam (helps you create ID photos)
Improved user-experience and bug fixes
Other amazing features such as; Effect Cam, Selfie Cam, Easy Cam, Scene Cam, Funny Cam, Tilt-shift Cam, Color-shift Cam, Audio Cam, Video, and ID Photo Cam can easily make one a camera360 ultimate addict in just few days of usage.
You also have plenty of effects to choose from at the camera360 ultimate's free effects store.
Download Link : https://play.google.com/store/apps/details?id=vStudio.Android.Camera360&hl=en