Few months ago we published the Nokia XL android Smartphone review that featured a forked version of android codenamed AOSP (Android Open Source Project) with most Google cloud services replaced with that of Microsoft.
Microsoft cloud services coming to android is no surprise knowing that Nokia has been acquired by them, we all thought that the first series of Nokia X android will be their last android phone.
But Hey! We 've been proven so wrong, the Nokia X2 android was released not too long ago with even better features including a 1GB ram and highly improved user-experience.
But our main focus today is how to root Nokia android phones without using a computer.
Our last article on top 9 Free Software-apps to root any android with or without a PC featured some free apps to root android including; Nokia, Gionee, Tecno, Infinix, Samsung, HTC and most other brands around.
In today's article, we're going to look into rooting Nokia android phones in seconds without installing any driver or even the need of a personal computer.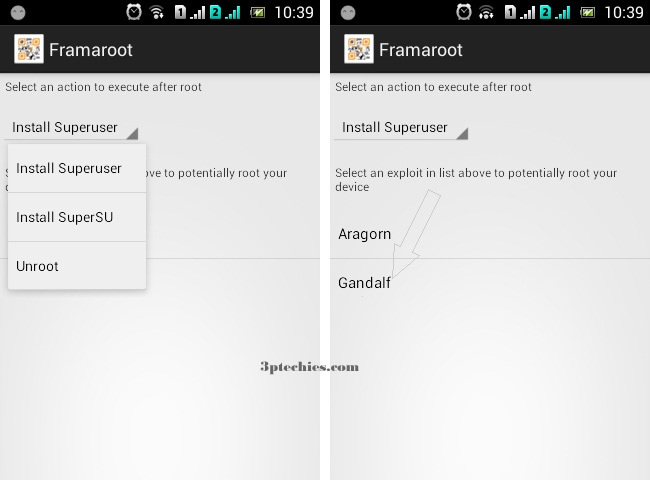 How to Root Nokia Android Without a PC
Enable unknown sources (disable after rooting)
Download Framaroot apk file from here or here
Locate & open the file with your favorite file manager ==> Install and launch the app
Select Grandalf from the list of exploits
Reboot your device after the prompt notifying you of the successful installation of Superuser and su binary
Install the root checker app to confirm your Nokia android device is now rooted.
Must Read: Vroot Software can Root all android phone and devices
This is how easy rooting a Nokia android Smartphone is, kindly drop your comments and questions regarding Nokia X series android rooting or check out our list above for how to root other android devices.
Update for rooting v1.1.2.2 or v11.1.1 Nokia X series android firmware
Hi all,
Nokia recent firmware updates has voided the framaroot tweak for recent Nokia Android Devices.
If your Nokia X series android firmware version is v1.1.2.2 or v11.1.1 then, this new guide should work effortlessly for you.
You will need a computer to do this though.
Steps to follow
Enable USB Debugging from the Developer options in system section
Download and Install the Nokia X USB Driver following the link and guide here
Connect your device to the computer and confirm if the drivers are properly installed from the Device Management Section of your OS
Download Nokia X Toolkit from here or here
Run the Nokia X Toolkit and notice a screen looking like the one below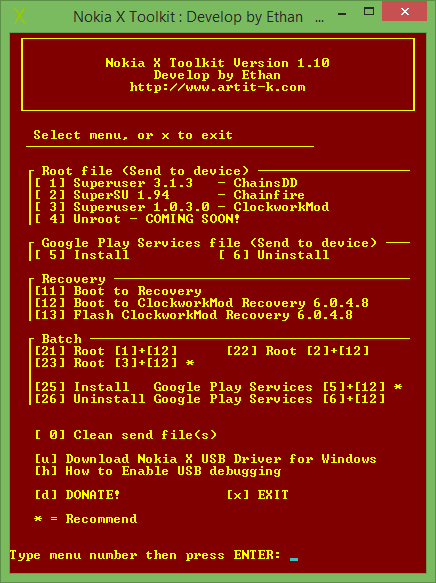 Select the root  Option 21
Allow sometime for it to get done with its magic; your phone will be booted into CWM once done.
From the Window ==> Navigate to Mounts And Storage ==> Mount System
Select Flash Zip from your SD Card and locate the zip of Superuser ==> Flash it and select Reboot after flashing it.
Select NO when the CWM fixing prompt shows up
Install the root checker app to confirm your device is now rooted.
Please leave a feedback to confirm if this works for you.
All thanks to Ethan for coming up with this magical toolkit.
Note also that rooting your device will normally void the warranty.