Facebook is allowing its users to celebrate this month with the new Pride reaction.
If you haven't noticed, one of the social media giants "Facebook" just added a new reaction tool called PRIDE. The company posted this on its LGBTQ@Facebook page:
We believe in building a platform that supports all communities. So we're celebrating love and diversity this Pride by giving you a special reaction to use during Pride Month.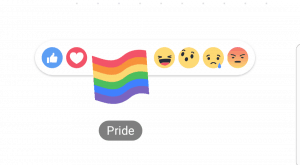 To unlock and use this reaction features, simply log-in to your Facebook account and like the LGBTQ Facebook Page, then the reaction will be available on your account for both desktop, mobile and Android versions of Facebook.
You also gain access to use the new "frame" feature which you can add to you profile photo.
Follow these steps to activate and use the PRIDE (Rainbow) reaction.
Log-in to Facebook through the mobile app or web browser
Search for LGBTQ@Facebook.
Like the LGBTQ@Facebook page and wait for about five minutes.
The PRIDE reaction is successfully activated on your account! You can now go ahead to enjoy the features it brings.
What's your thought on this new Facebook reaction button? Please do share with us in comments.