There have been much stir in  the air on regards the release of this much anticipated OS, update, The Android 7 Nougat. The Android 7 Nougat which happens to be one of the results of the 2016 Google I/O, is a straight successor to the Android 6.0 Marshmallow. With Lots of Cool stuffs coming along side the Android 7 Nougat like one which we exposed Here, you obviously should be expecting the experience to be wonderful.
As Seen from Google's Official Blog, it states,
"Today, we'll begin rolling out Android 7.0 Nougat to Nexus devices. And with more ways to make Android your own, it's by far our sweetest release yet.
We took a different approach to building and launching Nougat this year. For starters, we invited developers to take a sneak peek at Android N back in March, so they could bring their apps to the new platform earlier. And of course we asked you to help us come up with names for this year's release, resulting in lots of great ideas, and a delicious unveiling back in June.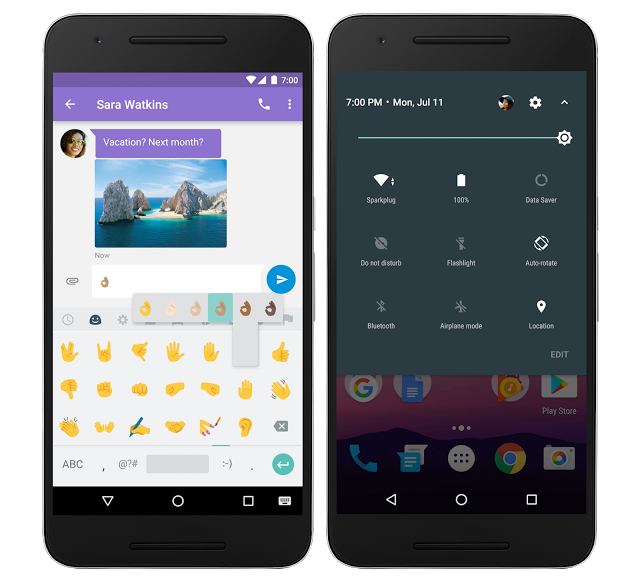 New Stuffs You Should See in The Android 7 Nougat
The Android 7 Nougat actually comes with lots of so many packed features, below are just a few that should pique your interest.
Expanded emoji: There are now over 1,500 different emoji built into Android, including 72 new ones, so go ahead: express yourself.
Quick Settings controls: Quick Settings gives you easy access to things like bluetooth, WiFi and the all-important flashlight. With Android Nougat, you can actually control what tiles go where, and move 'em around to fit your needs
Multi-locale support
More Productive Apps
More Battery Smart Features, which we discussed here.
More immersive including support for VulkanTM (an advanced 3D rendering API) and Daydream (Google's platform for mobile virtual reality).
More secure 
and more..
How To Get The Android 7.0 Update.
A Notification should get to you when your device becomes eligible for the update. But just in case you have got no chill :D , you can check it manually by going to Settings >About Phone > System updates > Check for updates.
What do you Think?