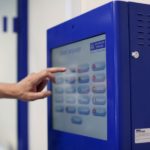 According to a recent market report by Transparency research, the interactive kiosk market is expected to grow by 10.8% each year up until 2024. Illustrating that the demand for kiosks and kiosk software is greater than ever before.
There are two main types of software to consider when deciding how your business's kiosk will engage with the public: off the shelf and custom.
But which solution will complement the needs of your business best? Can you justify the additional expenditure required for bespoke operating software? Your requirements should be the dictating factor but how can you be certain the software you choose will meet your needs?
Firstly, you must decide whether a generic program will be capable of performing all the tasks you will ask of your kiosk or not.
Standard, off the shelf software is much cheaper than the custom options and, if it proves to be enough, you could save yourself a lot of money in the long run but the limitations will be immediately apparent.
The pre-programmed, off the shelf software can be adapted to the needs of your business but it will only be capable of carrying out a limited number of functions.
Generally speaking, for simple tasks, off the shelf software is used predominantly for the delivery of information, processing payments or self-check in/out processes.
This may be enough for a lot of companies but there is an open market, at present, for the more bespoke tasks such as vending personalized items or very advanced processes such as 3D printing and Virtual Reality.
Pre-programmed software may not have the necessary capabilities to work with these more advanced peripherals and will force the hand of some businesses into spending more to get the best from their kiosks.
In order to decide which kiosk software option is best for your venture; you must firstly establish the desired output of your kiosk. If you only require basic functions then the cheaper, off the shelf software should suffice with some minor amendments such as branding and other personalisation.
However, if your kiosk needs to perform more advanced tasks then you may have no choice but to invest more money into your kiosk's software programming.
Hardware is equally as important, should peripherals be required, but the software must be able to communicate with the equipment correctly to avoid issues moving forward.
Expensive software might seem unnecessary to some business owners but if a kiosk is set to represent a technologically advanced company then it must also be advanced.
A business specialising in technology is unlikely to impress if their kiosk isn't up to modern standards – consider all aspects of your business before making a decision.
Conclusively:
The type of Kiosk software or programmed architecture to use for your business depends hugely on the company's budget, data scope and programmable tasks.
The services of  a professional auditor and/or A/B testing guru is usually required for bigger organizations than handles more data, when deciding for which Kiosk software technology type to go with.