Creating a privacy policy page for your business, blog, website, and/or company pages can be a daunting task if there's no legal practitioner around. Most especially now that you have to set your privacy pages to be fully compliant with GDPR.
These 10 free tools can help you create professional and 100% GDPR compliant privacy policy pages for your online businesses.
10 Free Privacy Policy Generators that are 100% GDPR Compliant
A privacy policy page is one of the most important legal pages on every professional website. It clearly states; how a business treats and/or handles their user's private details.
In this section, I'll be sharing the best 10 free online tools that'd help you create privacy policy pages that are 100% GDPR compliant. They are completely free, easy to use, and comes with no obligation.
1. Website Policies – [link]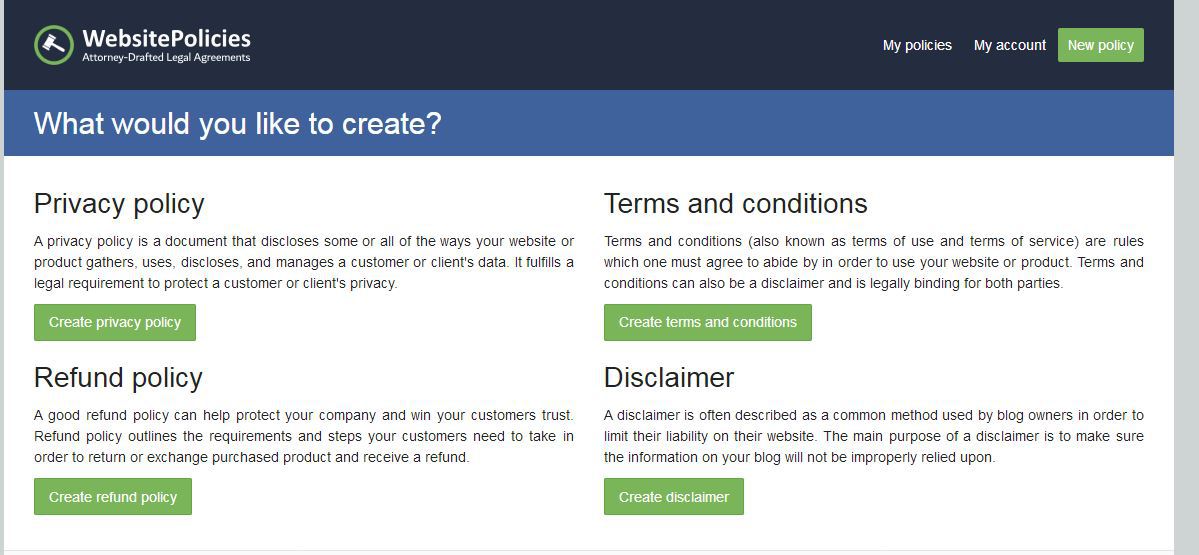 Website policies generator is a free online tool to generate 100% GDPR compliant privacy policy pages for your blogs, websites and apps.
It features a unique design, a user-friendly interface and highly intuitive functionalities. By using this tool to create privacy policies you get to customize various sections of the auto-generated texts and include your own specific rules, instructions and/or policies.
2. Free Privacy Policy – [link]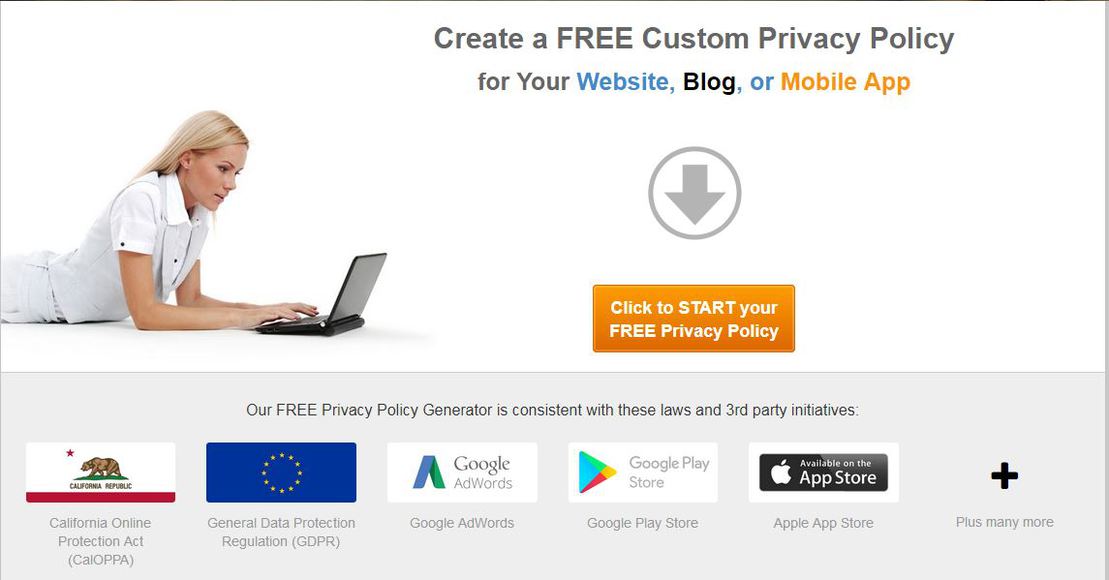 You can create an easy-to-read, highly effective, custom privacy policies with this free privacy policy generator tool. The website features an intuitive, user-friendly interface and comes with a lot of options to match with whatever service you're generating the policy page for.
Freeprivacpolicy generator lets you create privacy policy pages that are 100% GDPR compliant and consistent with various international laws and/or third-party monitoring bodies.
3. Cookie Policy Generator – [link]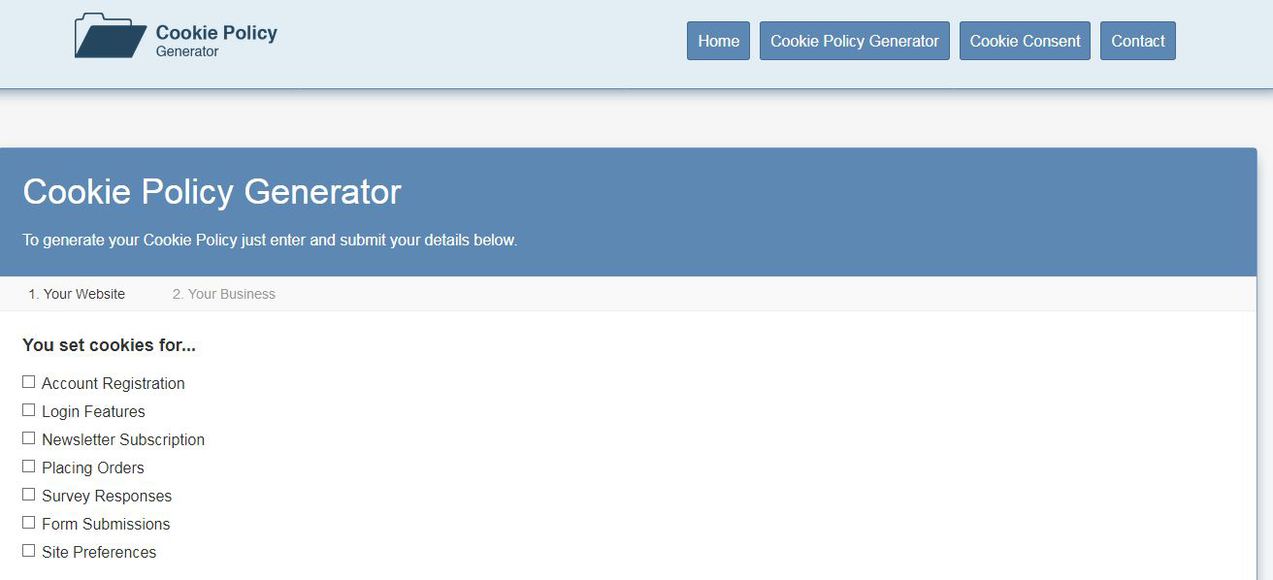 Probably the simplest/easiest cookie policy creator you'll ever find on the internet! This tool lets you create professional privacy policies in a few easy steps. The platform is simple and comes with an intuitive, user-friendly interface.
Policies created with this free online tool are in compliance with GDPR and other international laws.
4. Privacy Policy Generator – [link]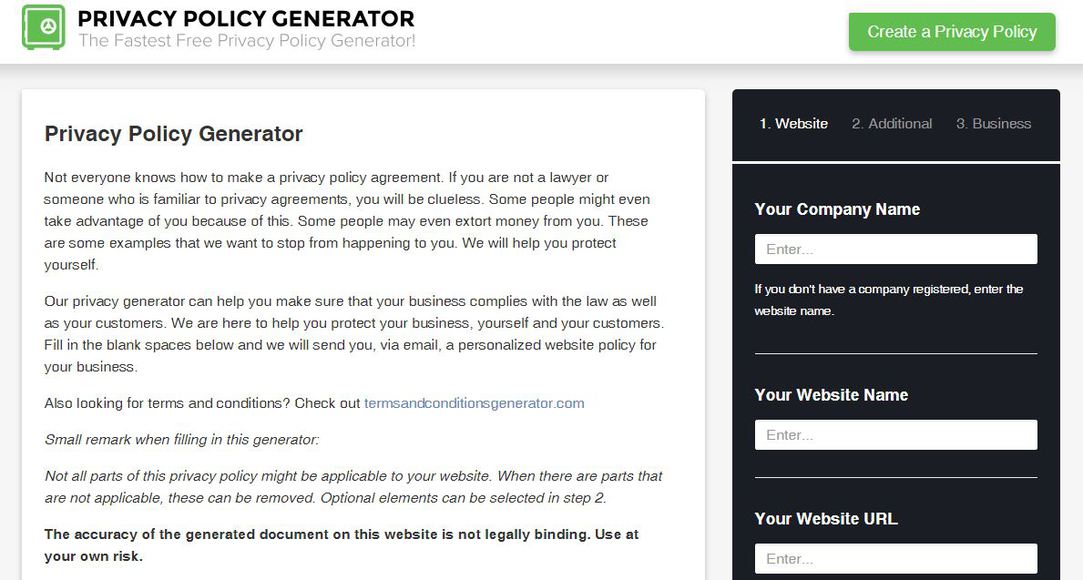 As the name implies – this is an online privacy policy generator that lets you generate professional privacy pages for all your websites. With this tool, you can auto-create unique and professional privacy policy pages, terms of services and similar legal pages.
5. Volusion Privacy Policy Creator – [link]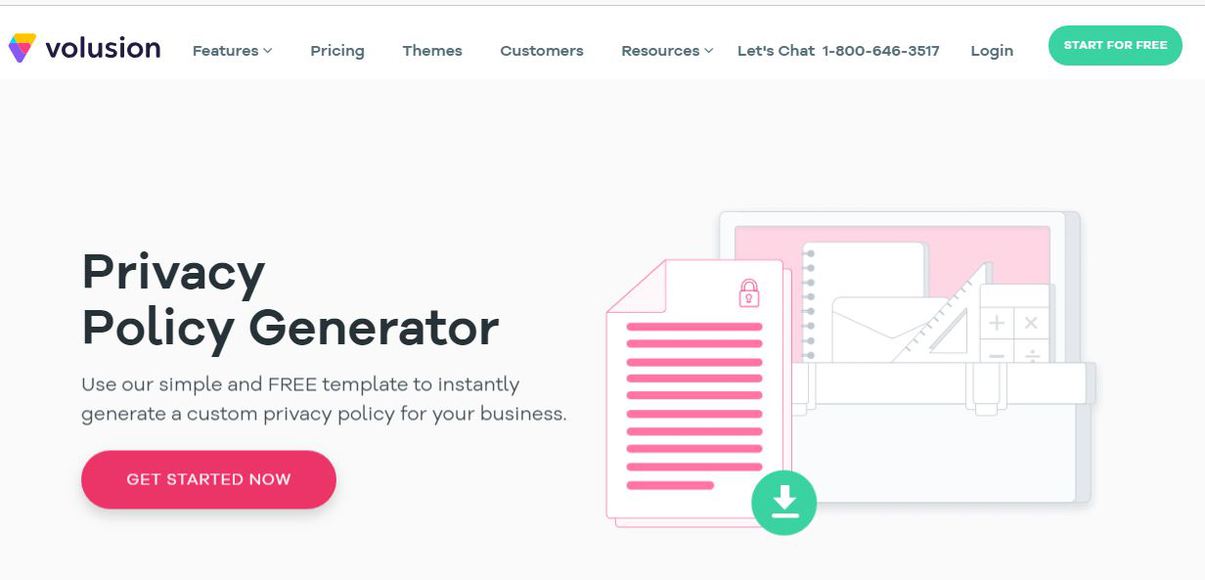 Volusion privacy generator is a free online tool for creating professional privacy policies for your website, mobile app and/or Facebook applications. The platform is simple and easy to navigate and it provides a lot of useful options to make your policy pages stand out.
With the Volusion Privacy tool, you can auto-create quality legal pages that are fully compliant with GDPR and other data protection policies.
6. Shopify Privacy Policy Generator – [link]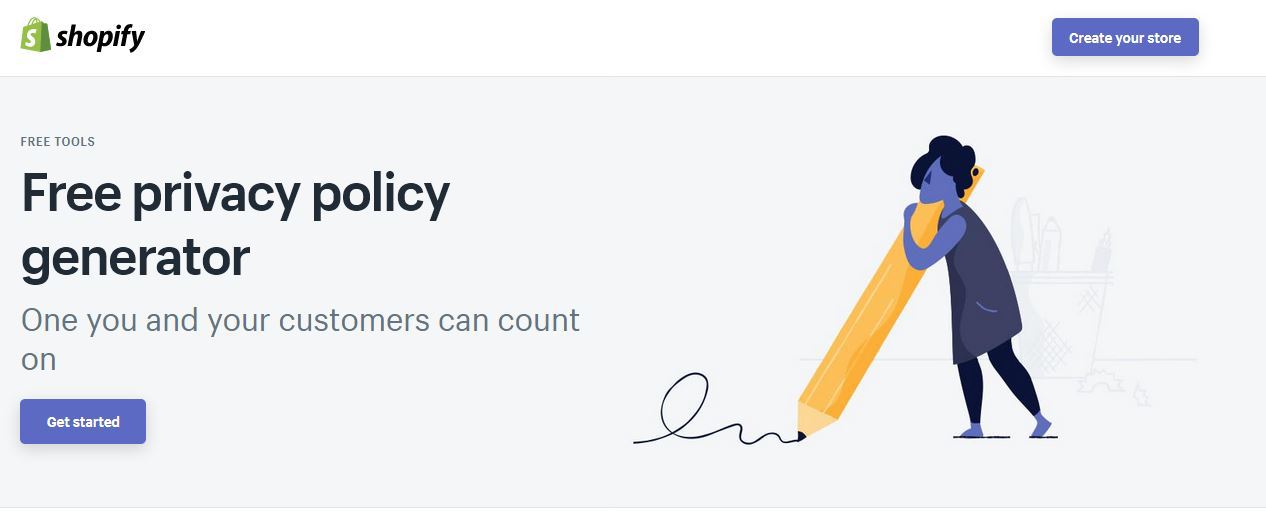 This online privacy policy pages generator is great for online shopping websites. The steps for creating 100% GDPR compliant privacy policy pages with Shopify Privacy Policy Generator is very easy and straight-forward.
Shopify privacy policy generator is one of the best e-commerce policy pages generating tool that's 100% free, user-friendly and GDPR compliant.
7. Termly Privacy Policy Generator – [link]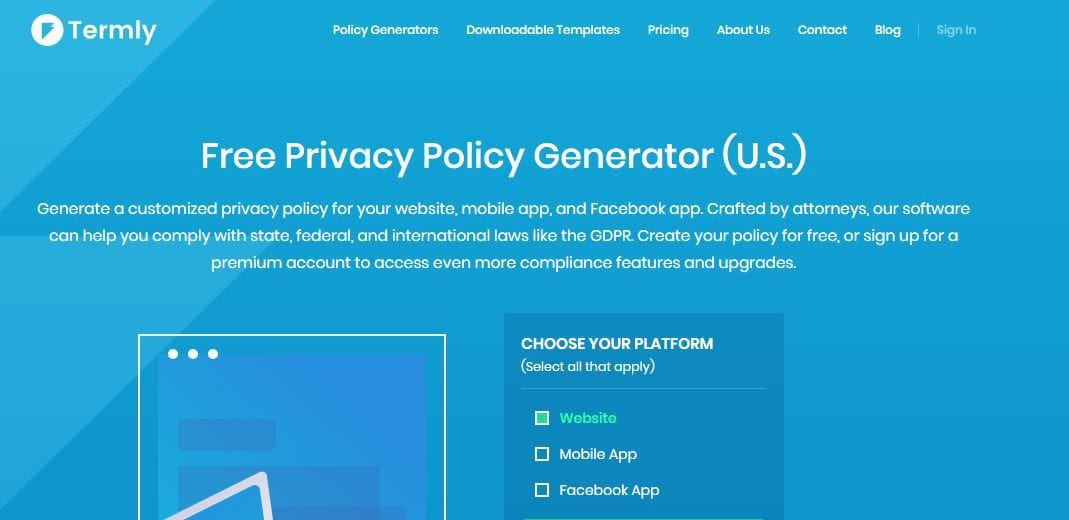 Termly is another awesome tool that lets one create or generate privacy policy pages for app, software, business, website, blog, and etc. It complies fully with GDPR, data protection laws and international guidance for securing user's personal data.
There are options to select the platform you want to integrate the privacy policy on (website or mobile app) and the steps/procedure to create the privacy page is very straight-forward.
8. Iubenda Privacy Policy Creator [link]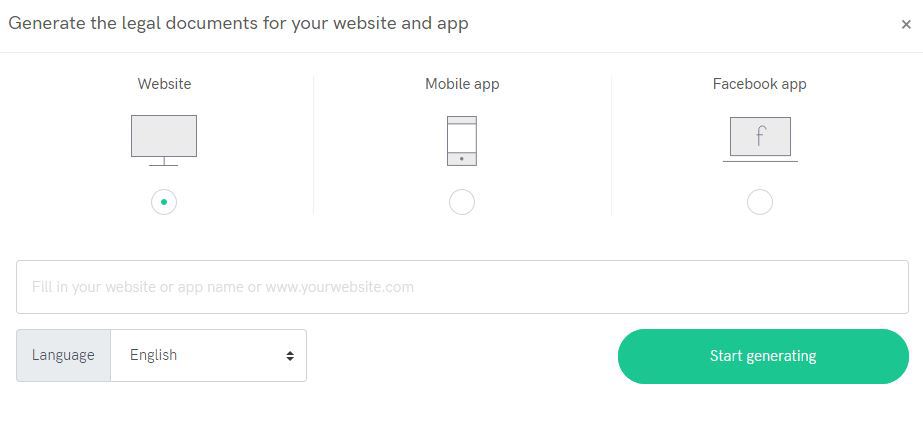 With iubenda free online tools, you can create privacy policies for different platforms; (ie; websites, mobile app, Facebook) with 100% GDPR compliance.
Iubenda lets you generate and manage a Privacy or Cookie Policy that is professional, drafted by a set of international legal team and always up to date with the main international legislation.
9. Privacy Policies – [link]

Privacypolicies.com just like cookie policies and the earlier 7 is a free privacy policy generating tool. It lets you create policy pages, terms of services and legal pages that are fully in compliance with EU GDPR consent and other international legal authorities and/or data monitoring bodies.
10. GetTerms Private Policy Generator – [link]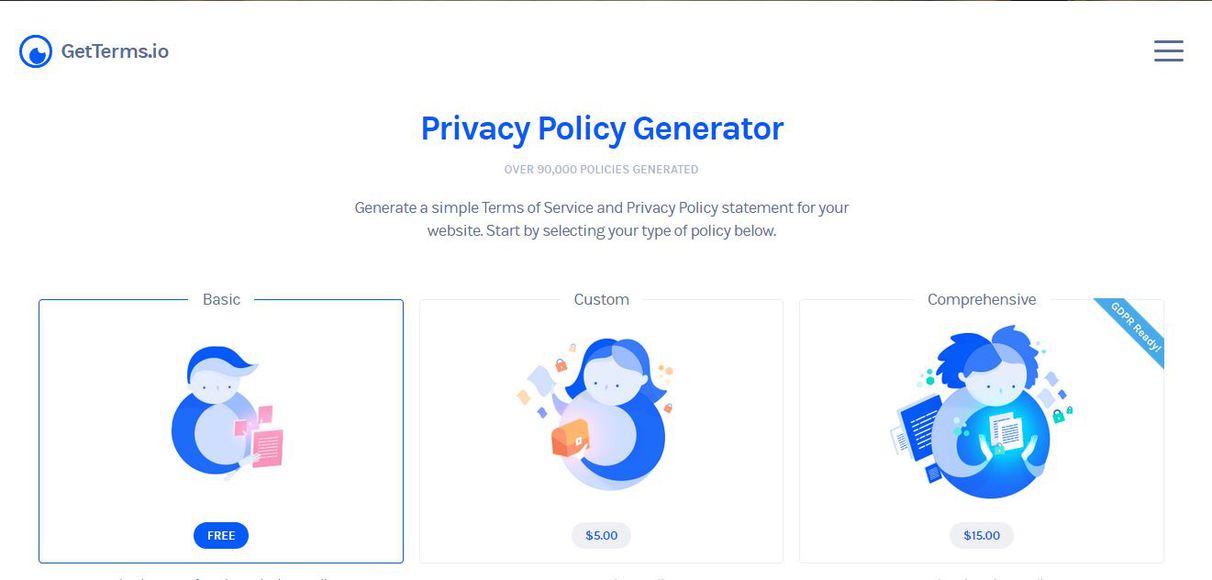 This is another good privacy policy generator with 100% compliance to GDPR. It is easy to create privacy policy pages with this free web app.
The features are great for personal websites, blogs, business websites and cooperate platforms. Plus, it comes with a lot of options to customize your pages and make them unique and/or completely different from similar pages.
Wrap Up:
These are the best free online tools to create privacy pages that are 100% GDPR compliant. With these tools, anyone can generate professional privacy pages for their website, app, product, and services.
While the free version of these tools is enough for majority of businesses, you can explore their premium version if you consider it best for your business class.
Have a thing or two to say about creating 100% GDPR compliant privacy pages for free? Please do let us know about it in the comments section below.