Yeah, you always wonder how those musicians you see on TV sing so good, some times you even wonder if they are from this planet, earth. Well, you wonders ends here.
SONGIFY is an android application that immediately turns you into a musician in a matter of seconds. It literally turns Speech into Music. All you have to do is say the words you like to be in the song and it would put the instrumental, rhyme, and even do extra mixing for you. It doesn't matter if you have a crappy voice as this Android Music Tool auto tunes your voice to the finest there is in the music industry. I almost landed a record label deal using this amazing android application to sing and make my own songs. The good part is IPad, Ipod and Iphones users are not left out. They can also get this app from itunes. To get this application simply click the link below or goto the Play Store on any Android Device and Search Songify.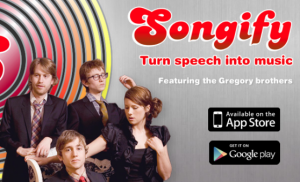 Click Here to Download Songify To your Android Phone
Click Here To Download Songify To Your Iphone, Ipad or Ipod
Here are some features of this apps
1. Automatically share your recorded song on Facebook, twitter, etc
2. Auto tune: It also gives you the best auto tuned voice
3. Also get the best play back quality
4. Record a new song with just one click
No need to find instrumental to use, this app provides the instrumental
5.Save your recorded songs in MP3 format
Have fund tricking your friends t thinking you are a good singer using this app. You can now stop training your voice and start using songify auto tune android, Iphone, Ipad and Ipod app to impress your friends, colleges, classmates etc.
Did you find this post helpful? then don't hesitate to click the share buttons below so all your friends can benefit. Make sure you leave a comment!