There are times when you feel like shouting just because you have to read messages from different social media Apps. You swipe through the notification bar to check your google plus messages, then  Whatsapp messages, Instagram, Facebook, Twitter, Skype and condition would have it, you have different usernames for most of the Apps yucck!!.
Now Let's say you have a whatsapp group for your business and another for personal messages. You would have to sign out, then sign in, then sign out again to perform any needed task.. Jeez that's hell. If you are  experiencing this, i think i have got a solution.. :) .
Brethren, I am pleased to introduce you to App Cloner: The App that let's you create multiple instances of same App. This App let's you clone an app and install its body on your phone and also  gives you full control over what the cloned app looks like and acts like. With this App, you can be able to choose a new name, icon hue and even hide the icon from the app drawer if you so wish, remove it's widgets, remove the watch app to avoid duplicates, exclude it from Recent, lock its orientation to portrait or landscape, enable or disable some of its permissions, password protect it, stop it from using mobile data, and many more.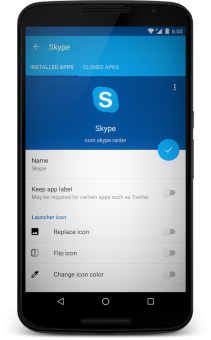 How to Download App Cloner
Though App Cloner is free to download on the google play store, it is limited to very few options. The App currently goes for $3.99 on play store that is, to get full features of the app. This ranges from different settings you can customize down to cool tips you would surely like.
[epiclink link = 'https://play.google.com/store/apps/details?id=com.applisto.appcloner'  color = 'btn btn-success' state ='active'  shorticon = 'left'  itype = ' icon-chevron-right']Download App Cloner on The Play Store[/epiclink]
And then..
You can access this App via APK Mirror just in case something bad happens.. :D
[epiclink link = 'http://www.apkmirror.com/apk/applisto/app-cloner/app-cloner-1-2-1-release/app-cloner-1-2-1-android-apk-download/'  color = 'btn btn-success' state ='active'  shorticon = 'left'  itype = ' icon-chevron-right']Download App Cloner via APK Mirror[/epiclink]