While it is advisable to always download your mobile apps from the official Android app store – Google Play Store – there are some applications you won't find on the platform – most especially, root apps. APK download sites serve as an alternative to Google Play Store; these websites host Android applications in APK formats.
There are hundreds of APK download sites, but not all of them are safe to browse. So, this article reviews the safest ones to visit when you want to download an Android application that is not on Play Store. APK files can be installed on any Android smartphone, provided the APK app supports your Android device's OS version.
The 15 Safest APK Download Sites to Download APK Apps Off Playstore
Come along with me as I walk you through the safest APK download sites to get your favorite after-root apps, tweaked or hacked programs, specialized tools, etc.
1. Uptodown (visit)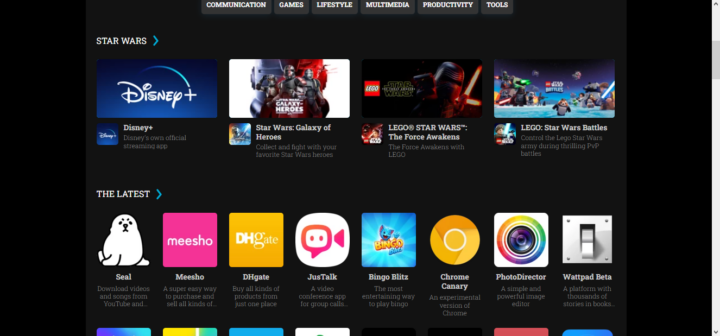 Inarguably, Uptodown is one of the most popular websites to download a wide variety of files, including APK files and exe files for Windows OS. There are lots of free APKs to download from Uptodown and they are completely free from viruses.
Uptodown offers an intuitive website interface you can easily navigate – whether on mobile or PC. Also, you can always check back to install a newer version of the app you had installed previously. This APK download site is one of the best out there.
2. APKPure (visit)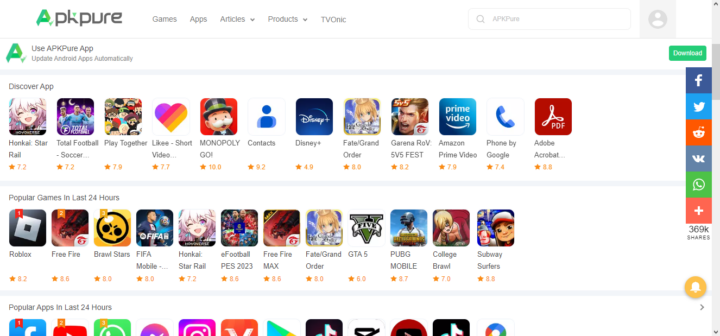 APKPure is one of the best and safest websites where you can download virtually any Android OS application and be rest assured that you're downloading a clean app. The APKPure website is intuitive to navigate – whether you're on mobile or desktop.
Also, the website has a mobile app version you can install on your device. Any type of app you may want to install on your Android device is available on APKPure; the website is accessible from anywhere around the world.
3. Cnet Download (visit)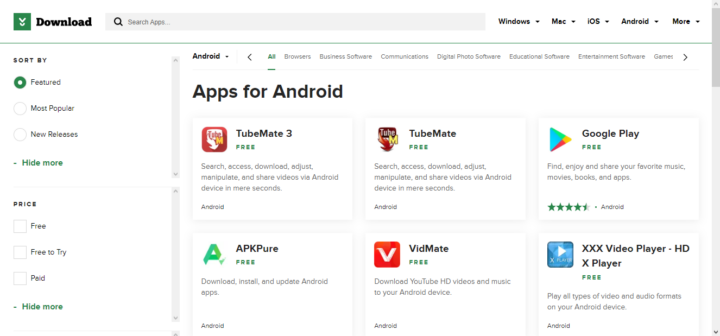 Cnet is a popular tech & news website where you can access a ton of useful information. Interestingly, the website doubles as an app download platform where you can access various types of applications.
On the Cnet Download website, you can view Windows OS, macOS, iOS, and Android OS applications. Any application downloaded from Cnet's APK hosting website is most definitely free from any type of malware. The website is also easy to navigate on PC and mobile.
4. APKMirror (visit)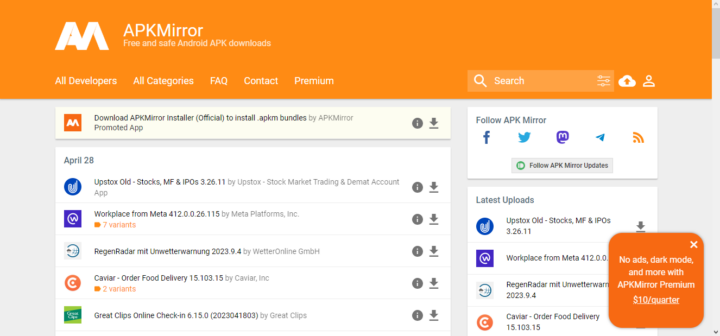 APKMirror is one of the most popular sites where you can download any Android app for free, and it loads swiftly on every device. The website also offers a mobile app version you can install on your phone so you can access the platform easily.
You can opt-in for a premium (ad-free) experience using APKMirror by subscribing to the "Premium" package. APKMirror hosts thousands of Android applications across categories and these app work with various Android OS versions.
5. Aptoide (visit)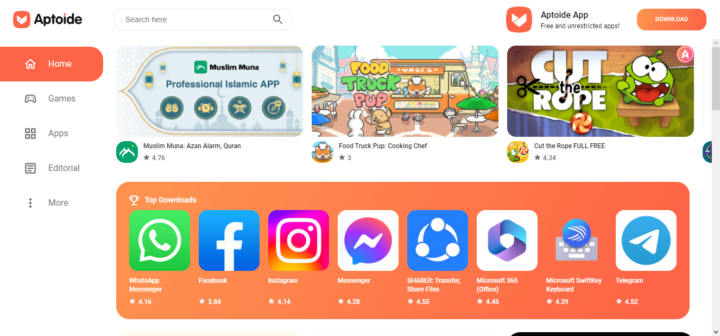 Nicknamed the "alternative to the Android app store," Aptoide is a free website where you can download any Android OS application. Whether you're looking for utility apps, games, streaming apps, or any other type of app, you'd find a handful on Aptoide.
The Aptoide app is also available, so you can have easy access to the platform. This app comes in handy if Play Store isn't available on your Android device. Also, apps downloaded from Aptoide are clean and safe to run on any Android device.
6. AppGallery (visit)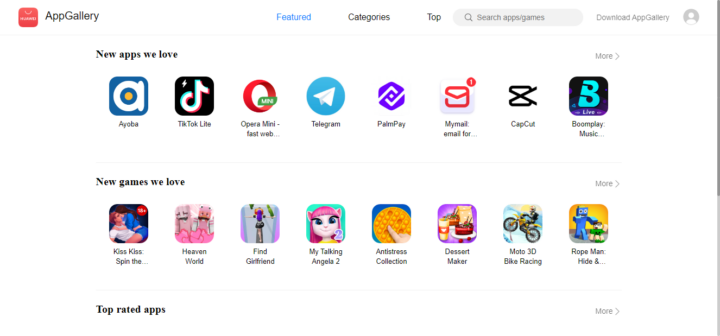 AppGallery is an Android app store developed by Huawei Technologies for its Android smartphones and Windows 11 OS. There are loads of applications available on AppGallery, and you can run these apps on any Huawei device with Harmony OS.
Although this app store is built by Huawei, it can be installed on virtually any Android device, which means you can have the app installed on your non-Huawei device. AppGallery has a multitude of apps and is totally safe to use.
7. F-Droid (visit)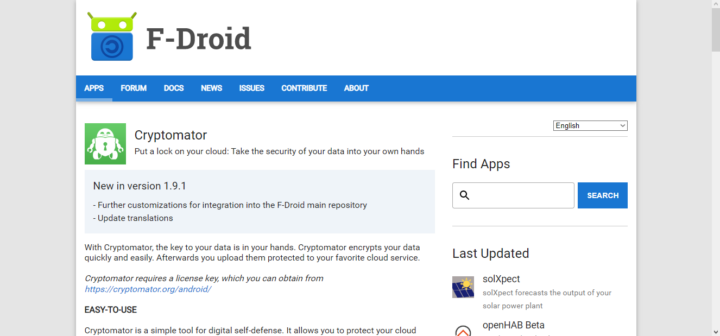 F-Droid is slightly different from the other websites mentioned earlier but is still one of the best places to download free Android apps. The F-Droid platform is an app to find free and open-source Android applications you can run on your device.
To use F-Droid, you need to first install the client app on your device. All apps you'd find in the main repository of F-Droid – hosted by the project – are completely free and open-source. F-Droid is the developer's favorite alternative to the Play Store.
8. APK4Fun (visit)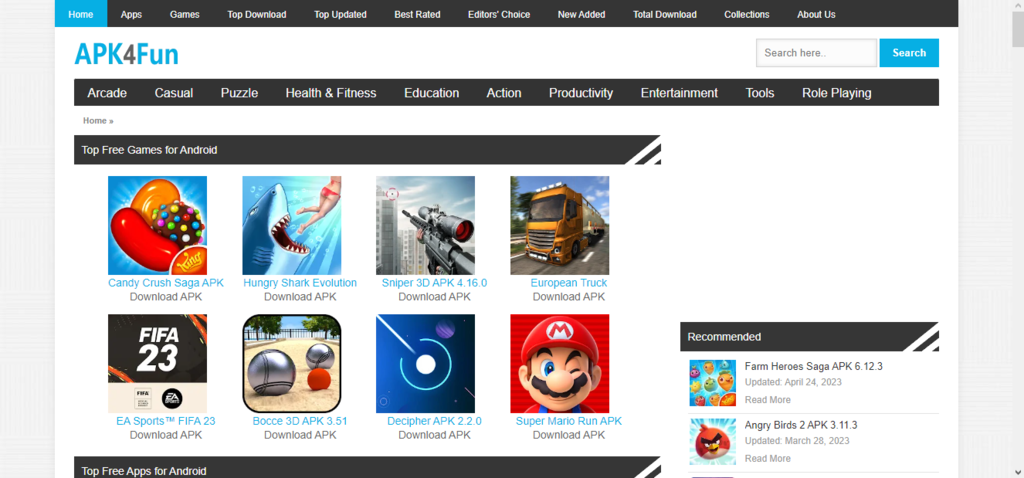 Just as you'd find many categories of apps on Play Store, APK4Fun has many of them, too. On APK4Fun, you'd find trending games, utility apps, and other types of applications. The website allows you to access user ratings and reviews to know which app has the best UI.
The APK4Fun website loads fast and seamlessly on all devices, whether you're on PC or mobile. It is also easy to access your favorite app categories or look up the particular app you want to install.
9. APKmonk (visit)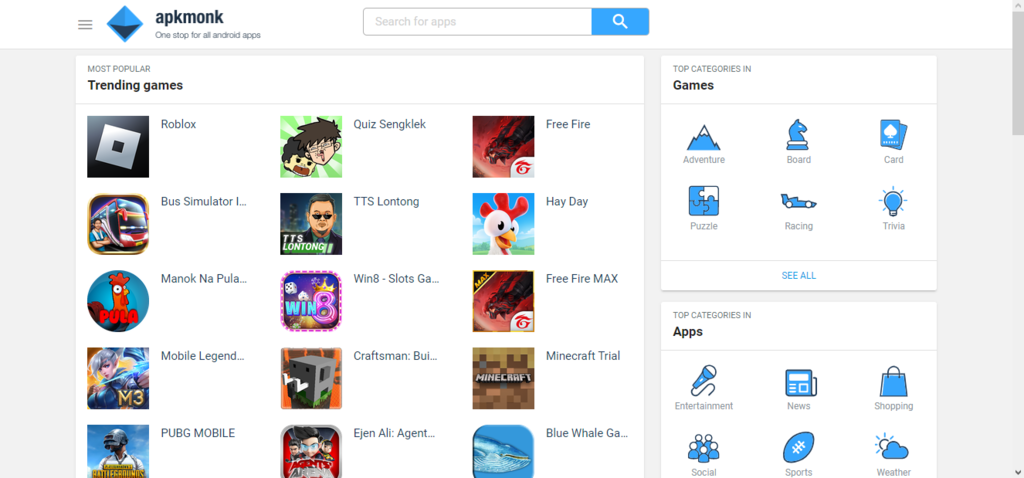 APKmonk is an APK download website where you can easily locate and download various types of Android applications. The apps hosted on APKmonk are free from viruses and malware of any sort – they are very safe to install on your devices.
The APKmonk website is easy to understand – you can easily access the type of applications you want to install. The applications on APKmonks are mostly uploaded by their official developers.
10. APKCombo (visit)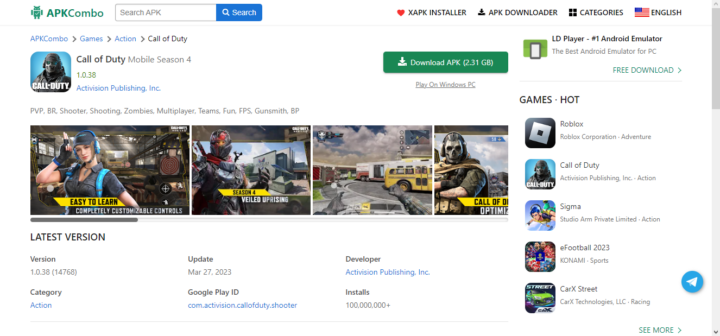 Here's another impressive website where you can download the latest games and apps for the Android OS platform. Apps on APKCombo are well scrutinized to ensure they are free from any vulnerabilities before being published for public downloads.
On the APKCombo website, the individual app pages provide a handful of information about the apps, so you can understand the features and "new updates" to the app you want to download. This APK download website is very much safe and reliable.
11. Softpedia (visit)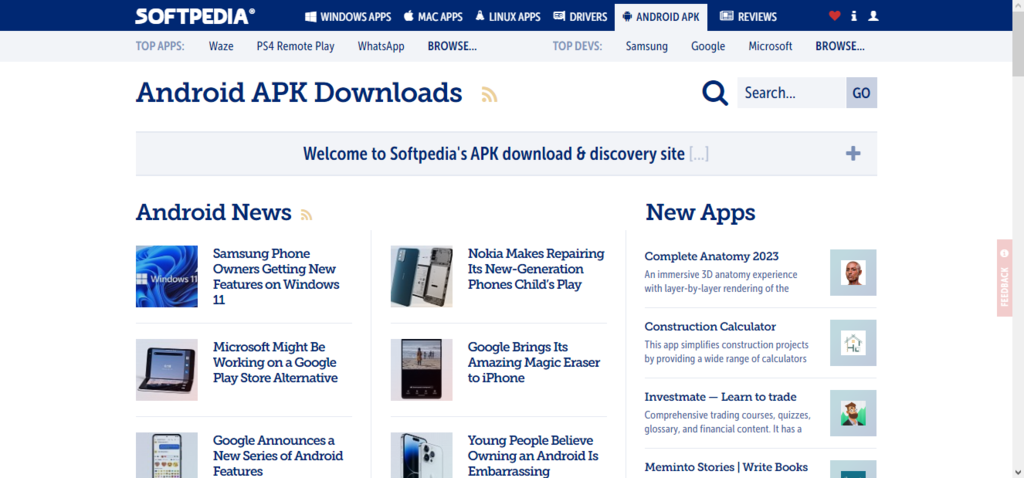 Although Softpedia is popular as a software download website, it also hosts Android APK files – lots of them, actually. Softpedia is a popular alternative download site where you can access many free applications for Android OS and Windows OS.
The Softpedia website is quite easy to navigate and the interface loads very fast across devices. Even Google-owned apps are hosted on Softpedia – the website is safe and secure to browse, and you can access it from any geo-location.
12. APKsPure (visit)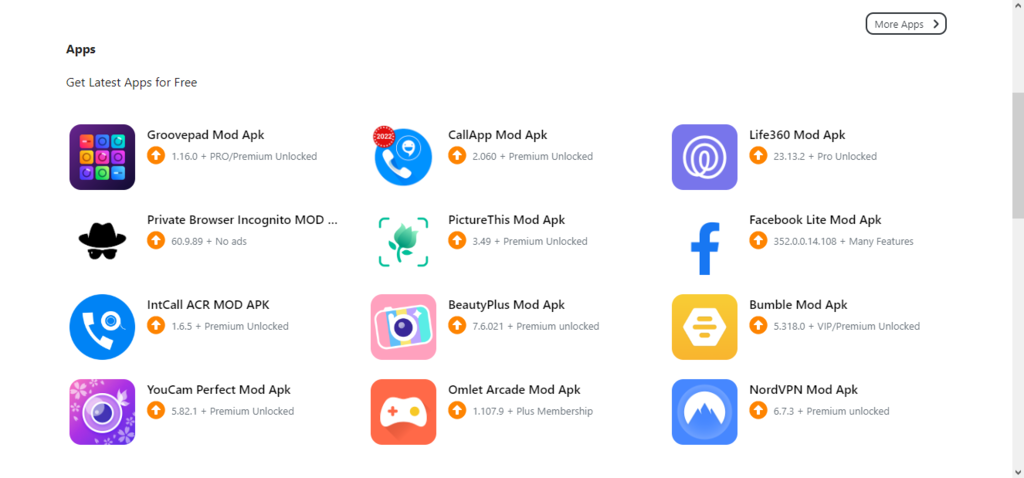 APKsPure is a free website that lets you download the APK version of any type of Android app. It is accessible from any mobile device or PC, as well as features an intuitive interface that is very easy to understand and navigate.
APKsPure is different from "APKPure" but they are similar. You will find a number of mod apks on APKsPure. So, if you're a game cheat lover, this website is one the safe places to download mod (cheat) apks.
13. AndroidAPKsFree (visit)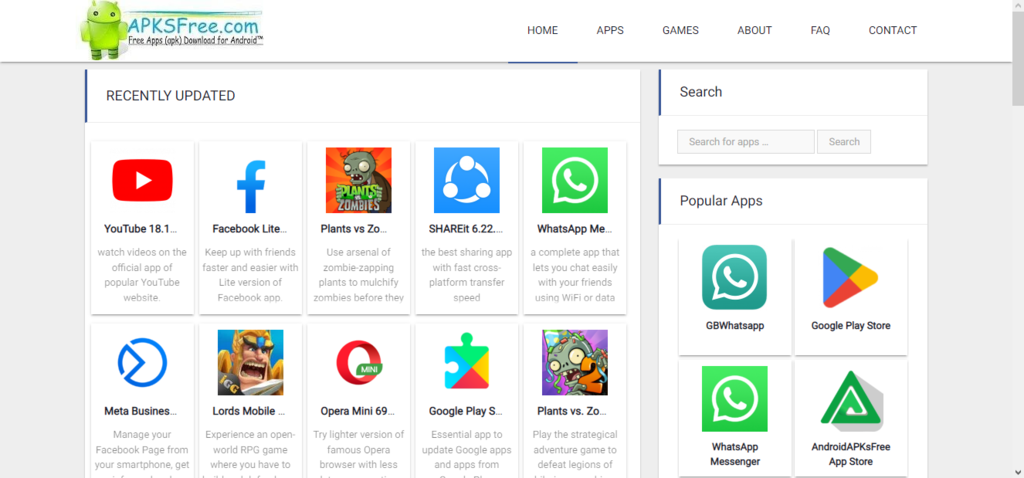 AndroidAPKsFree lets you search its massive catalog to download APK files hosted on its server. The website is safe to browse and you can easily navigate using the menu and category filter options. Apps on AndroidAPKsFree are completely safe to install.
The AndroidAPKsFree interface looks pretty similar to that of the Google Play Store; app reviews are available so you can view other people's feedback about the app you want to install on your Android device.
14. APK Support (visit)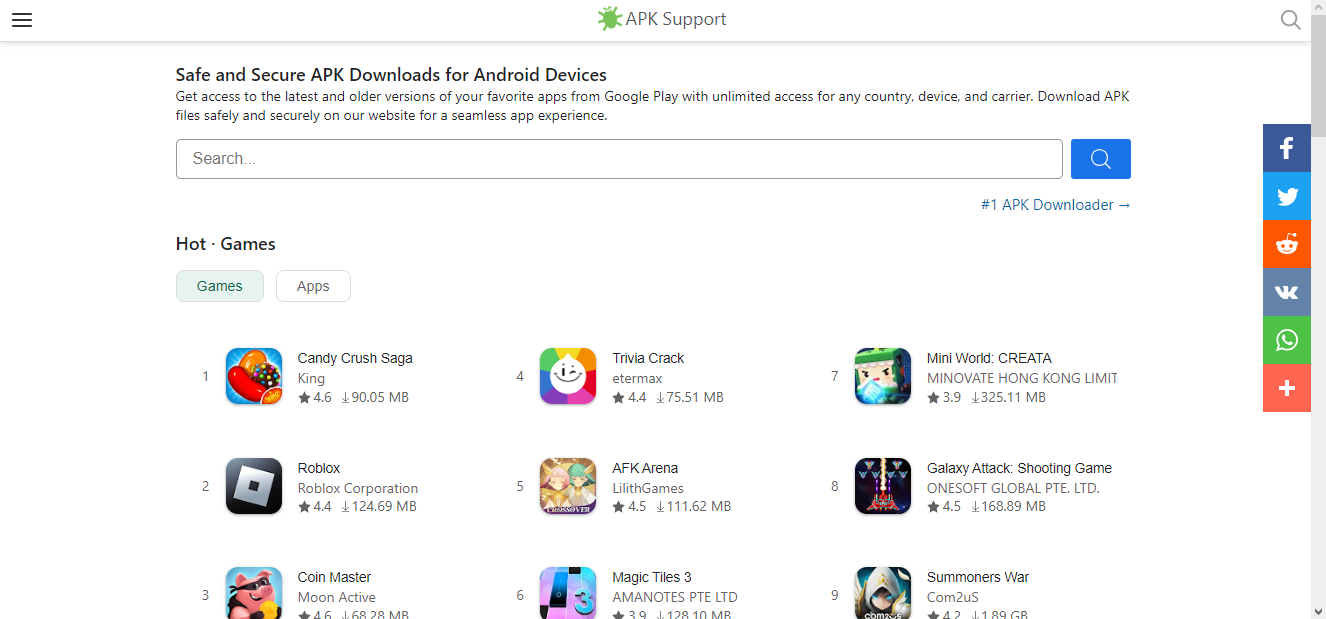 Here, you will find older apps that may not be available on Google Play Store – you will be able to download them easily without having any fear of whether or not the APK is virus-infested. APK Support is a clean website, easy to navigate, and find your favorite APKs.
On the APK Support website, you can swing between game APKs and regular applications. Also, the website provides information about the features and functions of the apps you're going to download. APK Support makes everything swift and seamless.
15. RevDL (visit)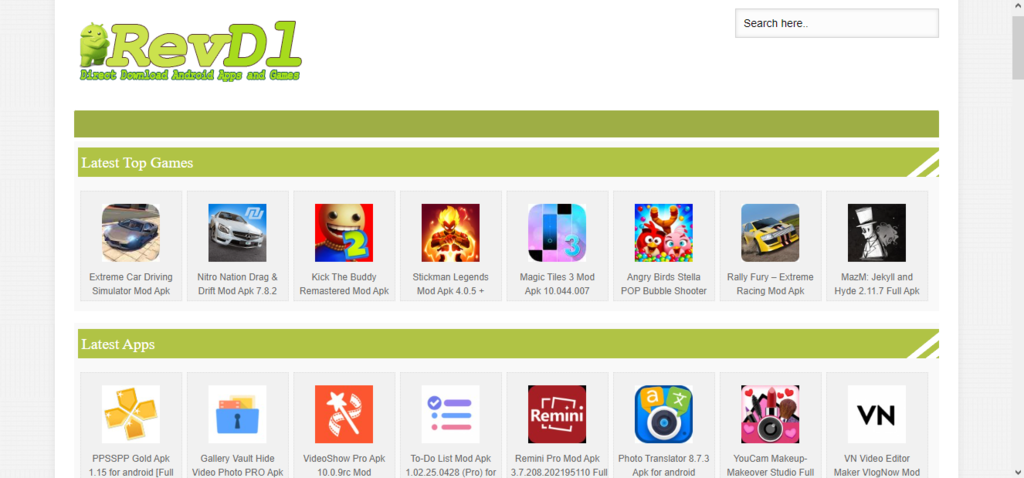 RevDL is one of the best places to download MOD files of games and other apps that allow such. It is quite an old and highly-recommendable site among gamers. The website looks simple and loads very fast on any device.
You'd find all kinds of apps and games on RevDL – use the category ranking to quickly find the app you're looking for. APKs downloaded from RevDL are certainly free from virus and malware infection – you can install them on any supported Android device.
What More?
These are the top best safe APK download websites where you can find lots of games and regular Android applications. Of course, there are several others, but these are some of the best and trusted ones to bank on. Feel free to share your personal favorites via the comment box below.