Summary
Fly Balloon, Fly! is An android game by PopSoda Digital Commerce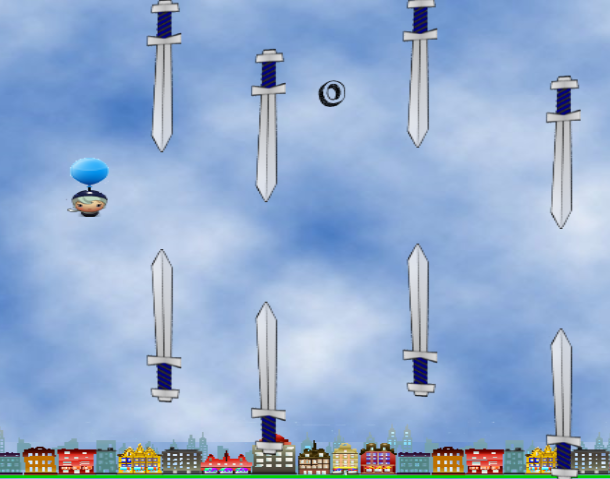 Fly Balloon, Fly! Android game is a new arcade game in my list, definitely a good game to add to your android phone or pad.
It is quite easy to learn but difficult to master. It can be as addictive as temple run 2 and Flappy Birds, I 've grown to love it after less than a week of playing it.
Fly Balloon, Fly! game app is developed by PopSoda Digital Commerce and has surpassed 1,000 downloads already.
Graphics
If there's any thing that makes Fly Balloon, Fly! game app different from other games built around the Flappy Birds's game-play, it is the improvement in graphics user interface (GUI).
The sword and other details in the game-play background makes it an interesting game to spend time with.  The music tunes is another background feature that adds fluidity and brilliancy to the game.
The GamePlay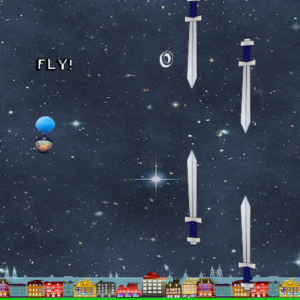 The Primary goal of the game is to navigate your balloon through a town while trying to avoid the risky swords that's going to force a level restart if  happens to pop your balloon.
So, in this game you're required to navigate the hot air balloon through the cloudy skies without hitting a sword along the journey.
The level increases depending on how far you're able to get to without allowing the sword to pop your balloon.
Nice music tunes, cartoon backgrounds and detailed graphics are other great features that makes it a nice game to pass time with when bored or on a long journey.
You need pay details to patience and timing as that is what will matter most as the game progresses.
Our Verdict
Fly Balloon, Fly! game app for android is a nice game, could be addictive as well. It is available for free and could be played by kids and adults alike.
The only down-side of the game is its competitiveness compared to similar game apps. If this area is worked upon, it will end up being one of the best free arcade games on the Google play store.
Download link: https://play.google.com/store/apps/details?id=com.popsoda.fbf_balloon
Need another interesting game to try?  check out temple run 2 for android review.