The joy of having a smartphone that is fast and also give us that cool feel can not be over-stressed. Using an Android phone, that runs slowly is something i would never advise anyone  not even a foe to try, nop, no at all. In this post, you would be seeing the list of the fastest smartphones in the world as reported by the Guys at Antutu.
Funny enough, the list comprises of phones who must have not heard or the ones you can classify as being not so Popular category of smartphones. Surpring, the likes of S7 and iPhone could not make it among the top three. :(
As reported by Antutu, the top three among the list of the fastest smartphones comprises of:
1.Vivo Xlay 5 Elite
2.LeEco Max 2
3.Lenovo ZUK Z2
The phones above which are all chinese brands are powered by a Qualcomm Snadragon 820 chipset which comes with a 6GB Ram (Obviously the secret!)
Other mobile brands among the list of the top Fastest Smartphones are: (image below)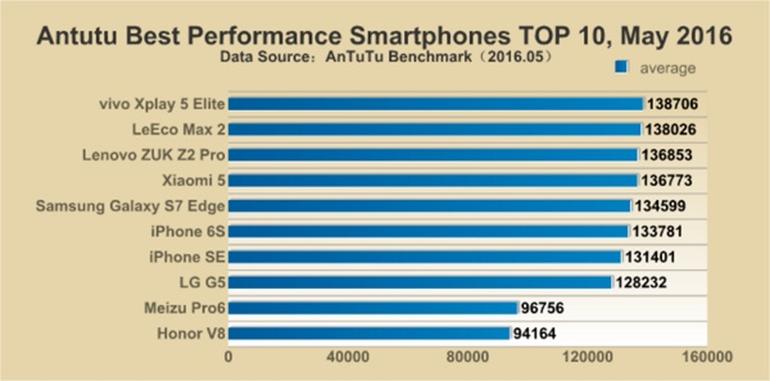 Earlier this year, Xiaomi 5 made it as the smartest smartphone in the world but from the report above, they obviously have been displaced down to No #5. This should have a lesson to teach and moreso, the competition is high.
The likes of S7 and Iphone 6S which got a lot of attention, madeit among the top ten though, i guess the hype never involved speed.
What is your take on this?