Summary
Moborobo is an android/ios pc management suit from moborobo.com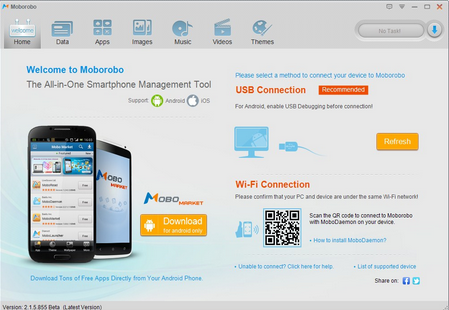 Moborobo windows pc software makes smartphone management look so easy, I was able to move my contacts, pictures, documents and other backups from my Huawei Acsend to Samsung Galaxy Note 10.1 just under 1hr with the help of Moborobo cross platform pc management suit for android and iPhone.
Moborobo unlike traditional phone pc suit software gives you complete control of your SmartPhone application, making it possible for you to download games, applications, wallpaper and themes.
You can also manage such features as calls, messages, uninstall apps, complete backup and restore, data management,  access to call logs and can even send messages to multiple recipients (bulk sms) right from your computer.
Moborobo is a cross-platform application, this makes it possible for iPhone user's to quickly switch to android without worrying about backup and all that (vice versa). This means that you can easily move data from one phone to another just in matter of minutes.
I have helped many of my friends here in the campus with the help of Moborobo, the biggest victims has been the new generation low-end smart phone users such as tecno, gionee, infinix and other Chinese brands of android phone that has no form of computer management software.
See the features that separates Moborobo from its possible future  competitors below.
It is completely free and can rival iTunes and HTC sync if you own both android and iOS
Can be used to download games and applications directly from your PC, thereby saving your mobile phone data
Easily Send and  receive text messages via the computer
Easily manage tons of things within your Android & iPhone; like games, Apps, text messages and SMS, contacts,  images, ringtones and files through your computer.
Has full support for both Wi-Fi & USB mode of connection
Has support for full phone backup and restore
Comes saddled with a complete file manager to access every thing within your phone from the computer
Provides an Easy synchronization between Android and iPhone for transferring contacts.
System Compatibility:
Moborobo as a lightweight software should be compatible with any Microsoft Windows xp, Vista, 7 and even windows 8 with a good hard disk drive storage space for installation.
Concluding lines:
Certainly, there isn't any better Cross platform PC Management Suit for android and iOS than Moborobo. It makes it very easy to switch to a new phone without much hassles as you can easily backup your games, apps and documents to a new devices within minutes. Mobo Market as an inbuilt apps store that comes with the software have countless number of apps and games for free and paid users. This is a great feat considering how expensive it is at times trying to download games outside an active WI-fi plan.
Moborobo Download Link: You can download Moborobo iPhone and android PC management suite from their official website of from this mirror download page.