An addicted gamer will always find a way to play his favorite games across all of his devices. MSI App Player is a good Android emulator that lets you play Android games on your PC without lags. It is quite an impressive app and we are going to look at its important features. However, you'd need an MSI computer to run this emulator, which appears like a tweaked version of the famous BlueStacks emulator.
MSI App Player is designed with an exclusive partnership with BlueStacks. The developer claims it is the most-advanced emulator, supporting cutting-edge graphics and technologies. Also, MSI App Player is meant to offer a seamless gaming experience to MSI gaming laptop users.
The Top 10 Features of MSI App Player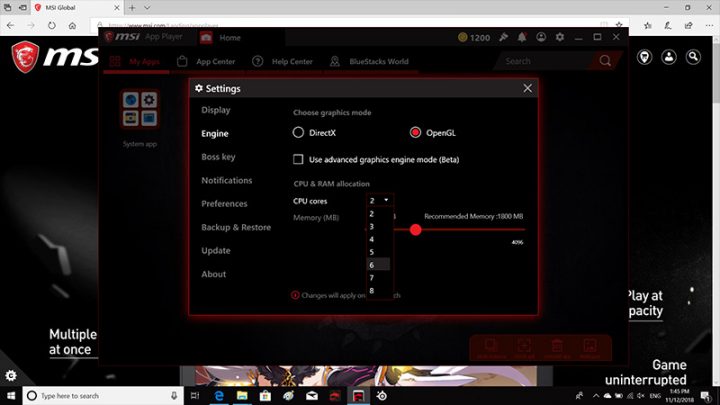 Hereunder are ten of the most pronounced features of MSI app player and how it seeks to improve the modern gaming experience.
1. 240 FPS capability
240 FPS "Frames Per Second" means a lot to a gamer. The higher FPS supported by your PC, the better seamless gameplay you will experience. Interestingly, the MSI App Player which can run games at 240FPS in a compatible computer system (laptop or desktop). This is obviously a great feature for staunch gamers.
2. Can be used with other PCs
The MSI App Player is not exclusive to MSI computers only; at least the company hasn't published any update regarding this. So, you can download the MSI App Player and run it on your compatible gaming PC.
However, here are the minimum system requirements to run the MSI App Player on your PC: You'd need a minimum of 2GB RAM, 4GB available ROM, Direct X 9.0, and .NET Framework 3.5. If your PC meets with these requirements, then you can download this app from their official download page here.
3. Available for 32-bits and 64-bits computers
It doesn't matter if your PC is running on 32 bits or 64 bits system architecture, the MSI App Player is available for both processor versions and works seamlessly with the recommended system resources. Plus, the app is compatible with Windows OS 10, 8, 7, and even Windows XP.
4. Pre-installed Android Nougat
Interestingly, this Android emulator comes with Android 9.0 (Nougat) pre-installed. This means that the gamer will enjoy playing quite a lot of interesting, new games supported by the Android 9.0 OS version. This includes games like PUBG, Fortnite, C.O.D, et cetera.
5. No lags while playing games
The 240fps support makes it possible to play any game of your choice seamlessly. Also, this app comes with virtually everything that's available on the bluestack emulator app; thus, it lets you play games with no sort of lagging.
6. Supports over 1 million games and apps
You will get to play your favorite smartphone games with this app as it has support for a wide variety of Android apps and games. Now, you can easily run your mobile apps on a computer – using a keyboard and mouse for easier interactions.
7. Multi-instance support
The MSI App Player supports the multi-instance feature, which means that users can run more than one instance of an app or game consecutively. However, this function requires different accounts.
8. Uniterrupted mobile gaming experience on PC
MSI App Player offers an uninterrupted mobile gaming experience to its users. With MSI app player, PC owners can conviniently play Android games or run apps seamlessly on their PC's mouse and keyboard.
9. Intuitive design
Furthermore, the MSI app player flaunts an intuitive design that is easy to read and understand by anyone. The main window is well-designed to run different games and apps at time. Also, one can easily access the menus from the app window.
10. Flexible settings
There are several customizable settings to personalize how the MSI App Player should run your games and apps. From the timer settings to the interface appearance, you can configure the player's window to suit your gaming preferences.
In Summary:
The MSI app player is a handy solution for mobiles users who wish to run their apps and games on computers for a better experience. It is not designed with any (completely) new technology. Rather, the MSI app player is simply another version of Bluestack with some interesting gaming features.