Duplicate content and plagiarism(the act of presenting others work or idea as your own) is one worst enemy to every blog owner.
It doesn't matter whether you are the one copying or it's your blog that is being copied from because both of you are affected by this issue.
Search engines have set up automated and scripted ways to find out blogs which have duplicate contents, therefore you are not that hard to find and once that happens, you would be receiving a hammer from most search engines as most of your post would be de-indexed and you invariably you would see a significant drop in your traffic.
For those who are concerned about losing their current page rank and traffic, its good you know that plagiarism is one major factor that can affect your page rank, thus should be avoided and your blog's contents must be monitored closely.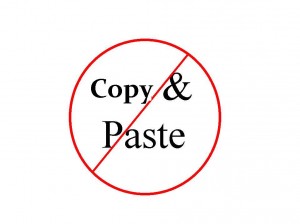 The Major Reason For Plagiarism And Duplicate Content
Laziness on the side of bloggers: Why go through the stress of writing when you can copy from somewhere else? Most bloggers just love copying; infact they spend hours looking for the best content scrapping tools so they can sit around while their blog updates on autopilot. Well, there are penalties for copying and pray that you don't get hit by Google Penguin the next time your copy from a blog. You also put yourself in the position of getting all your post de-indexed once search engines noticed that you copy all your contents.
Google Adsense Fiver: This is something that has affected every blogger one time or the other, either when starting as a new blogger or a little down the road. Its that State of mind when your adsense earnings because more important than the originality of your blog, you find your self copying from other blog. The point it, there is nothing wrong with stealing ideas from other blogs, but copying exactly the same article, is just not the right way to get unique contents for your blog. Your blog earnings should not be the number one priority when you are looking to build a succesful blog. If you can build a good PageRank, gather large audience and post quality contest, you have a better chance of earning more from your blog.
Blogging For The Money: Your aim of blogging matters if you want to be a succesfull blogger. Well if you are in it for the money, most times you find yourself losing the zeal to create new contents because you are not passionate about what you are doing. You just want to earn the big bucks!. The best way to truely earn money from blogging while finding creating new and unique contents extremely easy is to blog about something you are passionate about. So starting up a blog on cars because you here Mr. X is making a huge profit from there would only do you harm in the long run and cause your blog to fail
Article Spinning Softwares: One funny thing is, when you spin an article using tools, you do not only reduce the quality of the article but search engines bots and crawlers can tell if an article is spun or not. With the coming of tools like Copyscape, everyone can actually check this. Those marketers selling those tools make you believe you are creating something different, but you are not. Therefore I advise you to avoid such tools. One alternative to Article Spinning is reading the entire article, understanding it then creating your own version, which should be better and improved.
Best Alternative To Copying From Other Blogs
Pick a Pen and Start Writing: Writing articles is quite easy, but most bloggers choose to make a big deal out of it, and i don't seem to get the point. Instead of copying, which ruins the intergrity of your blog, put some extra time and effort into creating unique contents for your website.
Hire A Writer: Are you running out of ideas on what to write about? Well, you don't have to do it on your own. There are thousands of freelancers online willing to write you quality articles for very affordable prices. I prefer to use seoclerks.com because you can get a unique 500 words article written for you there for as low as $2, yes, for just $2. There may be other services that provide articles for a lesser amount, but I prefer seoclerks because their terms are flexible, and you only pay after you are satisfied with the article written. Renting a writer may seem on the high side expense wise, especially if you are just starting to blog, but its way better than copying.
Accept Guest Post: As your website grows older, you start to get recognition from other blogs in your niche who would some times approach you for a chance to publish an article on your blog in exchange for a link or two back to their website. You can accept more of these kinds of post. It is also a way of keeping your blog active if you have to go off for some time. As a new blogger, you may not get the approaches, but there are groups on social networks like facebook meant for the promotion of guest posting. Join such networks and start contacting other bloggers to come write on your blog.
Buy Private Label Rights(PLR) Articles: Careful when you are buying these, so you don't buy from a service which sells one article to over a thousand persons, thus creating that duplicate content which we hate and avoid. I recommend plrpro.com because you not only buy PLR articles spread across a11 niches, but they also give you tons of free backlinks, one to be crawled everyday. You can easily take these articles and use them to update your blog.
Don't Get caught in the Web
While you may be creating unique content, you have to keep an eye down and watch out for bloggers who steal your content.
Why?
Because if there are duplicates of your contents, you could get competition in search engines from other "copy cat" bloggers who didn't lift a pen in writing the article.
Also, it affects your traffic and PageRank. In other not to get caught in the web, always search your articles on Google and other search engines to check for duplicates, or you can sign up for Copy Space and get a premium account.
Advantage of being premium copyspace user is you get to set specific keywords or phrase on your articles, once they are repeated on any page, you automatically get notified. It's like a trigger.
After you find a content "thief," approach the person to put a link back to your site on the article. And if he refuses to listen, file A DMCA report and leave the rest to Google Team