This guide will teach you how to Unlock blackberry smart Phones (older OS) for free. Unlocking your blackberry smart phone will UN-restrict the lock to factory network provider.
An unlocked blackberry phone can work with Mtn, Airtel, Glo, 9Mobile and/or any Network SIM card at all.
In this quick guide, we'll use neither dc crap nor universal unlocker but another improved utility software app for unlocking usb modems and smartphones.
I have already unlocked countless number of blackberry phones with it including bold 2, bold5 , bold1 and 900 series blackberry devices.
The good thing about this software is that any one including my grand mum can use it effectively just do the two simple steps below to have your blackberry phone unlocked for free.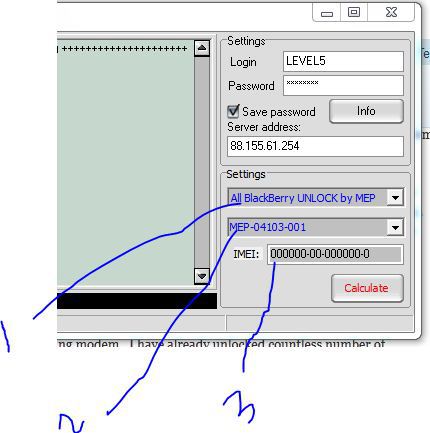 Download the blackberry mep reader tool from this link
a) Unzip it to a folder on your desktop after installing your blackberry desktop manager so as to have the drivers fully installed
b) Connect your blackberry phone and use the reader tool above to get the mep code
c) proceed to number two
 Download the software for the free unlocking from

this link
a) lunch the software and log in with any of this details :
i. 
Login: LEVEL5
Pass: 12122012
or
ii.
Login: user@test
Pass: password
b) from the drop down menu at the top left choose "all blackberry free unlocking" and enter all necessary  details viz: imei number and mep to get your mep2 which is the required free code to unlock blackberry phones of choice.
c) Insert an unsupported network SIM card or uSIM into your blackberry phone and/or device and enter the mep2 code when prompted for the unlock code.
Hurray! Your blackberry phone is now unlocked and can work with any other network SIM. You can even use this software to unlock older blackberry phones owned by your friends by asking them to use the Blackberry reader app to generate the necessary details and then using login plus to generate the mep 2 code.
If there's any technicality or difficulty faced when trying to unlocking blackberry devices with this app, kindly share below for a quick resolution.