NameSilo rocks! no doubt about that, their pricing is fair and very transparent, their support team is made up of good tech-heads with all the technical know-how needed for managing a domain name.
The only down side of NameSilo as pointed out in our review page is the lack of email hosting for your custom domain names.
If you are hosting your website with blogger and a custom domain name, the need for an email hosting becomes inevitable, hence our reason for creating this guide.
How to Host an Email free With NameSilo
Once you have completed your order for a domain name and configured it appropriately for the service you intend using it for but needs to get your email accounts working already, here's the steps to follow.
Step 1
Log in to your NameSilo admin dashboard and find/click domain manager from the right navigation buttons
Locate the domain name you want to create the email account for and click on it
Locate Email Forwarding from the left panel and click on Configure
Create the email account of choice (eg. info) and add the Forwards to address (Usually your primary gmail account or [email protected]). If a warning message as seen in the image below appears, use the click here button to select and apply the Email Forwarding template.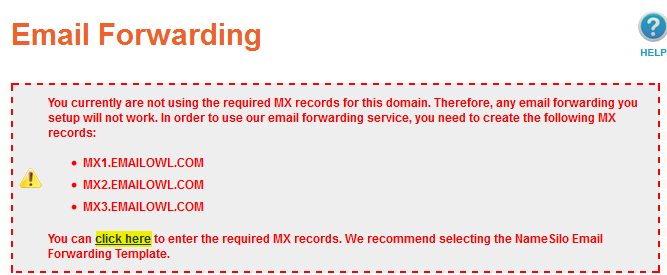 Click on Submit and continue to the next step.
Step 2
Enable 2 factor authentication on your gmail account by –
Click on the get started button and follow other prompt to complete.
Enable an app password for your gmail SMTP authentication. You can get the app password by following after the instructions here. When prompted select Other for select app and enter in something descriptive like "My Email smtp".
Take note of the app password because you'll be making use of it in the last steps below.
Step 3
Log in to your Gmail account (the one selected for the Forwards to address in point 4 above).
Locate & click on the gear icon in the upper right corner of the page and select Settings.
Navigate to the Accounts and Import
Locate Send mail as: and click on Add another email address you own
From the pop-up windows, Enter name and email address (usually the address with your custom domain name eg. [email protected])
Deselect "Treat as an alias" and click on next
Remove the values in there and enter Google's SMTP server values as seen in the image below (smtp server = smtp.gmail.com, username= your_gmail_address, password= your_app_password_created_in_step_2_above)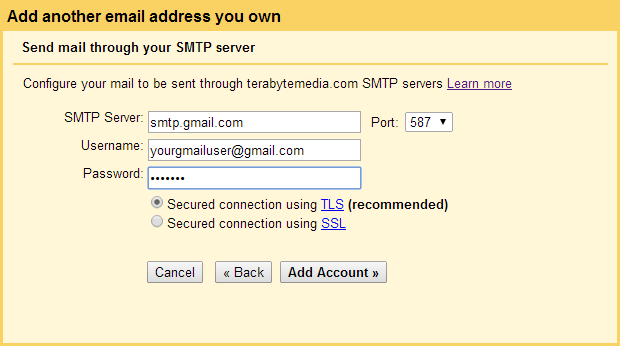 Finalize setup and go back to the send mail as: window and check the Reply from the same address the message was sent to box.
Hurrah! Your custom domain name can now receive messages using namesilo email forwarding and send messages using Gmail alias tool.
Note: Those not willing to enable 2 factor authentication on their gmail account can simply authorize Gmail SMTP server for Namesilo by completing these steps.
Click here, to log into your Gmail account, and then click on Continue.

Click here again to grant access for unsecured app and then continue from step 3 above. Note that step 2 was skipped for this method.