Of Recent, we discussed about hidden actions your android device can perform, you can check it here if you missed it. Today, am going to be showing you how you can use your Android Phone As a Remote control for your PC. Yea, you read that right.
There are many reasons one would want to use his/her phone as a remote control; one of which could be as a result of tiredness and barely have strength  to  moving the cursor from left to right, yes, (don't judge me, it happens!). Most of the tips if not all  will involve  the use of Android Apps which can be download from the Play Store, thanks to Android developers, they have really made things easy for us.Without wasting much of our time, let's proceed.
First on my list is…
1. Remote Control Collection
This is one of the highest rated apps on play store and yes, they really worth the hype.
This app comes with lots of different remote application and functions all in a single chunky package. The Remote control collection also let's you manage media files,presentations and more.
You can check it out on the play store Here
The Remote Control Collection is split into six categories, consisting of Mouse, Keyboard, Live Screen (Pro), Media Player (Pro), Slideshows (Pro) and Speech recognition.
On launch, the App starts the process of setting up the app, which requires you to download the remote software to your computer, get the IP address and then pair the app with your mobile device.Though the might process look a little geeky, it takes a little time and you get everything up and running.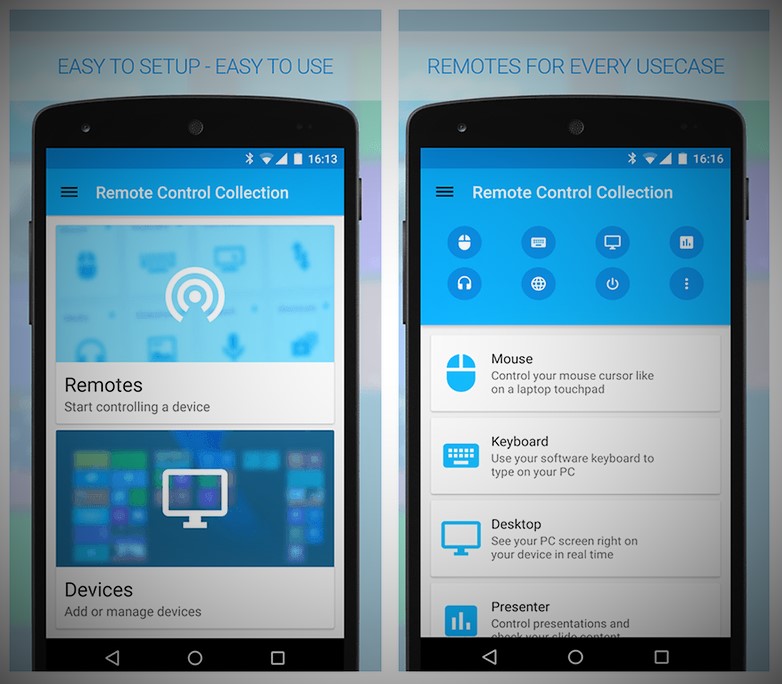 Remote Control Collection's start page on mobile is split into Remotes and Devices. Using the mouse to control your computer screen is very simple and there's app shortcuts to expand the keyboard so you can use the function keys, copy and paste, zoom and so on. Simply put, Remote Control Collection gets the job done without much fuss.
2. Chrome Remote Desktop
In our last article, where i wrote about unknown facts about your PC, i talked about using the chrome extension to set a connection from the PC to your Android phone, guess the process was not properly illustrated and might find it hard setting up the environment. If you fall into this category, i think this would help you get things right, and even to the process of helping others with the process, yes you can!
The Chrome Remote Desktop, requires you download the chrome extension and once you do that, another step is to get the pin for the remote computer and you are good to go. Obviously, this method seems a little bit easier.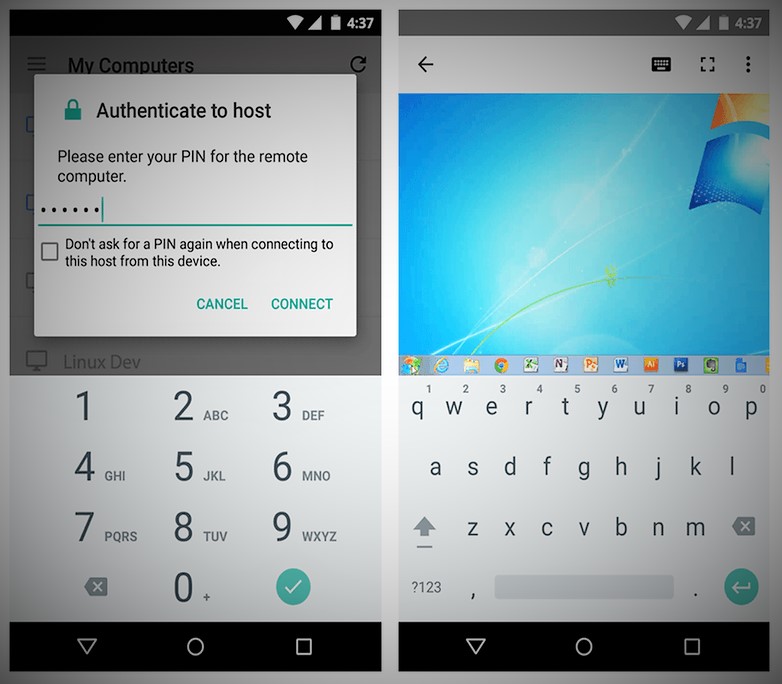 The Basic requirement for this to work is the google chrome, a web tool by google.As long as you're signed into the same Google account on your smartphone as your computer, the Chrome Remote Desktop app will let you control the PC wirelessly from the mobile's screen. Whilst there's a slight delay while a connection is first established, for the most part you can expect a lag-free experience.
Switching your phone's view to landscape mode would certainly give you a better glimpse of your PC.
You can check it out on the play store Here
3.Unified Remote
The Unified Remote unlike other remote control apps, is predefined with many features, and would be coming pre-loaded with support for over 90 separate programs including a useful file manager tool and media players for music and video files.
This is also easy to configure as most of the process are done automatically starting from the automatic server detection to easily configuring your home network. Changeable server passwords are built in and multi-touch mouse control is included.
Meanwhile, Unified Remote has a variety of different themes to choose from, and 18 remotes are bundled into the free package. The full version adds some more tools including voice commands, NFC commands, Android Wear support and more.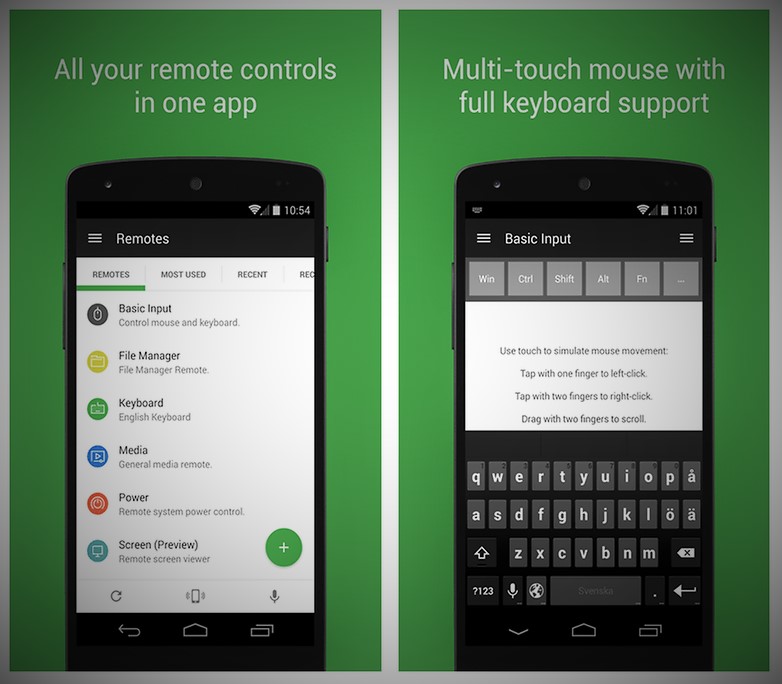 Music apps supported by Unified Remote include Spotify, iTunes and Google Music, and streaming addicts can control YouTube, Netflix and Hulu with the remote app too.
You can check it out on the play store Here
Here we have it, Is there any app you think is missing on the list? Tell us using the comment section.