While there are tons of HD antennas out there in the market, these are the few ones you can rely on when it comes to durability and versatility. These HD antennas are most suitable for outdoor usage, and they are designed with cutting edge technologies. Outdoor antennas typically offer more channels than indoor antennas because they are widely exposed.
The 10 Best HD Antennas for Outdoor Uses
If you've been looking for the best HD antennas to buy, check out these hand-picked options which are pretty affordable, highly reliable, and easy to setup.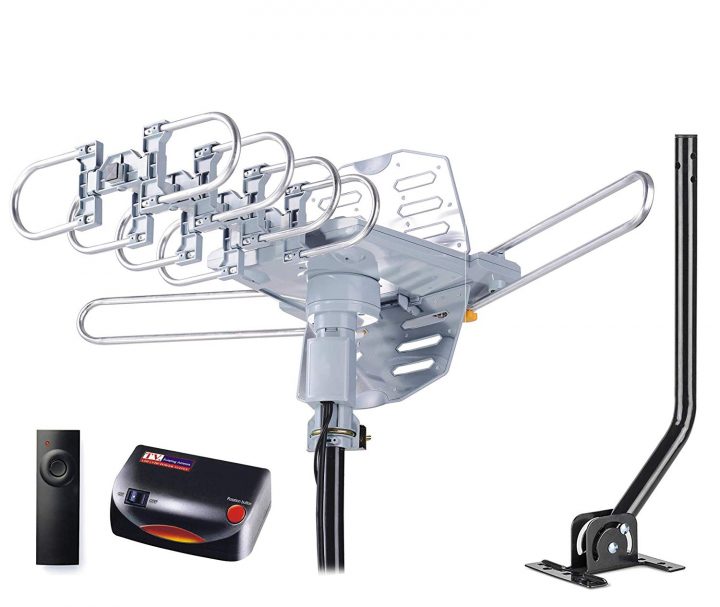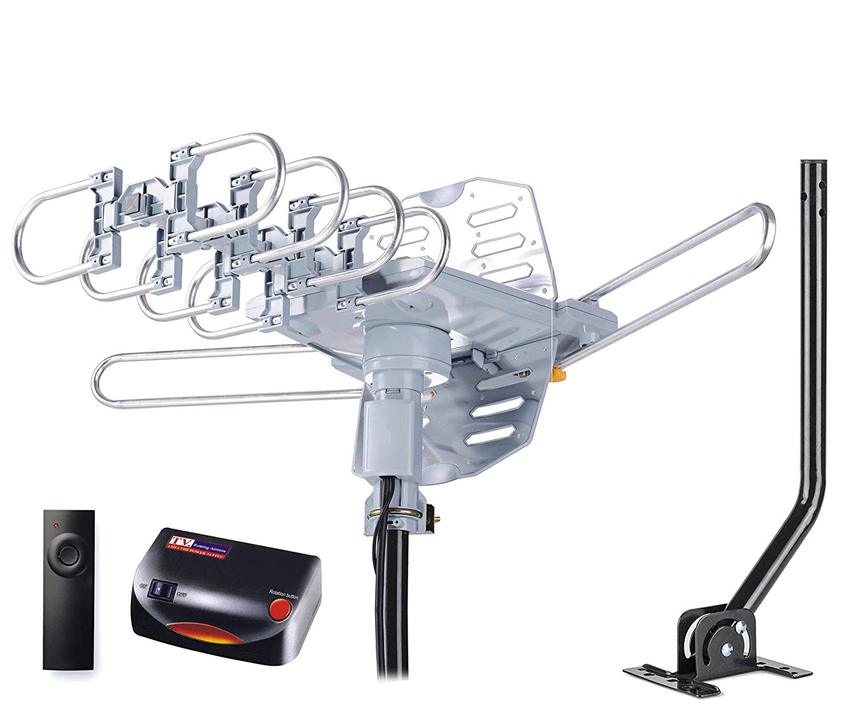 1. Supreme Amplified Antenna
This antenna proves to be one of the best choices for anyone looking out for an outdoor unit. It flaunts a universal design that would definitely not stress you out while setting it up. The antenna supports 360-degree rotation, works on HDTVs, and receives UHF/VHF signals. It is a great outdoor antenna, having a reception range of up to 125 miles. One of the things that will get your interest to this antenna is that it comes almost ready out of the box; thus, you don't have to go through a challenging setup process.
Pros:
The setup kit includes all required accessories; Antenna, AC Power Supply, Amplified Control Box, 50ft Coaxial Cable, and clips
Flexible, universal design
Practically ready to use out of the box
The remote control can work on two TVs
Suitable for HDTVs
Cons
Some users complained of less durability
The range is poor
2. ViewTV Amplified Digital Antenna
The ViewTV Amplified Digital Antenna is an adjustable outdoor antenna built with sturdy materials and promises to last over a long time. This antenna is quite versatile, easy to install, and it grabs a lot of channels you'd love to watch; this is because it gets signals from a distance up to 150 miles away. More so, you could use this outdoor antenna for your HDTV as it supports 720p, 1080i, 1080p resolution, as well as receive VHF 40~300MHz and UHF 470~890MHz signals. Also, this antenna support dual TV outputs, so you could use it on two TVs at the same time. Plus, it can be used in any region or country.
Pros:
Supports dual TV outputs
Suitable for HDTV
Long-range milage
Supports 4K 1080P channels
Comes with additional items in the box
Cons:
The manufacturer claims this can get channels up to 150 miles away; however, users said the reception range isn't up to 150 miles
3. Antennas Direct ClearStream 2V TV Antenna
If you're looking for a versatile, compatible, and ready-to-use outdoor antenna, this might just be what you seek. This is a powerful outdoor antenna you can use at anywhere, and it promises to grab all your favorite channels from a considerable distance. It supports FHD 1080P channels (if available). Plus, it further supports dedicated UHF and VHF multi-directional elements to deliver range and reception in less across locations. Interestingly, the manufacturer of this antenna offers lifetime warranty support on all parts. It is also built with weather-resistant materials and easy to set up.
Pros:
Universal, flexible design
Easy to install and set up
Supports 1080p channels where available
Lifetime warranty support by the manufacturer
Cons:
The reception range is just about 60 miles
4. 1byone 150 Miles Digital Amplified Outdoor
Here's another HD outdoor antenna with long-range reception, and it will surely get all your favorite channels so you can enjoy them for free. This antenna is designed to offer best-in-class performance. Plus, it provides you with high-quality picture and sound. OTA programs are transmitted via this antenna in uncompressed Full-HD (1080P), UHD (4K), and 3D channels. You'll get the best experience of using an outdoor antenna from this unit, and it is fairly priced on various verified stores.
Pros:
Simple design, easy to set up and install
Long-range reception
Supports FHD, UHD and 3D channels
Receives free local HDTV and UHF signals
Cons:
Quite a lot of users had a bad experience with this outdoor antenna
5. Winegard Elite Outdoor Antenna
It is not obvious that the position or direction you face an antenna can affect the signals it will detect; however, this outdoor unit promises to grab a lot of signals from long distances irrespective of where and how it is faced. The antenna is very easy to set up, thanks to its flexible design. With the embedded ultra-low noise (1db) digital amp. This HD antenna promises to offer the best experience. It also comes with a digital amplifier and is optimized for dual-band VHF/UHF reception.
Pros:
Dual-band VHF/UHF reception
Discovers a lot of channels
Streams OTA HDTV programming from a long-range
Easy to setup
Cons:
6. RCA Outdoor Yagi Satellite HD Antenna
You can easily install this HD antenna directly on a rooftop or a long pole. The RCA Outdoor Yagi Satellite HD Antenna flaunts a simple design that makes it easy to install. Also, this antenna supports 4k quality where available, and it can grab channels from far distances. Interestingly, you can discover the various broadcast towers in your area using the RCA Signal Finder App; this will help you to know the position to face your antenna to receive better channels. More so, this antenna is almost fully assembled out of the box.
Pros:
Almost fully assembled out of the box
Signal Finder app helps to detect how to set the antenna
Delivers high-quality picture and sound
Versatile and flexible design
Easy to install
Cons:
Some users complained that the antenna materials are flimsy
7. TIRIO HD Antenna
This is a verified 4K antenna that is suitable for most users. It is a versatile outdoor unit that delivers a high-quality picture and sound. Plus, it features a detachable component that contributes to its efficiency. The TIRIO HD Antenna is compatible with HDTV, and it receives FM, VHF, and UHF signals. You will be thrilled by the reception range of this antenna; it can grab signals that are up to 100 miles away. This antenna works at all times irrespective of the climate condition.
Pros:
Easy installation, nice design
Long-range reception
Captures a lot of channels
Workable in all weather conditions
Cons:
Most users said the antenna didn't last long
8. ANTOP Dual-Omni-Directional Outdoor Antenna
The stylish design of this antenna will get you to have a closer look at it when you spot it at a shop. Well, it looks sleek, yet sturdy, and flexible. This HD antenna works perfectly on HDTVs, supports 720° dual multi-directional reception for weak or moderate signal strength areas.
It further integrates a 4G LTE multi-filter that shields the unit against interference for a stable performance; thus, offering a smooth, high quality, and crystal clear 4K HDTV viewing experience. Climate changes won't affect this unit as it is designed with weather-resistant, waterproof materials.
Pros:
Sleek and sturdy design
4K UHD ready outdoor antenna
Good price
Comes with dual multi-directional reception
Cons:
The design is quite complex, making the setup a challenging process
9. GE Pro Outdoor Yagi TV Antenna
You've looking for the best HD antenna for outdoor use, right? This may just be the best choice for you, considering your need. It is a good antenna with lots of features, designed with reliable materials, and can actually grab signals from up to 80 miles away.
This HD antenna will provide you with tons of free entertaining programs in clear details. Everything component needed to mount this antenna is included in the package box. However, the unit seems practically assembled out of the box.
Pros:
Delivers a lot of free TV programming
Compatible design
Simple design, easy to set up and install
Best price for an outdoor HD antenna
Cons:
Quite a lot of users said the antenna didn't work out for them
10. Pingbingding HDTV Antenna
It looks fancy in its design, and its components don't need tools before you can clip them and set up this antenna on a rooftop or long pole; this is because all the components of this antenna are Snap-on. There's also a user manual attached to this antenna so you can know more about its capabilities and how to activate its full functionalities. Interestingly, this antenna supports a built-in 360-degree motor rotor. Plus, you can connect two TVs to this antenna without needing a splitter. Thanks to the robust materials used, this antenna is not affected by the weather.
Pros:
Works on two TV simultaneously without a splitter
Snap-on installation elements
Fancy and lovely design
Full HDTV support 720p, 1080i, and 1080p
Cons:
The reception range isn't so far as advertised by the manufacturer
Wrap Up:
These are 10 of the best HD antennas for outdoor uses. They are versatile, designed with weather-resistant materials, and offer high-quality signals.