So I got me a pair of digital satellite signal finder a few days ago to replace my old rickety one & decided to do a review content for both in a single update, instead of separate pages.
I bought them from Aliexpress in the recently concluded November shopping events and would be sharing my experiences in this short review.
In case you don't know what satellite signal finders are: They're a handy gadget that lets you search, align, troubleshoot, and set up satellite dishes without any hassles.
I'll start with the most expensive of the two gadgets and then the cheaper one. To wit: OXA GSF-9507 (LED display) Digital Satellite Signal Finder and OCDAY GSF-9502 FTA Satfinder Meter Compass.
OXA GSF-9507 (LED display) Digital Satellite Signal Finder Review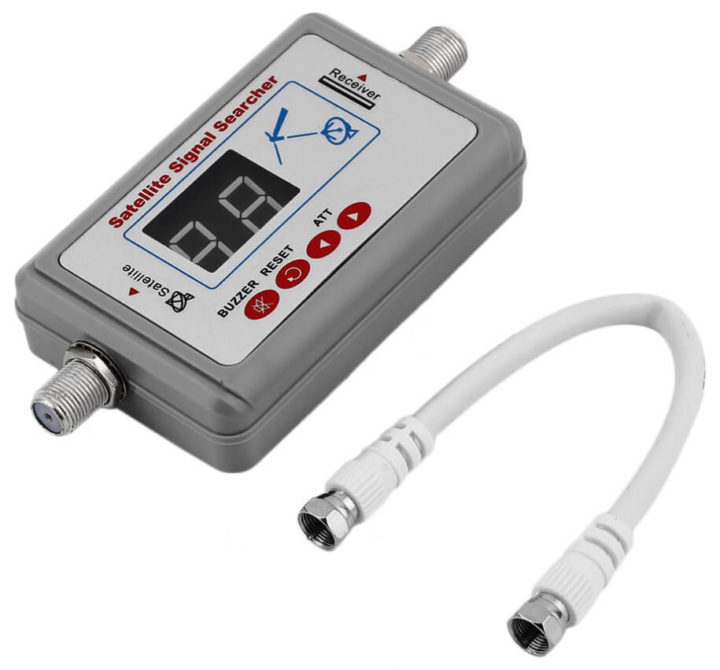 OXA is a Chinese manufacturing company that deals with the production of home gadgets, consumer electronics and small kitchen appliances. Their GSF-9507 satellite finder is a universal satellite TV signal finder that's very portable and comes with a LED screen display.
In the package delivered to us, there's a user manual, an eight inches (8″) cable, and the OXA GSF-9507 satellite finder itself.  So far, the signal finder works. It makes a louder sound as the signal strength increases.
OXA GSF-9507 digital satellite finder does not come with an external battery as it uses the power from your satellite receiver. There's a built-in illuminators for reading signal at night and a loud-speaker at the back for outputting audio sound once the signal strength increases.
Although the overall design isn't that sturdy, the small size makes it a perfect fit as it can fit into tiny pockets and/or small bags.
OXA GSF-9507 LED Satellite Finder Features in-Full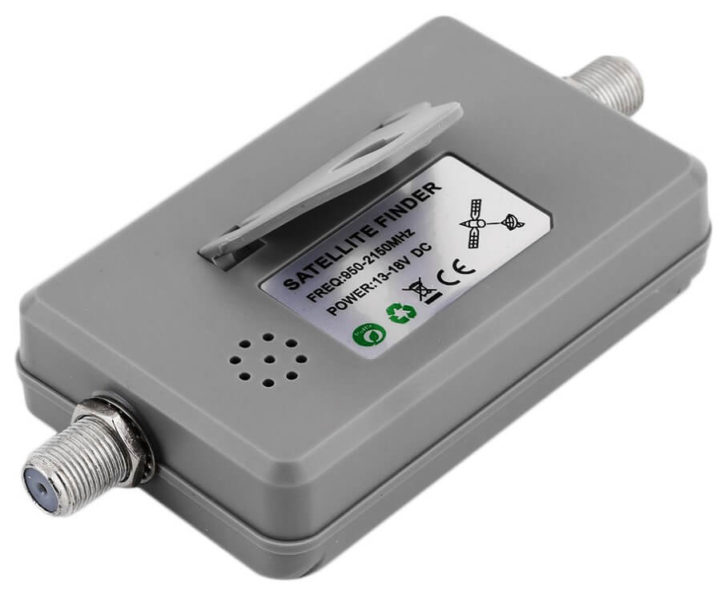 Comes with an illuminated meter display for use at night & works with multiple system.

OXA GSF-9507

digital satellite finder is very handy (Just 11×4.5x2cm in size).
It comes with an audio tone & lets you align any satellite dish in just a few minutes.
Lets you setup satellite dishes on RVs easily. All you need do is – connect it to your LNBF and receiver to

OXA

satellite finder to track the clearest setting for the satellite you wish to tune to. Doesn't need a friend's help or multiple trips to the roof.
Comes with a handy cable and an English user manual for easy setup instruction.
Where to buy? To get the exact copy we've tested and using for this review, visit JYY store on Aliexpress to buy it. It is sold for less than $12.
OCDAY GSF-9502 FTA Satfinder Meter Compass Review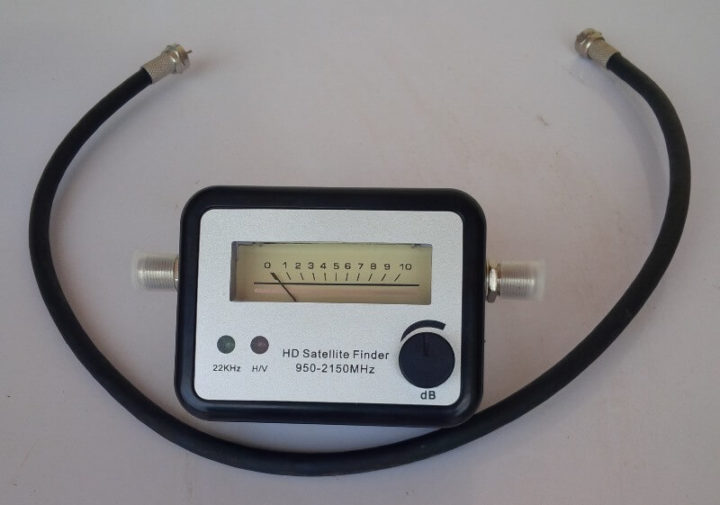 OcDay GSF-9502 FTA digital satellite signal finder was the perfect upgrade for me. I got it for less than $5, even though it works better than my old one. Unlike OXA GSF-9507, it didn't come with a cable, so I had to make one myself. So far, the meter compass works and makes signal finding fun and effortless.
OcDay GSF-9502 digital satellite searcher lets you track satellites without having to use the meter on your TV or when the tripod is far from your windows view. It comes with a built-in light for night use, a tone rising for signal strength monitoring, and bell electric features.
Specs/Features
Since the features aren't much different from that of OXA GSF-9507, I'll focus on the specification and design functions.
Name: OCDay
Model: GSF-9502
Type : Digital HD (high-definition)
Color: Black
Size: 79x61x35mm
Input frequency: 950-2150MHz
Power: 13-18v DC
Where to buy? To get the exact copy of OCDay GSF-9502 HD digital satellite signal finder used for this review, visit Shenzhen CarNival store on Aliexpress to buy it. It is sold for less than $5 and comes with free shipping (worldwide).
How To Use Digital Satellite Finder to Track Signal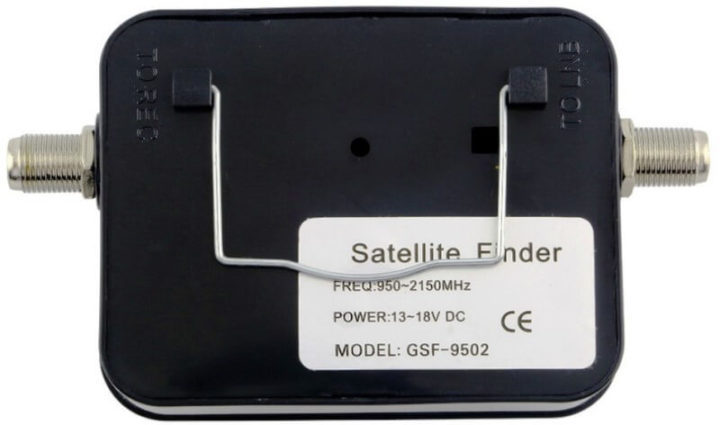 Connect a jumper cable from the LNB/LNBF to the part labeled as "TO LNB" connection on the HD digital satellite finder.
Connect the cable from your satellite receiver to the part labeled as "TO REC" comments on the HD satellite finder.
Turn on the satellite (DSTV, MYTV, TSTV, et al) receiver and ensure that the finder's meter reading isn't more than 2.
Align your satellite dish to the proper azimuth and/or elevation settings depending on the service you'd like to track (Or as provided by your satellite dish supplier).
Adjust the satellite finder's scale reading to 5 or thereabout by tuning the level control button on the front of the digital satellite signal finder. (Note: turning the knob clockwise will increase the reading).
Increase the signal to the peak by slowly moving the azimuth and elevation of your satellite dish. If the satellite finder's reading becomes full-scale, adjust the level control knob to reduce the reading to 5 or thereabout. Continue to move the satellite dish until you have the highest possible meter reading. (Note: turning the knob counterclockwise will decrease the reading).
Take away the jumper cable and satellite finder and re-connect the LNB/LNBF to your receiver as at before.
Caution:
To avoid a continuous full-scale reading, do not use the satellite finder directly in front of the dish.
When using a LNB/LNBF with a gain higher than 60dB, put a 5dB attenuator between the LNB/LNBF and the digital satellite finder.
Review Summary
So far, these digital satellite signal searching meters works as should and comes with all necessary features.  The only cons with them is the lack of screen, which shouldn't be an issue for expert installers. We've only used them for a few week but would give an update if anything goes amiss with them.
They are pocket friendly and can be used with all satellite TV services. Have you used similar gadgets in the past or have a thing or two to share about HD Digital satellite finders? Please do share it with us in the comments section below.