People still choose outdoor antennas because they want to cut down the cost of satellite/cable TV subscriptions, or maybe they are living in remote rural areas. For one or more reasons, some people still prefer to use antennas in place of satellites, cable TVs, and other state-of-art digital platforms that have replaced antennas in this modern time.
However, there are many outdoor antennas available in the market, making it quite difficult for people to choose the best one for their need. Also, for HDTV users, not all antennas are compatible with their TV; thus, they need the best outdoor antennas for HDTV.
Well, outdoor HDTV antennas are now being designed with succinct technologies, and they do not look quite awkward like the old ones you used to see around the neighborhood. Either of these 15 best modern outdoor antennas is perfect for your HDTV; plus, they are budget-friendly.
1. Pingbingding HDTV Antenna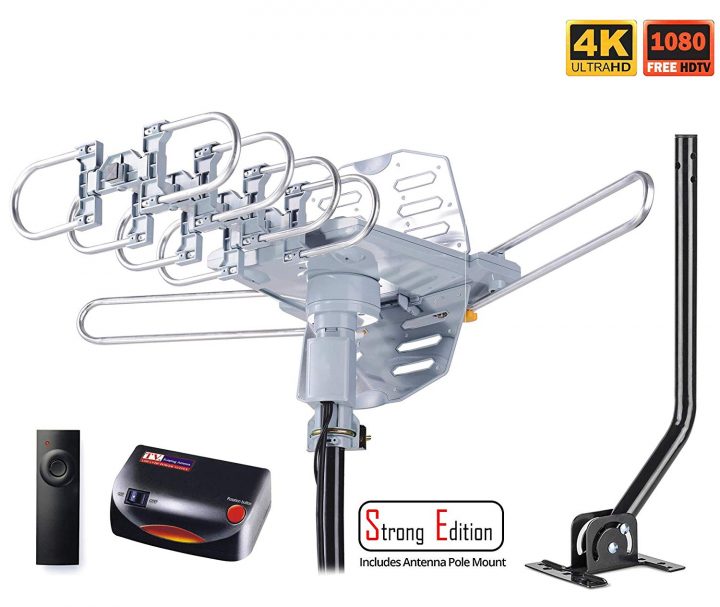 Up to 150 miles range
360o rotation wireless remote
No special adapter or splitter needed to use this antenna on two TVs
Comes with a 40FT RG6 Coaxial cable
With the ability to grab signals up to 150 miles away, this long-range HDTV antenna should definitely be among your choices for the best outdoor HDTV antenna.
It is a premium outdoor designed, beautifully designed with robust materials to last long and withstand snow, rain, and sun. Interestingly, you can use this antenna with two televisions without getting a splitter or any special adapter.
Quite a lot of things will grab your interest, and make you want to have this outdoor HDTV antenna. Its supports full HDTV 720p, 1080i/1080p, as well as VHF and UHF frequencies. Also, with the inbuilt 360o motor rotor, plus the remote controller, this outdoor antenna is a great choice.
[link]
2. Mediasonic HOMEWORX HDTV Outdoor Antenna
1080P HDTV Broadcast
All UHF/VHF frequencies are supported
Easy to setup/install
Compact design
80 miles range
Water-resistant
This outdoor antenna comes with a simple design, and its signal range is up to 80 miles. Built to last long, the Mediasonic Homeworx HDTV antenna is about 31.9 Inches long, and it supports all UHF/VHF signals. With this antenna, you'll grab all the available FTA (free to air) channels to show on your home TV.
Also, this outdoor antenna works on all HDTV. A big thanks to the compact design, everyone can easily set up and install this antenna without calling up a third party. It is surprisingly low-priced, yet it is durable and reliable as well.
[link]
3. 1byone Digital Amplified HDTV Antenna
Comes with a power supply box
Up to 150 miles range
Compact design and easy to set up
Supports HD (1080P), ultra HD (4K), and 3D channels
UHF frequencies
Weather-resistance (serves in all weather condition)
This is obviously one of the best you can get to use anywhere; you can fix this antenna to your rooftop or a long pole. It delivers all the FTA channels in stunning clear picture resolution. Also, this outdoor antenna will grab all the local channels in your area and deliver it to you in very clear pictures.
 You'll only need to connect this antenna to your TV using a coaxial cable, then run a scan to discover the various available channels you can enjoy freely. The 1byone digital amplifies HDTV antenna provides a crisp picture and sound quality. Plus, it delivers OTA (over-the-air) broadcasts in uncompressed full HD (1080P), ultra HD (4K), and 3D channels.
[link]
4. Channel Master CM-4228HD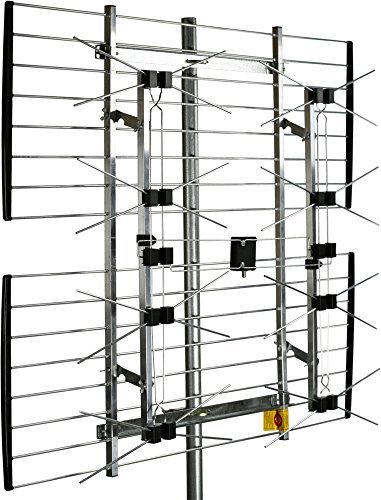 Up to 80 miles range
Comes pre-assembled for easy installation and set up
Up to 180o multi-directional reception angle
VHF, UHF, and HDTV Antenna
Here comes a sturdier HDTV antenna; it looks quite complex after setting up. However, channel master CM-4228HD is one of the best outdoor antennas you can use to pick up all free local, OTA, and FTA channels, which includes ABC, PBS, CBS, Fox, NBC, CW, MeTV, Univision, ION, Telemundo, and others.
Interestingly, this antenna transmits all the channels you get in stunningly clear uncompressed HD image quality. The reception angle is multi-directional (up to 180˚) at a 12dB gain.
This antenna is preassembled, so, you don't need to stress yourself out to couple it up. Also, you can install this on your rooftop, an eave, chimney, attic, etc.
[link]
5. Mohu Sky 60 TV Antenna
Supports both UHF and VHF frequencies
Up to 75 miles range
Comes with a removable 30ft connection cable
Can be installed on different platforms
This is a powerful outdoor antenna with a lot of exciting add-ons upon purchase. It comes with a detachable coaxial cable of length 30ft. Getting this antenna to work for its purpose is no rocket science; plus it is designed with robust materials to assure durability and resistance to different weather conditions.
However, the reception of this antenna is determinant of the user's location. Similarly, the channels you'll get also depends on your locale; even though this antenna supports both UHF and VHF frequencies.
The signal range of Mohu Sky TV Antenna is 75 miles; you'll get sufficient free channels for life without subscribing to cable TVs or satellites.
[link]
6. RCA Outdoor Yagi Satellite HD Antenna
150 miles (70 miles from the broadcast epicenter)
Mobile app support
Receives UHF and VHF channels
Uncompressed picture quality
Though and reliable
Advanced reception technology
The design of this antenna is straightforward and plain; setting it up is a breeze, and it works perfectly for HDTVs. People using this outdoor antenna make use of the RCA mobile app to detect broadcast towers around them, so they'd know the best way to place the antenna.
This antenna provides stunningly clear images for 1080i HDTV broadcasts up to 150 miles total range, or 70 miles from the broadcast towers.
The simple design of RCA Yagi Satellite HD Antenna makes it very easy for everyone to install it by themselves. You'll receive UHF and VHF channels with uncompressed HD picture quality.
[link]
7. Antennas Direct ClearStream 2V Multi-Directional HDTV Antenna
Can be used as an indoor or outdoor antenna
Up to 70 miles range
Seamless reception
Patented technologies
Supports VHF and UHF frequencies
This can serve as an indoor HDTV antenna, as well as an outdoor HDTV antenna; it comes with handy mounts for both said actions.
ClearStream 2V Multi-Directional HDTV Antenna can receive signals up to 70 miles away. You'll grab a lot of free channels with this HD antenna. The design is unique, and it delivers FullHD 1080p (if available).
Interestingly, the manufacturer issued lifetime warranty support for all parts of this antenna to proof their quality. Quite a lot of patented technologies were used in designing this HDTV antenna, and it serves very much well for its purpose and price.
[link]
8. ViewTV Digital HDTV Antenna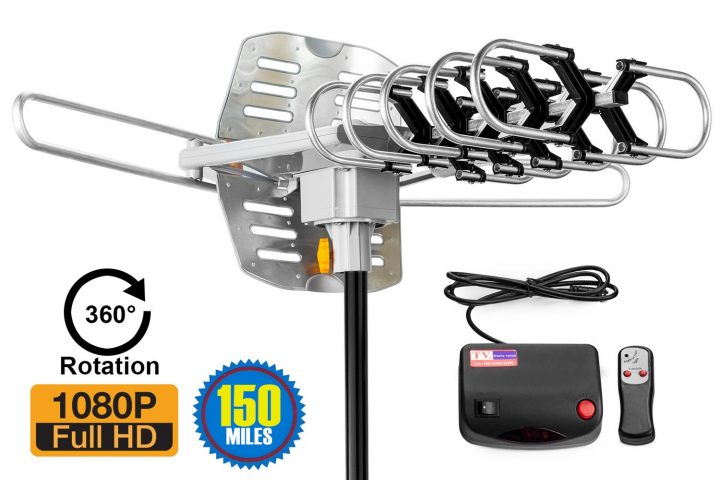 Full HDTV support: 720p, 1080i, 1080p
Handy remote controller
Up to 150 miles
Weather-resistant
The ViewTV Digital HDTV Antenna is a sturdy outdoor unit for receiving UHF and VHF frequencies so you can enjoy all the free channels available in your locale.
This antenna comes with a 40FT cable, as well as a remote controller. Also, it supports 4K and 1080P channels; providing you with the best picture quality without any extra charge.
Thanks to the long-range support (up to 150 miles), this antenna will grab loads of channels you will enjoy. You'll get this handy gadget at a favorable price too.
[link]
9. GE Pro Attic Mount TV Antenna
60+ mile range
Supports both UHF and VHF frequencies
Receives uncompressed 1080p signals
Flexible and easy to set up
Ge Pro is a notable brand in the US when it comes to companies manufacturing antennas. This outdoor HDTV antenna from the brand is very durable and serves exactly for its purpose.
It is a budget-friendly outdoor computer with full HDTV support for 4K and 1080P. The antenna throws out far to grab as many channels as possible which you can enjoy for free without paying any bill.
Also, you can still install this antenna inside your room; the design is such that is fit for both indoor and outdoor use. Ge Pro is giving out this antenna with limited warranty support.
[link]
10. CM STEALTHtenna
Up to 50 miles range
Simple and flexible design
Great/impressive picture quality
Although this antenna does not pick signals more than 50 miles away, it is still one of the best you can get to use with HDTVs. It comes with durable components and is not affected by any weather condition.
Channel Master has carefully designed this antenna to be lightweight and easy to install. This particular antenna from Channel Master has a simple design which makes it flexible enough to fit anywhere you choose to set it up; roof, attic, mast, eave, or chimney installation.
[link]
11.
FiveStar Outdoor HD TV Antenna 
Full band DTV, VHF, and UHF receiver
Supports 4k HD TV, 1080i, 1080p, 720p, and FM radio signals
360-degree motorized rotation
40Ft coaxial cord
This antenna will bring you more channels than most others on this list. Yeah, and this is because it can grab signals up to 200 miles away.
The FiveStar Outdoor HDTV antenna is much flexible, supports UHF/VHF/FM Radio, as well as come with a remote controller, plus the complete installation kit (on purchase).
You can adjust signal reception performance; plus, there is an inbuilt Low Noise Amplifier with an operating frequency of 45 – 860MHz.
Furthermore, this outdoor antenna comes with an LTE filter to help remove the interferences caused by 4G phone signals so you will enjoy noise-free digital TV reception.
[link]
12. TNP HDTV Digital Outdoor Antenna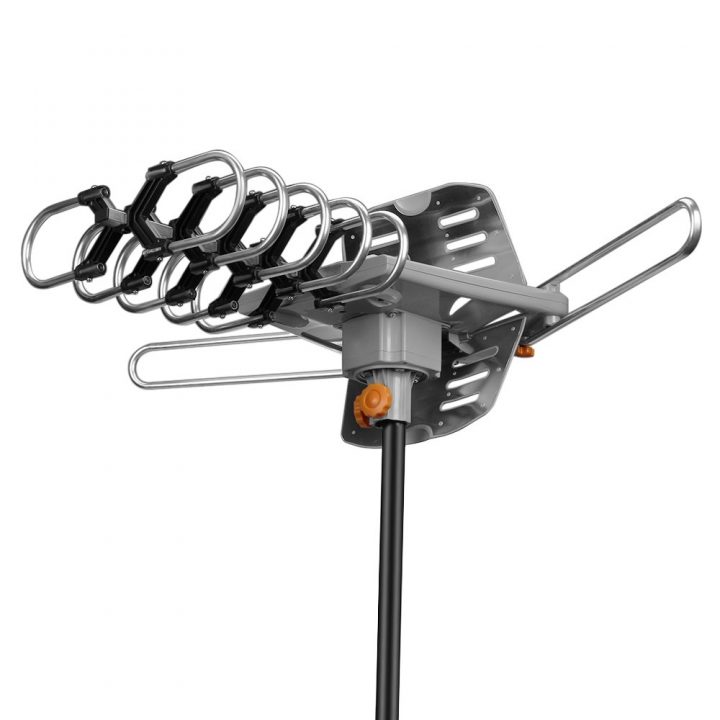 Comes with a 32.8ft coaxial cord
Grabs free signals up to 150 miles away
Impressive receptions
All weather-resistant materials
Motorized 360-degree rotation Rotor
There is no need paying cable TV subscriptions while you can still get all of your favorite TV channels for free and in HD quality. With this outdoor antenna designed by TNP, you'll comfortably enjoy many channels for free.
It grabs FTA and OTA channels that are far off 150 miles range with an extensive range of receptions to deliver stunning picture even at long ranges.
TNP HDTV antenna flaunts a simple design, and it is such that you could install by yourself at a breeze. It supports HDTV shows, 720p, 1080i, 1080p, as well as ATSC.
[link]
13. Matis TV Antenna
33ft coax cable included
150 miles range
UHF and VHF support
HD picture quality (where available)
Remote controller
One of the best reasons to love this HDTV outdoor antenna is the fact that it has outputs for two TVs; thus, you can connect two TVs to this antenna.
This way, you wouldn't have to buy two outdoor/indoor antennas to use with your TVs, and you'll enjoy all the available free channels in your locale both in the comfort of your sitting room, as well as the bedroom.
Matis TV antenna comes with a remote controller, and it captures 1080p HDTV and 32db high gain reception up to 150 miles range. Also, it has support for 720p, 1080i, and VHF/UHF.
[link]
14. Xtreme Signal Yagi Style Outdoor Antenna
25 miles range for high-band VHF and 70+ miles for UHF
Limited six months warranty back-up
Durable design
Swift installation
The design of this antenna makes it easier for anyone to be able to set it up without requesting help from a third-party. This outdoor HDTV antenna captures both UHF and VHF signals up to 70+ miles. Plus, it utilizes a built-in (weather resistant) transformer for direct 75-ohm (coaxial) connection.
Xtreme Signal is a renown brand when it comes to outdoor antennas, and this one is yet another great one from the company.
[link]
15. Winegard FreeVision FV-30BB Digital HDTV Antenna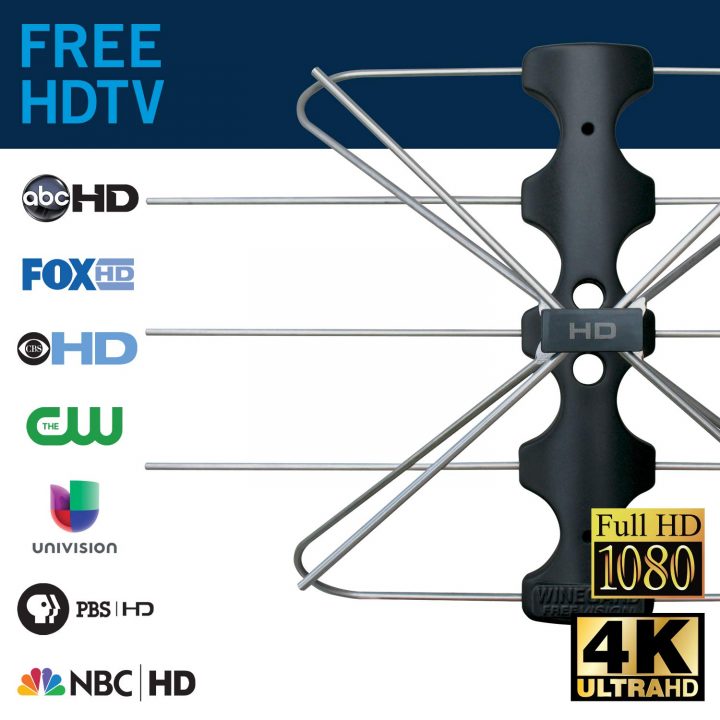 30 miles (UHF/VHF)
Supports 4K UHD/ATSC 3.0
Delivers crystal clear picture quality
You can use this as an outdoor or indoor HDTV antenna and enjoy free OTA programming. However, the range is not so wide; just about 30 miles. Nevertheless, FV-30BB Digital HDTV antenna supports UHF and High-Band VHF digital HD TV signal.
The US antenna manufacturer – Winegard designed this antenna with weather-resistant materials, and it is 4K Ultra HD and ATSC 3.0 ready.
[link]
Wrapping Up:
These are the best outdoor HDTV antennas: They are all budget-friendly, durable, and delivers practically all the FTA/OTA channels around you. Using any of these antennas will help you bypass paying for cable TV subscription monthly or weekly before you can enjoy your channels.