Here are the 5 best methods for setting 3G/4G (WCDMA) only data Network Signal mode in Xiaomi MI and other Android devices that don't come with this option enabled by default.
This guide would come in handy for villages and remote areas with fluctuating 3G network signal coverage. It was created with Xiaomi Redmi 3S and two other Samsung galaxy devices but should work for every other device on Android OS.
We covered as much as four (4) best methods for settings 3G/4G LTE signal only mode on Android devices to serve the many brands in today's mobile tech market.
The First Things First!
Before attempting to use one of the four (4) methods below, it is best to find out if your device supports the option to set 3G Network only mode by navigating through the settings.
To set 3G/4G LTE Signal only mode on devices that comes with this option built-in, you'll need to follow after the steps below:-
Locate and Click on Settings from your Android device.
Navigate to Wireless and Networks and find Mobile networks.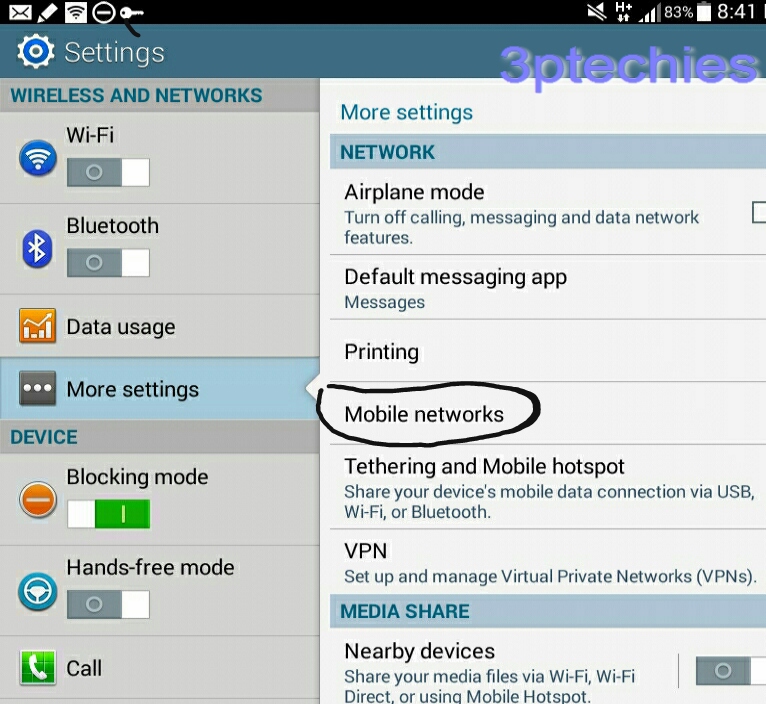 Tap the mobile network and set your preferred network mode (3G, 4G, or WCDMA only is what to choose for this tutorial).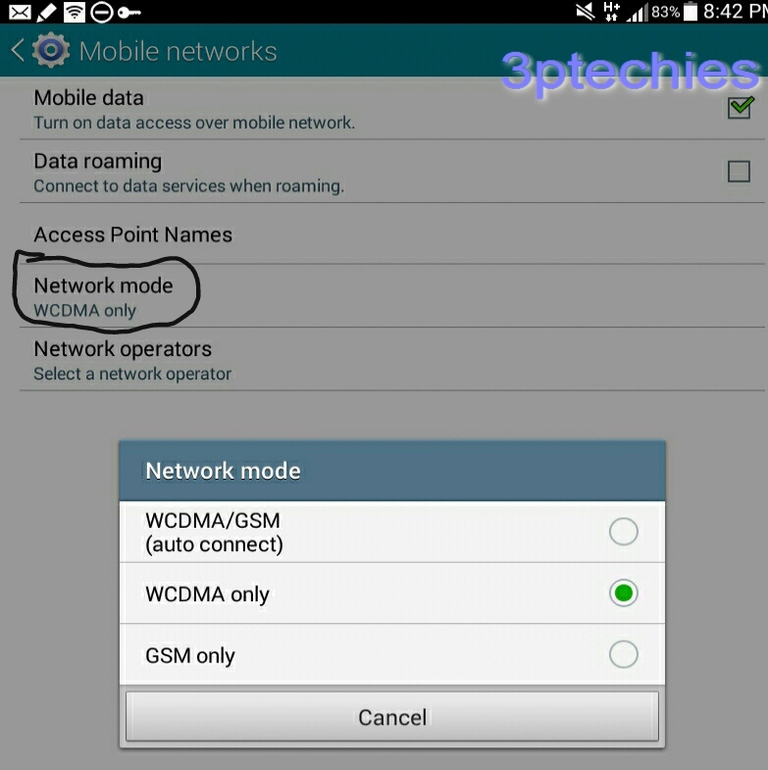 Exit window and start enjoying a consistent data connection.
Points to Note
3G/4G LTE only mode is necessary only when there's a poor WCDMA/HSPA+ coverage in the area; thereby causing the network to fluctuate between 2G and 3G signal.
Most dual SIM card devices allow you to use either SIM1 or SIM2 for 3G Network and not both for WCDMA data. You can use SIM1 as 3G (WCDMA/4LTE) and SIM2 as 2G (GPRS/EDGE) or vice versa.
4G LTE data network coverage is not as wide as that of earlier generations (ie- 3g, gprs, edge, and hspa+). This might cause you to lose coverage often while using the 4G LTE only network signal mode.
Voice calls and regular text messaging (SMS) features do not work on 4G LTE only mode.
Phone information1 stands for SIM Card 1, while phone information2 stands for SIM Card 2.
The 5 Best Methods to Force 3G/4G LTE Mode on Android Devices
Here comes the main topic of discussion, forcing 3G/4G only mode on Android devices. The 4 tweaks look similar as it gears towards granting you access to the "phone information space". I'll advise you to go with the method that's very easy for you as most of the devices will reset the configuration after a restart.
1. Using the Internal Memory Exploit
This is the easiest method from my viewpoint, as it can be completed in seconds and without much effort. So here comes the tips to force 3G/4G LTE only mode on Android by tweaking via internal memory exploit.
It works flawlessly on Xiaomi Redmi devices and other Chinese smart phones (MTK powered cell phones) such as Tecno, OnePlus, iTel, Wiko, infinix, innjoo, HTC, Huawei, ZTE, Lenovo, Ulefone, Acer, Asus, Mercury, Micromax, Vodafone, iBerry, Elephone, Orange mobile, Benefon, i-mobile, Meizu, Alcatel, Gionee & etc.
Step1: Go to settings and click on About phone.
Step2: Locate Internal Memory and click on it four (4) times.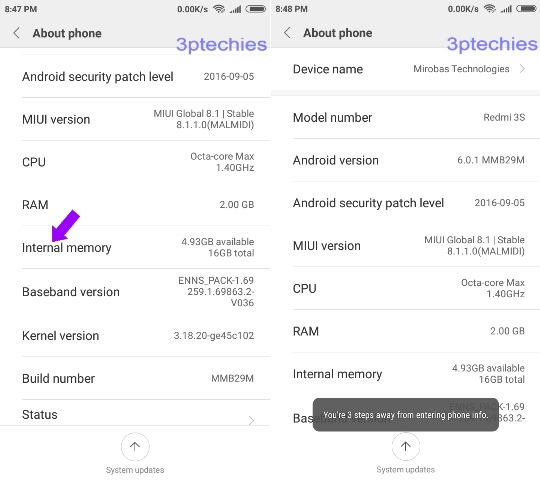 Step3: Click on phone information1 (or phone information2, depending on the one that's enabled for 3G/4G LTE data).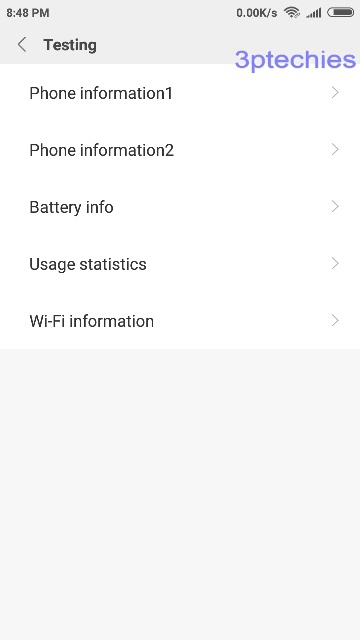 step4: Locate Set preferred network type from the screen, and click on it for network options.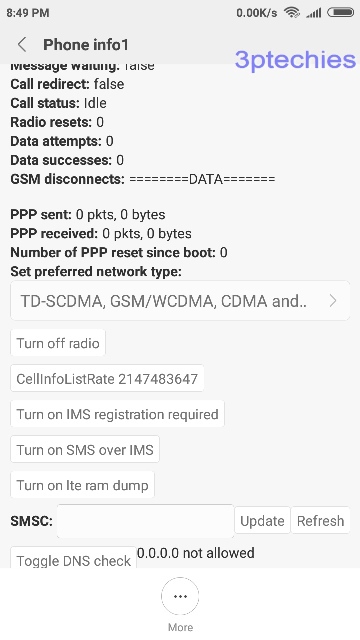 Step5:  Select WCDMA and LTE only mode to complete.
That's all. Your device is now configured to 3G/4G LTE only mode.
2. Using the Dialer USSD code Exploit
This is another easy method for setting 3G/4G only mode on Android devices. It is as easy as dialing some set of USSD codes on your phone dialer.
The general USSD code to dial for this tweak is *#*#info#*#*, but most devices would need you to dial any of the other USSD codes below.
To force 3G only mode on android devices via the USSD code exploit, you'll need to complete the following steps.
Step1: Dial any of  *#*#4636#*#*, *#*#2846579#*#*, ##626* OR ##786# (depending on which works for your device model) on your phone dialer and follow after the pop-up window's options.
Step2: Click on Phone information1 ==> set preferred network type  or Project menu ==> Network settings ==> network mode set to complete the 3G/4G LTE only mode settings.
Here's a short video tut for method 1 (Internal memory exploit) and 2 (USSD exploit) above.
3. Using 3G Only Network Mode App
This is another effortless method to forcefully set WCDMA/LTE only data connection mode on Android devices. The app lets you dial the right code for your phone model and then completes the 3G/4G only data mode.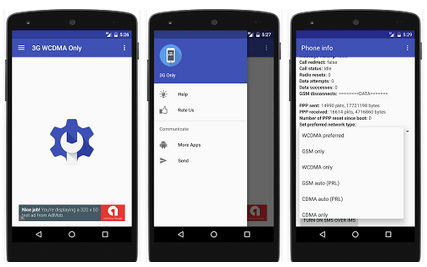 To enable WCDMA/LTE only mode with this method, you'll need to download the app from the Google play store link, install, and complete from the on-screen prompt.
4. Using Engineering apps
This is the most advanced, going from how easy and effortless the other three methods are. The engineering app to install depends on the phone type you're trying to set the 3G/4G only network on.
For Mediatek (MTK) processors, install the MTK Engineer App from Google play store ==> launch it and navigate to Android settings ==>  Telephony.
Locate the network options and set the preferred network mode. Note that Mobile Uncle Tools can be used in place of MTK Engineer app.
For high-end devices with Qualcomm processor, install the Shortcut Master app from Google play store ==> launch it and navigate to Menu.
Search for Service Menu/Engineering Mode and complete the Protocol Configuration ==> NAS ==> Network Control ==>Band Selection ==> preferred LTE Band.
Other engineering apps can be used as well by following after their instruction to tweak accordingly.
5. Using 4G LTE Only Mode App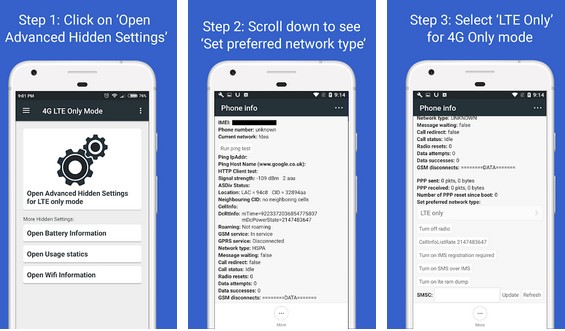 This is an update about this unique method that works with newer versions of 4G LTE devices. All that's needed to use this app is a good network signal irrespective of the option to set only 4g, 2g 3g only network mode, 4g only mode, etc.
It is an intuitive app to force LTE only mode on the latest Android devices. While Samsung users, HTC, and users of the A-series Samsung models of smartphones might not need this, other Android users need it to control hidden network settings.
The app helps you to set or switch to 4g network only mode as typically done from your phone settings menu. With it, you can do advanced network configuration and all kinds of data mode configuration. There are two versions of the 4G LTE only mode app on the Google play store.
You can use any of these links (link 1 | link 2) to download and install one for your phone. Just let me know the exact one that worked for you via the comment box below.
Note: Each of these apps features the ability to enable VoLTE on all the supported devices, switch to only 4g LTE network mode, lock the phone to 4G/3G/2G network signal, control dual SIM settings, check battery usage statistics, Wifi and advanced network information.
Would these Methods Work for 5G Only Mode?
Well, this depends solely on the manufacturer's brand and model. While some brands come with the option to select the exact network mode you'd like to use, others decide theirs automatically without an option to alter its settings.
The USSD exploit method is definitely going to work with newer launches of Xiaomi, Huawei, Oneplus, etc. while the app method would work with all brands.
While 5G support and development spread more extensively, I am going to keep an eye on it and update this post if there's anything new to know about 5G only network mode.
Conclusively:
These 4 methods are best for setting 3G/4G only network mode on Android devices. They can be used in areas with spotty WCDMA/LTE network coverage and works for MTK and/or Qualcomm devices alike.
Feel free to share what device and exploit method that worked for you in the past by using the comment form below.