Mobile Device Management (MDM) software are business-tailored solutions that help enterprises manage multiple mobile OSes and devices. MDM solutions help enterprises to manage, optimize, and securely utilize their fleet of mobile devices. A good MDM software helps to manage various mobile devices (and even computers) regardless of the operating system.
Through custom policies and configurations, an MDM solution can help to manage both corporate-owned mobile devices and that of the employees of the enterprise. These software solutions are handled by IT admins with strict restrictions to unauthorized persons to avoid data breaches.
The 9 Best Mobile Device Management (MDM) Softwares
Here are the 9 best MDM software/solutions for large and small-scale businesses. They are the top-rated "best" for enterprises and big companies. They can be easily deployed on any system.

SOTI MobiControl is one of the best MDM software solutions for enterprises. It offers an intuitive interface that makes it very easy to manage all mobile devices in an enterprise workspace, irrespective of the devices' OS or model. This MDM software supports remote tracking and configuration.
With SOTI MobiControl, enterprises can track and manage their Corporate and personally owned mobile devices. This software is packed with a bunch of features and tools that work for all kinds of businesses. Admins can set up alert rules to get notifications for certain user actions.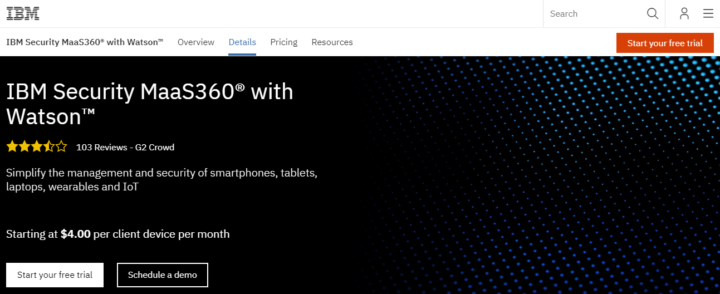 Simply, IBM MaaS360 with Watson software is an enterprise-ready solution for managing all smartphones, tablets, laptops, wearables, and IoT devices used in an enterprise environment. IBM MaaS360 is built with the latest computing technology and promises reliable security. It offers advanced tools and features for managing various device types' plus, the interface is intuitive and easy to use.
The IBM MaaS360 software supports rapid app deployment, secure content collaboration, and a couple of other good stuff. If you are looking for an MDM business solution with advanced analytics, security, and management features, this one could be your best choice.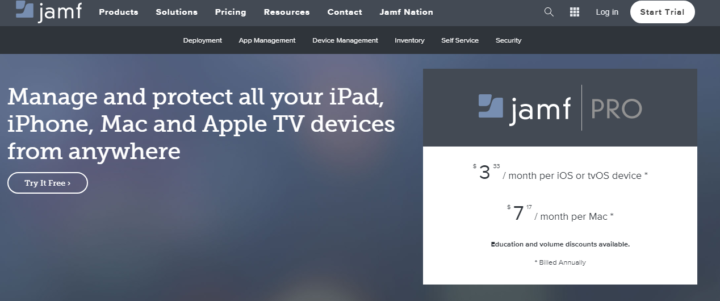 With Jamf Pro, enterprises can effectively manage and protect all mobile devices used within the corporation. Jamf Pro works for managing iPads, iPhones, Macs, and Apple tvOS devices. The developer, Jamf, is renowned for developing reliable business solutions for system admins to configure and automate IT admin tasks.
Jamf Pro includes server-and-client-based solutions that run on various operating systems, including iOS, macOS, and tvOS. Mainly, Jamf Pro is used to manage Apple OS devices. It supports API integrations, includes advanced configurations, Apple School Manager integration, and lots more.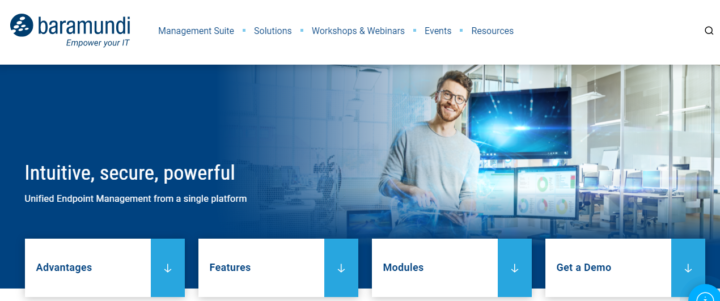 The Baramundi Management Suite is a comprehensive solution that works for all kinds of mobile devices, regardless of the operating system. This software is available in modules; thus, you can combine many modules to achieve the perfect solution you want for your business.
BMS works as an inventory of hardware and software on all platforms. It also supports Microsoft/Windows management. Furthermore, this software is ready to deploy updates and patches for various applications. It can be automated, includes tools for managing endpoints remotely, and saving backups.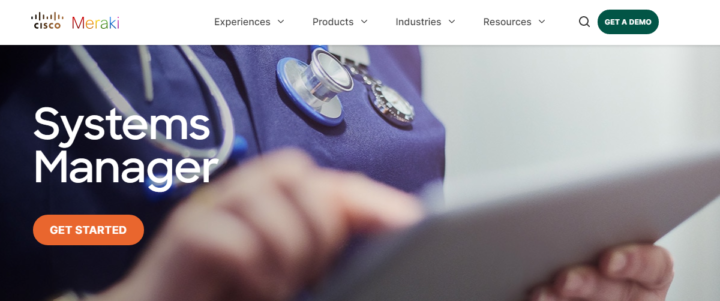 Cisco Meraki MDM is a smart business solution with advanced technologies and it has lots of features to offer. This MDM solution from Cisco Meraki, System Manager, is one of the best MDMs for enterprises. With Cisco Meraki System Manager, you can manage every type of device from a single dashboard; whether it is an Android and iOS smartphone.
This software can also serve for managing Linux, macOS, and Windows PCs within an enterprise infrastructure. Monitoring devices are seamless; admins can enable and enforce policies on any device on the system. Furthermore, admins can run remote troubleshooting and restrict certain apps on employees' devices.

The MobileIron's EMM suite is an enterprise-ready solution that simplifies device management. It supports smartphones, tablets, and computers. MobileIron EMM features a comprehensive interface that is easy to understand and use. This software enforces Wi-Fi, corporate email, VPN, and many other good features.
With EMM, admins can set certificate policies on devices, as well as automatically configure devices to function how the IT department wants them to function. The dashboard is a comprehensive console to access all the features available with the software. Interestingly, this software also supports Mobile Application Management (MAM), which restricts employees in an organization from installing specific applications from specific app stores.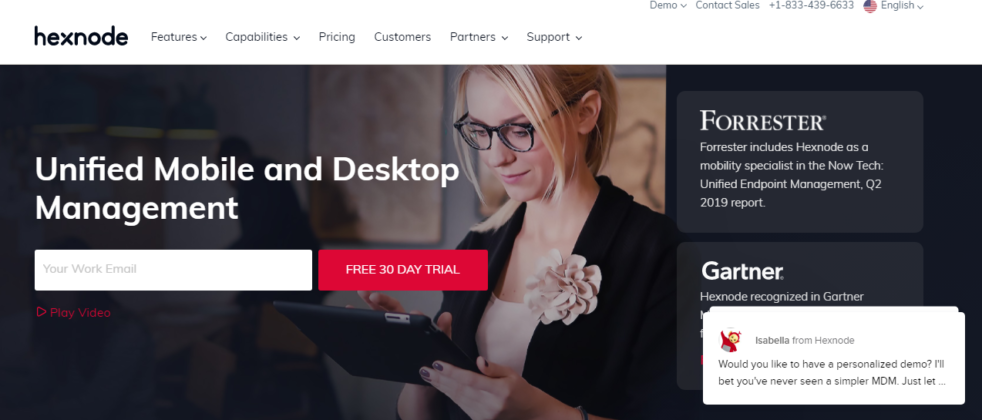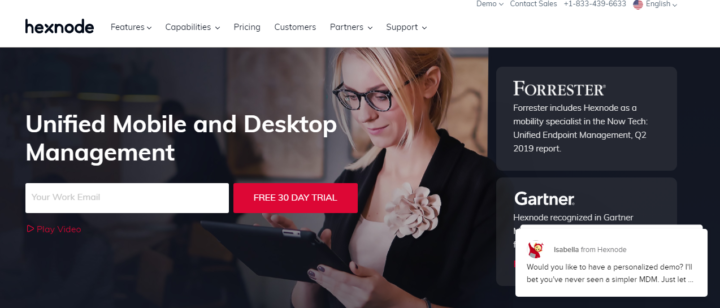 There are about five reasons why various big companies prefer Hexonode MDM; this software supports endpoint management, intelligent automation, enterprise-ready integrations, zero-touch deployment, and it's easy on one's budget.
Hexnode MDM is of the best for enterprises – with a distinctive UI, support for Android, iOS, FireOS, tvOS, Windows, and macOS, as well as ready to integrate with other business solutions, Hexnode MDM is the perfect choice for many.
More so, Hexnode MDM is the favorite of top companies like Volvo, Lowe's, Target, and many others.

Citrix XenMobile is an MDM tool that allows an enterprise to effectively manage all of its business and personal apps. It also allows the enterprise to manage all mobile devices – both the company devices and employee devices – from a single console. With Citrix XenMobile, multiple users can have access to a particular mobile device.
This MDM solution is mostly utilized by companies in healthcare industries where many workers may need to have access to a device. Regardless, it is still available to companies in other industries. Citrix XenMobile comes with a ton of features and supports extensive integrations.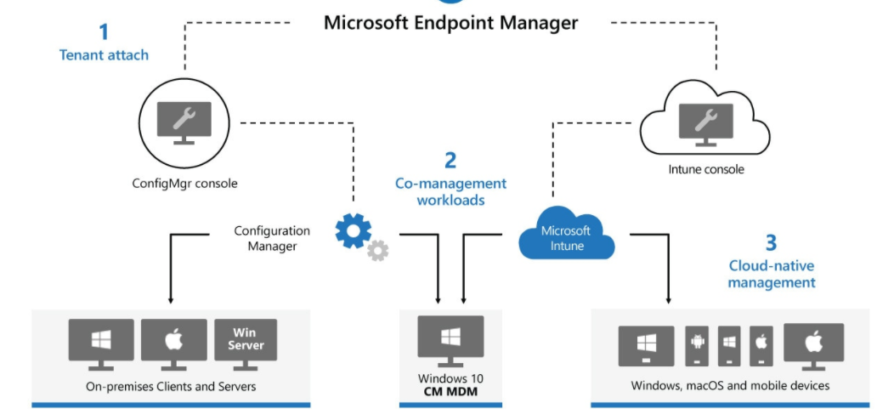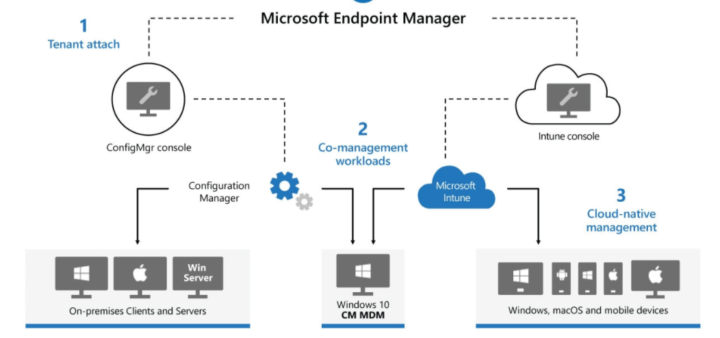 If your enterprise needs a multi-feature MDM solution, the Microsoft Intune app can be a great deal. Intune is a professional mobile device management (MDM) and mobile application management (MAM) solution for enterprise businesses. It allows IT admins to manage and control all devices used within the enterprise; this includes mobile phones, laptops, and tablets.
Microsoft Intune supports configuring specific policies to control applications' usage within an organization. Actually, this software is part of Microsoft's Endpoint Manager solution for enterprises. Intune aims to provide impeccable endpoint management while including reliable tools that help to protect corporate data.
Summary:
Conclusively, these are the top options to consider when looking out for a good MDM software for your organization. The pricing of these MDM apps differ and they all come with unique features – including support for external integrations.
A good MDM solution is ideal for any enterprise that wishes to protect its business data at all cost. Finally, most of these apps are deployable on various systems, thanks to their native API support.