The first rechargeable standing fan I bought for my home-office has become old, too-noisy and practically useless, except for the battery and Led lights that helps illuminate the room.
This necessitated my shopping for a new rechargeable standing fan. Well Andrakk (Model ADK8518) was my pick, and I have these few things to say about it, after using it for two months.
Before sharing my Andrakk ADK8518 rechargeable standing fan review, I'll like to list the features, specifications and price for our readers that might be hearing of this product for the first time.
Introducing Andrakk ADK8518 Rechargeable Standing Fan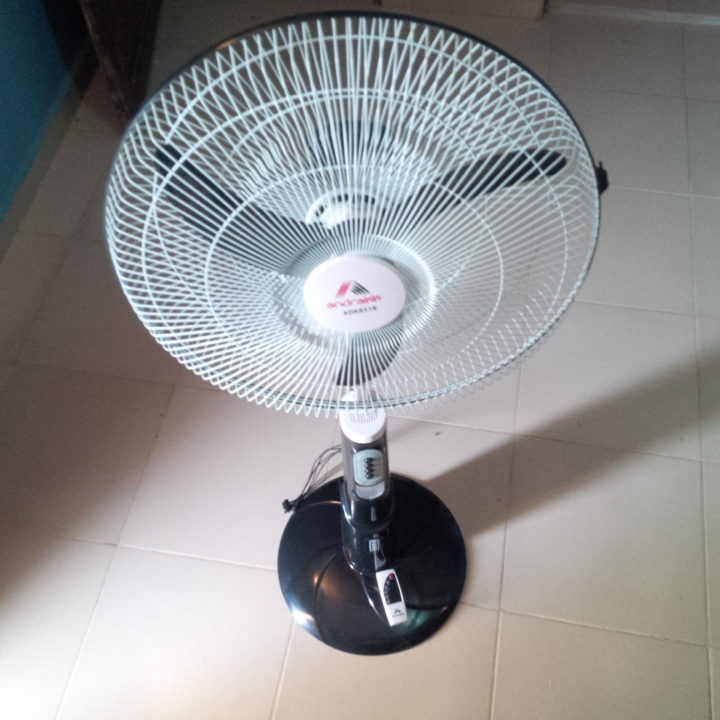 Andrakk ADK8518 rechargeable standing fan is portable standing fan that lasts for as long as 9 hours on direct current (D.C).
It comes with a USB port, remote control, 6PCs led night vision light, removable battery (rechargeable) and multi-purpose USB cord for charging smartphones and/or tablet devices.
Features
Turbo Speed.
5-9 Hours without electricity (A.C).
Solar Charging Function.
Charging and Charging level indicator.
Overcharge/Over-Discharge Protection.
6PCS Led night vision light.
Multi-directional oscillation.
Battery usage level indicator.
USB port with a free Multi-purpose  USB cord.
DC socket for solar charging function.
AC/DC OPERATED.
Remote controlled.
Specification
Input Voltage: 220-240V, 50/60Hz.
12V7AH SLA Rechargeable battery.
250Hrs (led light), 5-9Hrs (Fan).
Red Light (charging) and Green Light (working) indicators.
Fan size: 18 inches, 3-Speed (low, medium, high).
DC working time: 5Hrs (high), 7Hrs (middle) and 9Hrs (low).
1.6A rated current.
Charging time: 10-12Hrs AC and 15.24Hrs solar panel.
43W max power.
Product size: 498*395*1048mm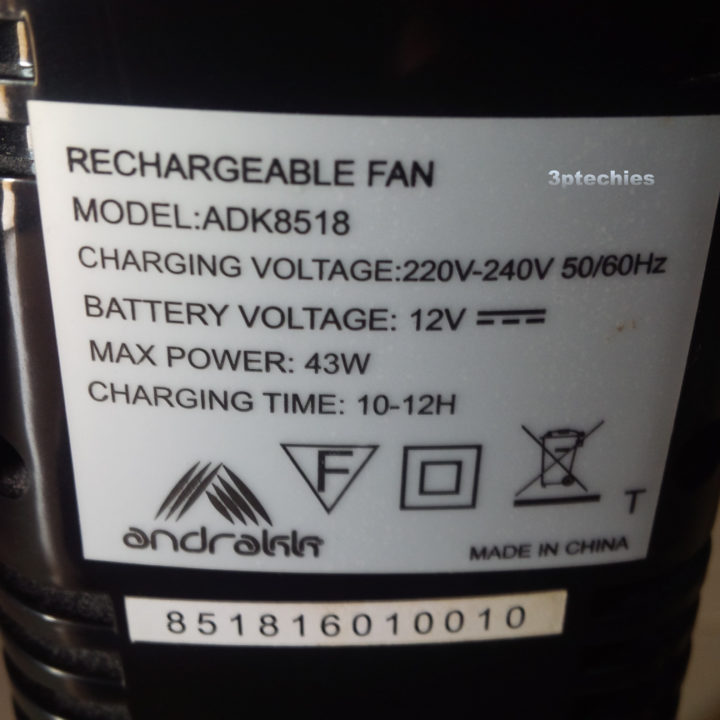 Price in Nigeria
Andrakk ADK8518 rechargeable standing fan is sold on major eCommerce websites in Nigeria and comes with 12 months warranty for manufacturing defects.
We bought this unit at Konga for NGN26,000. The price range for Andrakk rechargeable standing fan products is from ₦18k to ₦35k, depending on the size, features and specifications.
Konga and Jumia do promote their best-selling products from time to time with great discounts on-sale.
Andrakk ADK8518 Rechargeable Standing Fan Review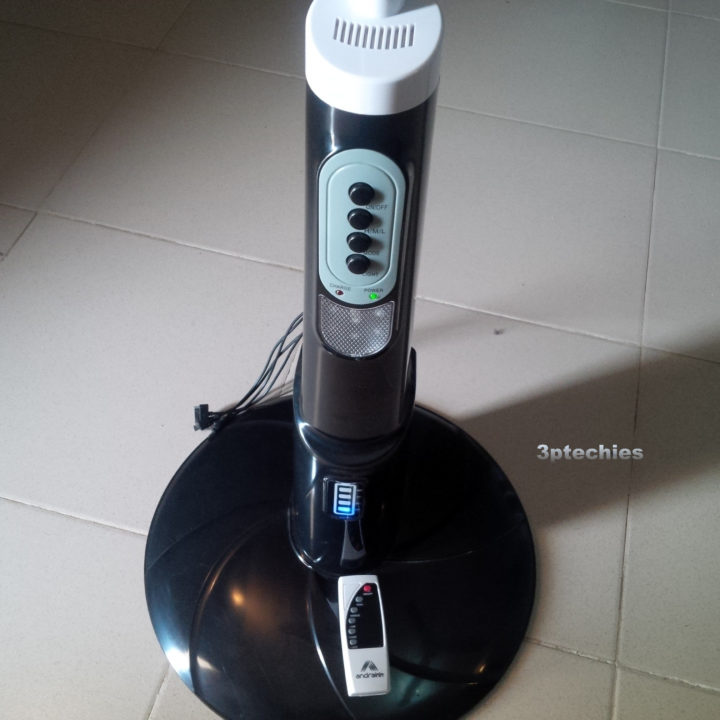 We thought it wise to write a review for this unit after using it for two months already. Our review focus would be on performance, build quality, battery life and features.
Performance
So far, I'm satisfied with the performance of this unit as I wasn't really expecting much from Andrakk, being a new comer in the already saturated "consumer electronics" market.
But then, the performance isn't too great, it's just a little above average and nothing more. It's loud and noisy. So loud that I chose to turn off the oscillation completely. This isn't unconnected with the Turbo Speed feature and maybe poor overall build quality.
Another performance flaw I noticed with this unit is the annoying smell it emitted during the first two weeks. My guess is the excessive heat coming from the battery compartment after long hours of use.
The placement of the led night vision light was another problem I couldn't cope with. Unlike that of Binatone rechargeable fan that's placed at the bottom (facing up), this one is placed at the front, facing directly to the eyes. It was so bad that I used a sellotape to dim it.
In all, I'll rate the performance of the 18″ Andrakk ADK8518 rechargeable standing fan we're using for this review at 2 out-of 5.
Build Quality
This is another area I wasn't too comfortable with. The overall idea is perfectly executed, but with not 'too-sturdy' materials. The plastic looks frail and shaky and might be a contributing factor to the loudness when oscillating.
Considering the price VS feature, I'll rate them 3 out of 5 in this segment.
Battery Life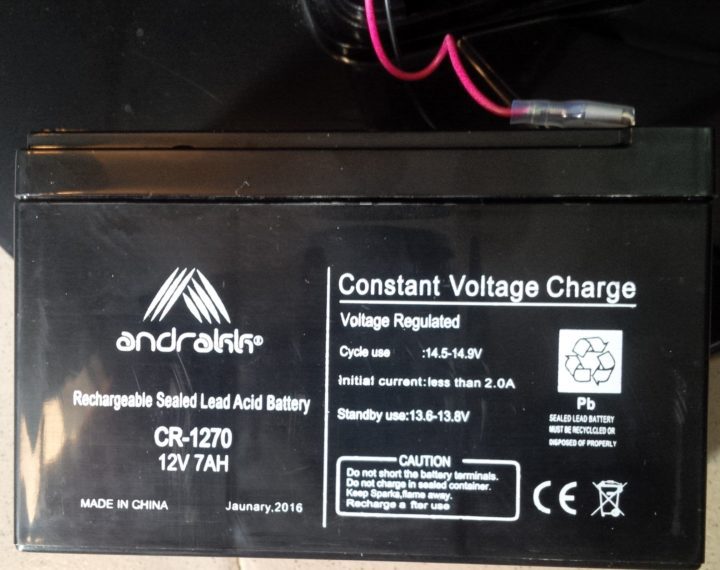 Andrakk ADK8518 rechargeable standing fan comes with a single unit of 12V7AH SLA battery. This is no different from that of Binatone RSF-1602R that comes with 2 units of 6V4.5AH rechargeable battery.
So far, I am 100% satisfied with the performance of the battery. I was able to charge a Samsung galaxy note 10.1 3G from 35% to 100%, a Blackberry OS10 device from 5% to 100% and a Xiaomi smart phone from 0% – 100% all on DC and was still left with three (3) bars on the battery level indicator.
We usually do not use the fan on high-speed when running on battery (DC), but have gotten as much as 7Hrs with it on low-speed, with tech gadgets connected to the USB charger.
I noticed that most of my devices charges faster with this fan's USB than with their own chargers. Even though my tablet charges faster on Xiaomi power bank than on Andrakk ADK8518 USB, I must commend their effort in this section.
I'll rate them 5 out of 5 for battery life and USB power bank functions.
Features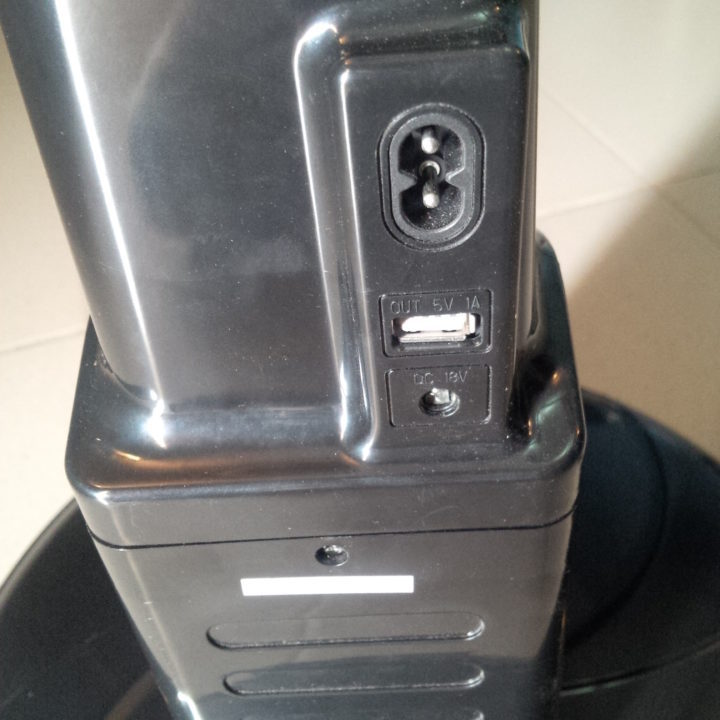 Andrakk ADK8518 (18 inches) rechargeable standing fan is loaded with many functions as listed above. Our favorite is the remote control and Overcharge/Over-Discharge Protection.
We used a power surge protection socket for it as there's no automatic voltage regulator (AVR) in the room it's been used. The features are great for the price it is sold. I'll rate them 4.5 out of 5 for features.
Verdict
Andrakk 18″ Rechargeable standing Fan is good for home, office and classrooms. It works as advertised and comes with a remote control that makes it easy to control the functions without leaving your desk.
We charged this unit for close to 24hrs before first use and haven't noticed an issue yet with the DC (battery) life or longevity.