The drum is one of the hardest instruments to practice. This is – due to the space they take up, the amount of equipment they need, and being a percussion measurement, they're pretty loud; meaning, we really can't practice at home, and we can't move them around and play them either.
There are a few electric drums for sale on the market, but they are pretty pricy, and we need to purchase various add-ons to set up a complete set of drums. Even then it's not over yet, don't forget we still have to buy the songs we want to play. By the end, your ambition of drumming would leave a dent in your wallet.
But our lifesaver is here! There is a device that comes with a complete set of drums, a free set of songs on its app, and free constant song updates every month. All are covered at a highly reasonable price. And its name is the MOPLAY SMART DRUM D3.
Play MOPLAY SMART DRUM D3 like a Guitar Hero.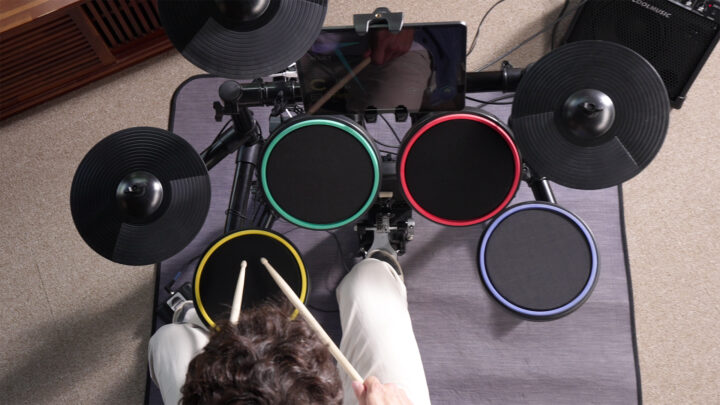 The D3 smart drum comes with all the equipment you need to play, its own supporting stand, and a special coupon to enjoy its own app for about half of the price of other drums.
Its app carries out monthly updates of 10 songs at no price. I assure you that the app is full of fantastic songs that a drummer would love to play. And it can't really be much simpler since we do not have to pay for each song.
There aren't any other smart drums out on the market with such a perfect package like this one. It is just absolutely perfect with all the 4 cymbals of high hats, crash, ride, and splash. It also comes with bass, snare, 3 tom-toms, a supporting stand, drumsticks, and pedals.
When you use these earbuds, only you can hear yourself drumming. So you can keep the noise level down and practice all night long without having to upset your neighbors. Also, the drum pads absorb the vibrations created while drumming, and it holds your drums in place when you really start drumming.
I personally have practiced drumming with earbuds on for a few weeks, and since no neighbors and family members have ever come to complain about its noises, I could really tell that this works.
The most exciting part of the MOPLAY SMART DRUM D3 is that they are like playing a rhythm game at an arcade. You can see that the color bars drop according to the song's beats, and you just have to smash on the color pads accordingly. Now I bet you guys get what these color linings are for.
When you play the game, you can find out that the more accurately you smash down on the colors, the higher your scores will be. As you start to time your smashes at a more accurate beat and timing, you will feel that your drumming skills are getting even smoother. I found this very helpful in stabilizing my movements when I started recording my drums at a studio.
The drum is an easy instrument to begin but extremely tough to master. Just following your sense of rhythm will tangle up your hands and get you nowhere.
Its own application also comes with an interactive lesson with 68 types of beats and fill-ins to practice. This means that you really do not need any drumming lessons.
Moplay Smart Drum D3 Features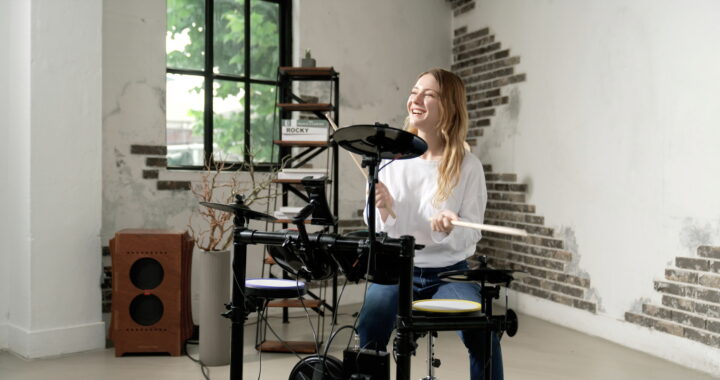 ✅ Color Bar Rhythm Game
✅ 68 Kinds of Basic Beat Lessons
✅ Black Mesh Pads
✅ Real Drum Sounds
✅ Android, IOS, Windows Compatible
✅ 3 Levels of Difficulty
✅ 4 Levels of Speed
✅ Real-time Ranking Checks
With MOPLAY SMART DRUM D3, Enjoy Playing Your Favorite Songs Like
Playing Rhythm Action Game!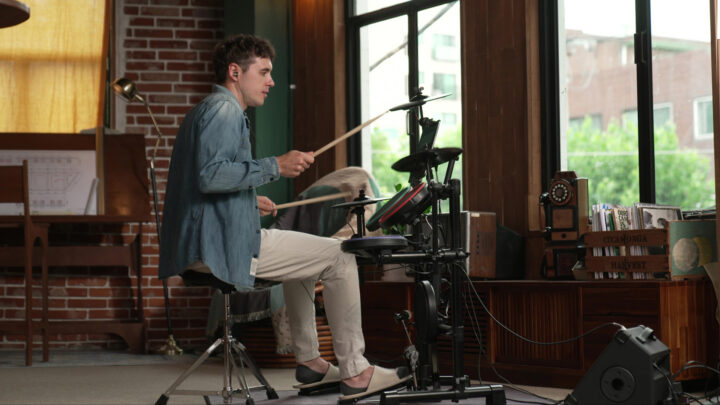 When you start with the actual songs, you will hit that limit and block you from going further. But trust, you might really think of just skipping these lessons and start playing me and try out these lessons. Your drumming poses will get better, and you will be more confident in drumming with a more accurate beat and rhythm.
No matter if you are a beginner wanting to learn how to play, a professional drummer to practice and improve your skills, or even just the one wanting to play some rhythm-based video games, MOPLAY SMART DRUM D3 is the one for you!
You can take a look at the video below to Moplay Smart Drum D3 game set in full action: