Making money online is not as easy as most internet marketers paint it to be. If you plan on earning money online, (I am talking six figures), you really have to put into it and even spend some cash. when I say spend money to make money, I mean it in two ways.
Firstly you spend money in the sense that you are a professional in a certain field may be article writing, health tips, or an expert in any of the online fields like blogging, dating advice etc. then you can easily become a free lancer and outsource jobs or even setup your own website for people to buy your products and services.
Secondly, you have no skills, there fore you can hire people to do the jobs for you such as writing a book you wish to sell, setting up websites etc. and you get to keep the larger part of the profit. Which ever category you belong too, it is completely possible to make money  online. I have outlined four(4) amazing ways to earn money online.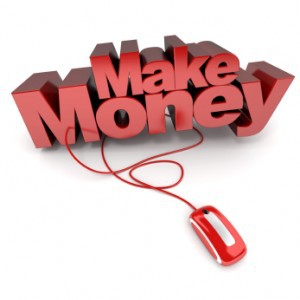 4.  Affiliate  Marketing: Never heard of this before?  It is a system where you sell other people's products or services online and get paid commission  on every sales you make. Popular websites like amazon and  eBay  provides this  service but one of the most dominant and popular one with good sales commission is  ClickBank. To start, simply go to ClickBank now and register, then starting promoting your  affiliate  link on social networks like  Facebook, twitter,  Google  plus etc.
3. Blogging: Of recent I read an interesting e-book on blogging to the bank . It literally teaches you how you can turn your blog into a personal cash point. You can make turns of money from blogging. By doing any one or even all of the following which I would discuss in full individually in the next article: paid reviews, Selling advert spaces, Affiliate marketing, Google Adsense, Link Exchange programs and Selling your own products. Some of these may take a while before it becomes really profitable. The easiest way to make money from a blog(Thats if you have good traffic coming in) is Adsense. After you setup your blog at blogger.com(free) goto google.com/adsense and register an account. Put the ads on your websites and get paid from $0.1 to $1 per click. Now imagine 500 clicks a day at an average of $0.20 per click.
2. Fiverr: Like I mention in my earlier post on Top Five(5) websites to Start your Free lancing career. Fiverr has made many people who never thought they could make a dime online start pulling six figures to their bank accounts. All you need is a creative mind. It doesn't matter if you don't have skills like programming, web design etc. As most of the gigs on this site do not require those skills. You can create gigs like "I will write a good review about your website for $5". What if you make 50 sales of $5 a month. you know how much that is.
1. Amazon Kindle Book Publishing: This is best if you have never made a dime online before. Don't start chickening out the moment you here Book Publishing. Infact Most of the famous writers have never written a book themselves. They simply hire ghostwriters to write for them.  Luckily  for you, I found a Website with the right tools that Would teach you how to become a kindle publisher without even being able to write and be number one any category you choose. I talk $3000 monthly passive income. See AK Elite for more on Kindle Book Publishing
If you are committed and put your time into one or more of the above, you would soon  sky rocket your online income
Did you find this helpful? Then spread the word. Share it with all your friends
If you have any questions, issues or ideas, use the comment box