A good percentage of Nigerians now shops online. This is a step in the right direction considering the slow progress that was made by the likes of Jumia and Konga. While we don't know whether to attribute this progress to the high rate of infidelity portrayed by most offline retailers (especially on higher priced goods/equipment) or for the many Chinese online shopping sites that ships free to Nigeria and are offering reasonable discounts on their products: we do really enjoy the fact that many Nigerians are shopping online and will continue to do so for a long time????.
Although there are thousands of Chinese online shopping sites, only a handful of them is 100% reliable. This is the reason why we thought it wise to make a list of 20 Best Chinese Online shopping sites that ships free to Nigeria. Come along with me as I show you the top best Chinese online stores that actually ship to Nigeria.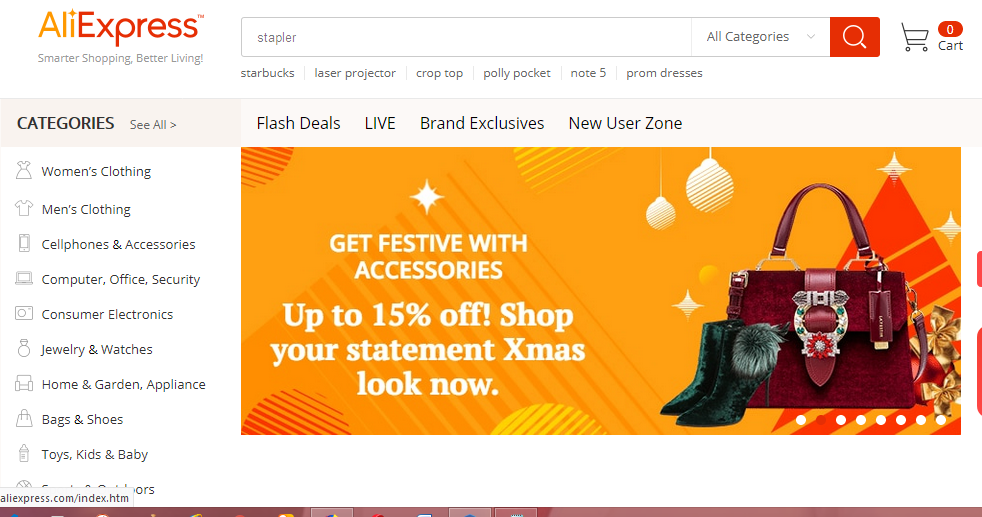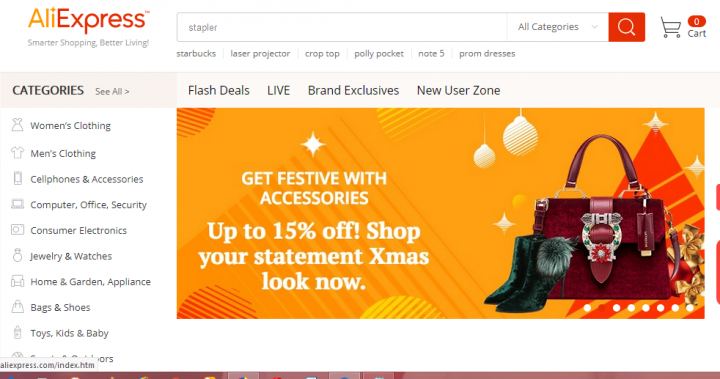 This online store offers unbeatable deals on millions of products available on the platform. Products on Aliexpress come directly from China manufacturers/suppliers. There are so many things you can buy on this Chinese e-commerce platform such as gadgets & accessories, phones, computers, consumer electronics, fashion items, furniture, toys, Wearables, and etc.
Aliexpress has been around for some years now and it allows Nigerians to buy from the online store. Interestingly, the platform offers free shipping for most of its products.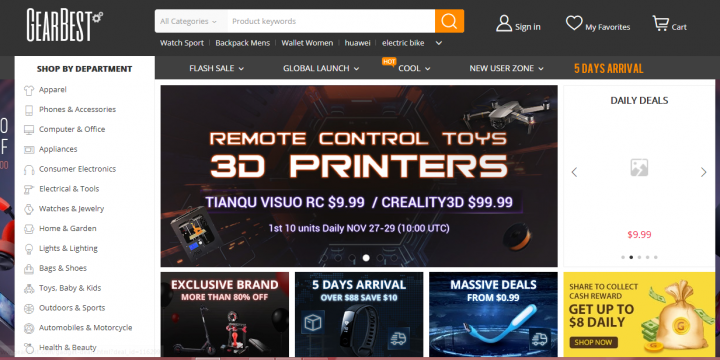 Gearbest is another big name in China; it is a worldwide online shopping mall. Nigerians can actually shop from this online shop as it features millions of goods arranged into categories. It further supports a variety of world currencies and payment options. Except for food items, there is no limit to what you can buy on GearBest.
Also, GearBest shipping rates are friendly and coupled with the competitive prices from different sellers. It is a place for Nigerians to shop reliably. On top of these good features, most of the products on GearBest are eligible for free shipping to Nigeria and/or other countries of the world.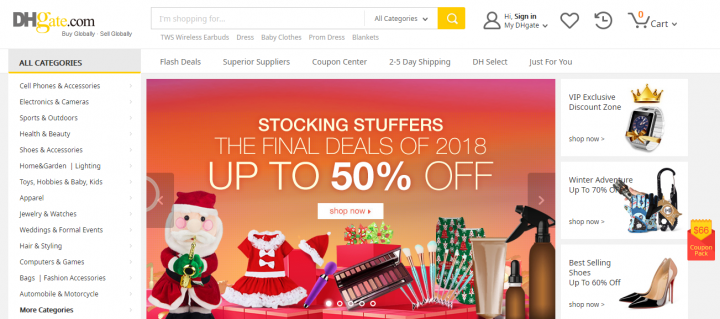 DHgate is a famous Chinese cross-border e-commerce platform that ships to all countries and cities of the world. It is 100% safe, secure, and reliable to shop from.
The platform is a home to millions of products from manufacturers and top brands from around the world. Also, it offers a buyer's protection and allows a shopper to pay via several payment methods.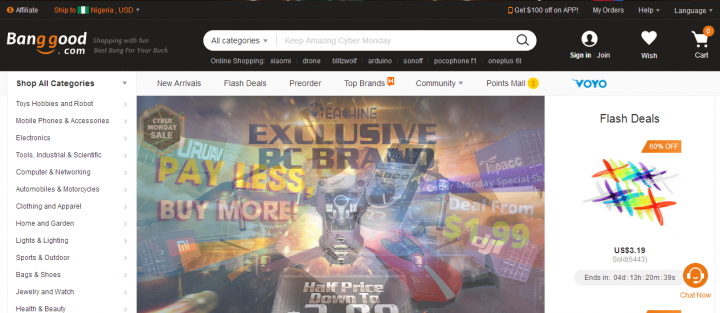 You can't talk about Chinese online shopping sites without mentioning Banggood. It has been around for quite some years now. Interestingly, this platform allows people from all over the world to take part in its affiliate or wholesale programs.
Banggood ships to Nigeria and it hosts hundreds of thousands of products on its several categories. Shopping on Banggood is very safe for Nigerians and it supports various payment methods.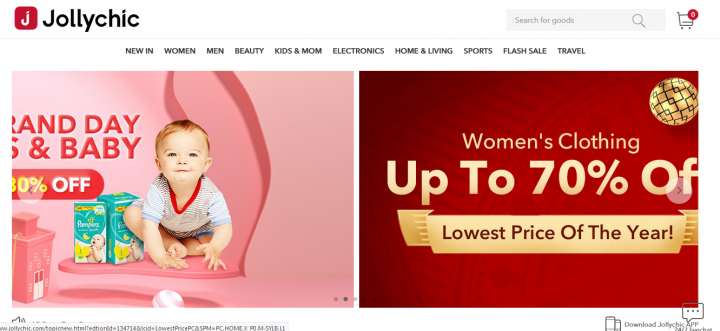 One of the best reasons to shop on this Chinese e-commerce site is because it ships most of its product freely to Nigeria and other locations of the world.
It is a fashion e-store actually; things to get here are mainly clothes and other fashion wears. However, it also sells other products like consumer electronics, mobile gadgets, and home accessories, smartphones, computers, and etc.

DealExtreme also falls among the top best Chinese online shopping sites that ships to Nigeria. Actually, it ships worldwide and to different locations and even ships most of its products for free (if eligible).
Interestingly, Nigerians can even shop for car parts from this platform. For payment, you can use Mastercard, Visa, Payoneer, and other supported cards to pay for the good you order.
Popularly, DealExtreme is abbreviated as DX. There are many things to buy from DX and receive them in Nigeria and at your doorstep/post office.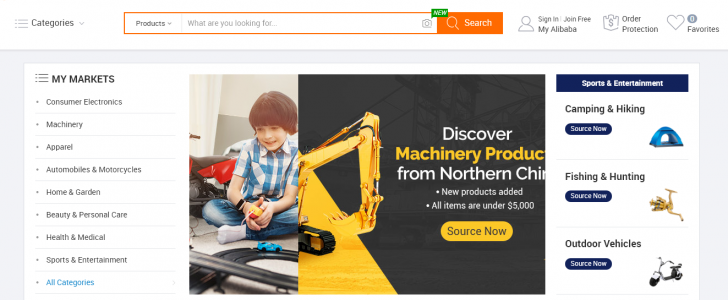 Owned by Alibaba Group, is this foremost Chinese multinational e-commerce platform that offers products from various suppliers worldwide. It is a place for Nigerian wholesalers to shop anything they want including furniture.
Alibaba has been around for almost 2 decades and has never disappointed its users. So, it is easy to label this Chinese e-store the safest place to buy your stuff as a Nigerian.
Also, there are various supported payment options available on this platform. Goods are cheaper on Alibaba because they're sold mostly by the manufactures or their direct agents.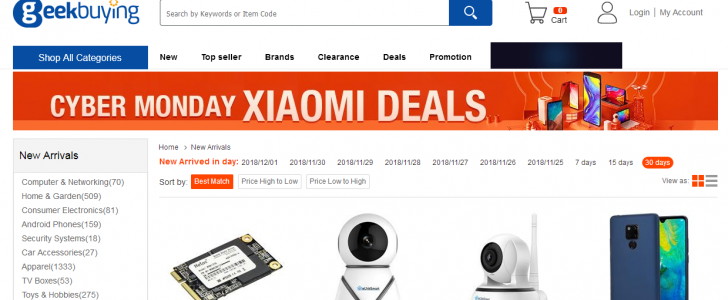 The platform is very easy to navigate, simple, and intuitive. It is a place to shop for home & garden gears, car accessories, wearables, bags & shoes, computers, car accessories, and etc.
GeekBuying ships its products directly to Nigeria, Ghana, Kenya, and other African countries, making it easier for Nigerians to shop consistently on this store without worries.
This store ranks very well in China, the products on its platform are from Chinese suppliers. Various filters are available to allow you to get the best out of any product you wish to buy.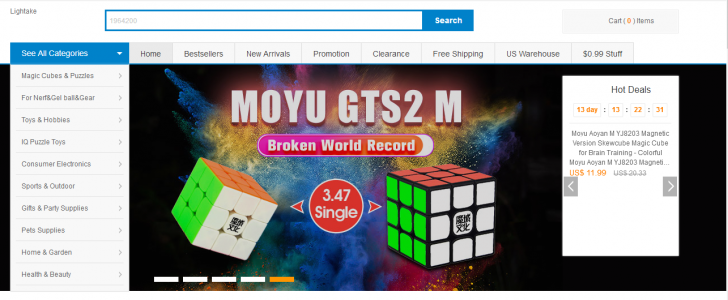 Exclusively, this is among China's leading e-commerce site that retails top-quality products with unbeatable prices. It hosts a wide range of products on its platform arranged into categories. One great thing about Lightake is that their products come with added bonus packages. It also ensures that your payment card details remain private and secure.
Lightake ships not only to Nigeria but to many countries of the world. Deals are equally available on Lightake, you could get lucky to win a deal and enjoy breathtaking discounts.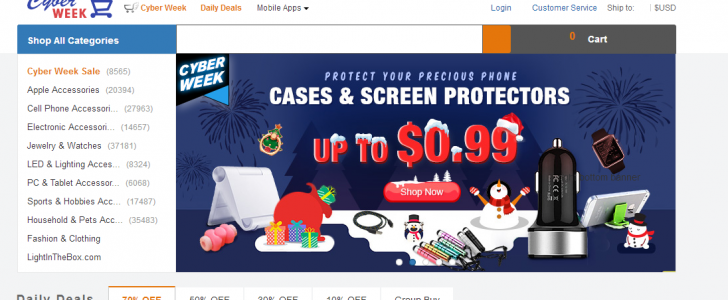 Mini In The Box is the place to buy cool gadgets: It hosts low-priced electronic devices which it ships worldwide for free. There are multiple supported payment options available on these online shopping sites for Nigerians to pay comfortably and securely.
Interestingly, Mini In The Box supports group buying. So, you can collaborate with other people to buy a product from this Chinese online store.
11. Tmart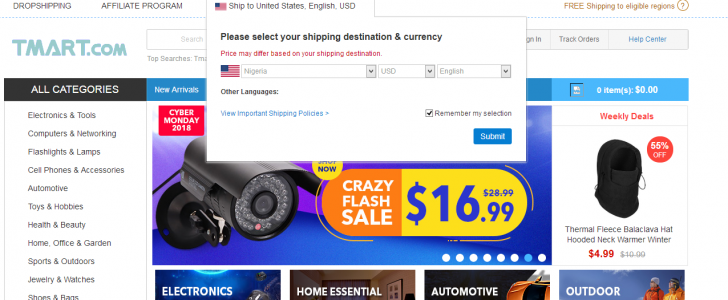 Shopping on Tmart from Nigeria is quite enjoyable. Exclusively, you can get free gifts on all orders above $50. Tmart is a place to buy consumer electronics gadgets, lighting gears, health/beauty/fashion products, smartphones & accessories, home decor, and etc.
You'll have all the products you buy from Tmart shipped to your doorstep via courier services.
12. CNDirect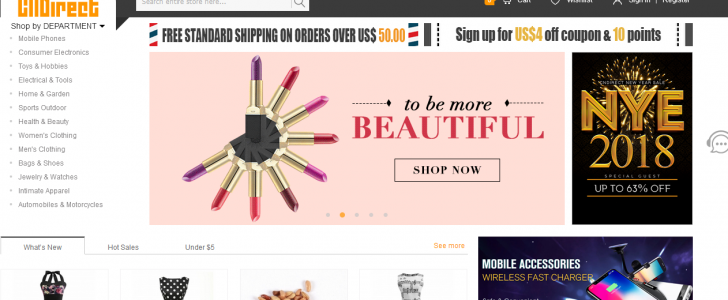 This is a top Chinese online site where you can get over 20000 products for competitive prices. It provides 24/7 customer support service via live chat or email contact.
CNDirect claims that its platform is the best place to have a mind-blowing online shopping experience. Well, you can get a wide range of goods, wearable gadgets, consumer electronic gadgets, toys, accessories, cosmetics, and beauty products.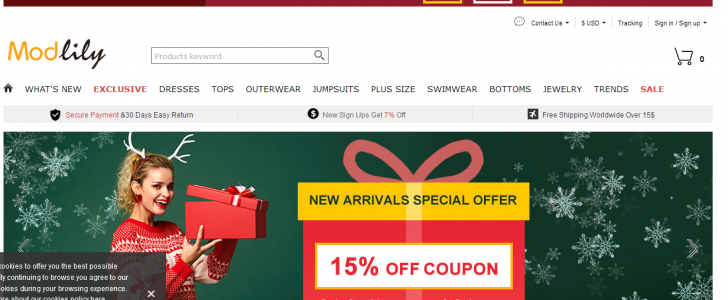 Modlily has its headquarters located at Shanghai, China. It is a top Chinese online shopping site that retails its products to customers from every part of the world.
It is mainly a platform to shop for design and fashion clothing items, mostly for women. You can simply call Modily – a Women's online fashion shop and it ships its products to Nigeria and other Worldwide locations.
14. Zapals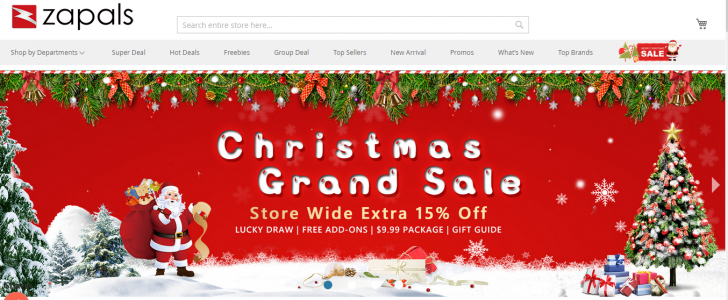 Zapals is a place to get exquisite deals. It is a reputable global online shopping website that's managed by the Zapals Corporation LTD. company.
This platform aims to be the most innovative online shopping site in the world. You can shop via the Zapals mobile app and there are tons of categories to choose from.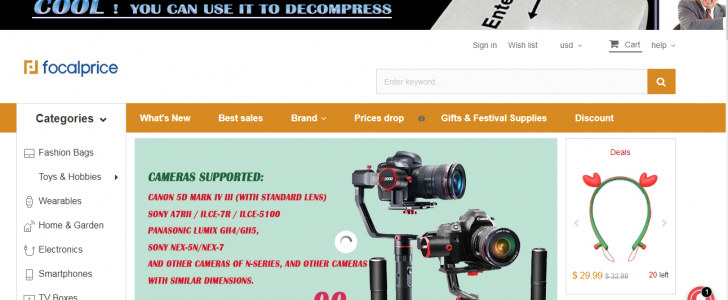 Here is a top Chinese online shopping site to shop for your electronic gadgets, phone accessories, consumer electronics/home appliances, and lots more at competitive prices.
The prices of products on FocalPrice are sometimes 70% lower than the real prices of the same or similar product on other online shopping sites. You can pay for goods on FocalPrice by using your Nigerian debit/credit cards. They normally use DHL courier services to deliver the products right to your doorpost.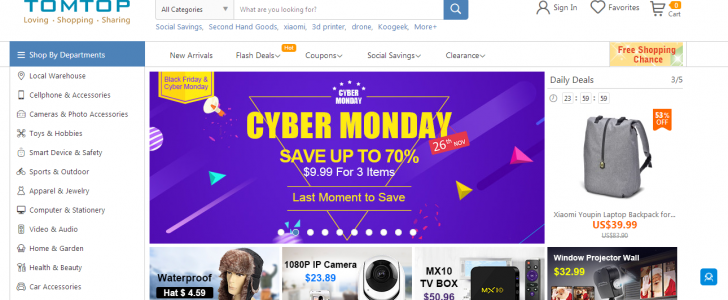 TomTop operates in China as a top wholesale & retail online store for shopping for all types of products. This online store offers flash sales, coupons, deals, and other forms of breathtaking discounts on its products.
It is a safe, reliable, and secured Chinese online shopping site to buy from Nigeria and/or other African countries.
17. NewFrog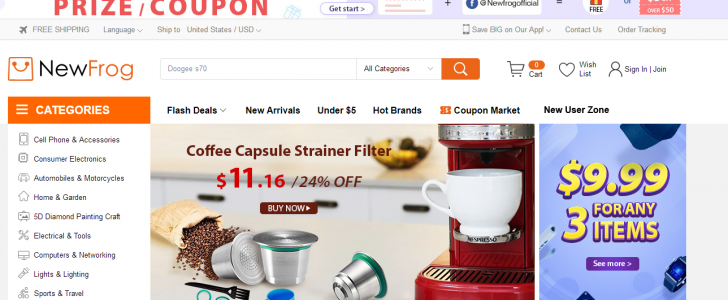 The regular crazy clearance sales of this Chinese online shopping site will interest every online shopper irrespective of their country/locations. Newfrog offers free worldwide shipping and it hosts products from top brands at low prices. Even a product of $4 (NGN1, 200) is eligible for free shipping on NewFrog.
Many items can be bought online from this Chinese e-commerce site. Products like smartphones, 5D Diamond painting cards, automobile gears, toys, bags, mobile accessories, and etc. are sold at great prices. There are lots of supported secure payment options to process your payments.
18. BuyInCoins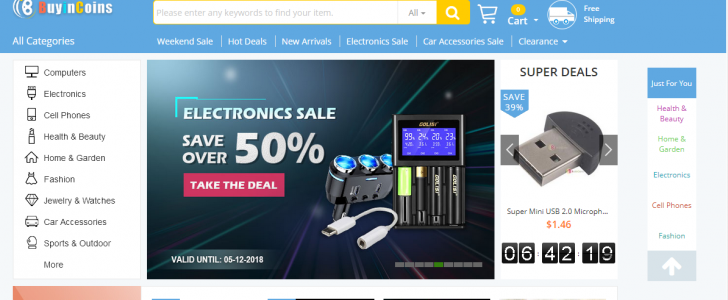 Everything you'll ever want to shop online is available on BuyInCoins.com. It is a top Chinese online shopping site with its headquarters in Shangai, China.
Also, the platform offers an affiliate program for anyone that's willing to join and make money from sales. BuyInCoins website is user-friendly, very easy to navigate, and has all items arranged into categories.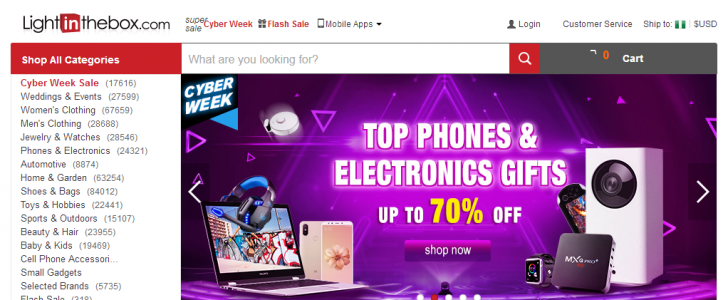 This is another top Chinese online shopping website that ships to Nigeria. LightInTheBox has its headquarters in Beijing, China. It is an international online retail company that ships/delivers its products to over 200 countries of the world, of which Nigeria and Ghana are included.
LightInTheBox offers unbeatable discounts on a variety of top-quality products, plus it ships them globally. This Chinese online shopping site is safe to use for Nigerians and it hosts everything you would ever want to buy online.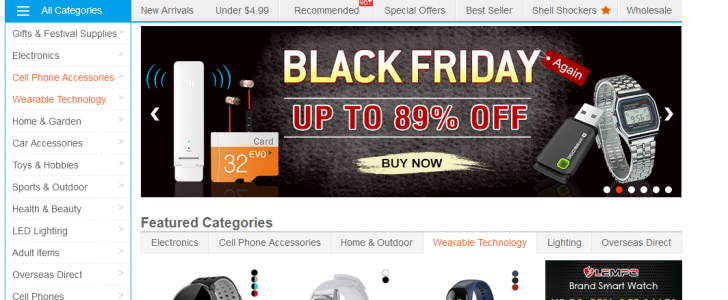 This is another Chinese online shopping site that allows 100% free shipping on selected products. It ships its product to various countries of the world. Tinydeal is an ideal platform for Nigerians to shop in China and have their stuff delivered to their doorstep in Nigeria.
Products available on TinyDeal include – Smartphones, Consumer Electronics, wearable Gadgets, Car Accessories, Gaming Gadgets, Toys, Gifts, and etc.
You can shop using your Nigerian cards for payments without having to worry about your privacy, security, and overall safety of your shopping details.
Your Turn
Well, I've shown you an exhaustive list of the top 20 best Chinese online shopping sites that ship to Nigeria. With them, you can buy products (for cheap) from China and have them shipped to your address in Nigeria. They support PayPal and credit card payments.
Did I miss any of your favorite Chinese online shopping sites on this list? Tell me about it in the comments. Remember to share this page with your friends who are interested in buying products from China and have them shipped (free) to Nigeria.