GearBest begins this year's 11.11 global shopping festival with huge discounts on sales, free gifts & insane coupon codes for new and old customers.
11.11 Global shopping festival is popular across all Alibaba Group's major businesses such as AliExpress, Alibaba.com, Taobao Marketplace, Tmall.com, Juhuasuan, Alitrip, 1688.com and AliCloud.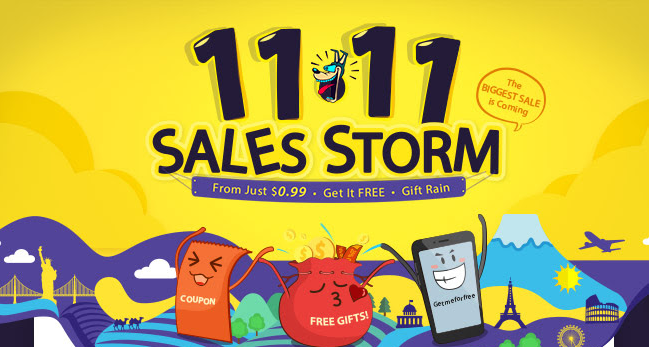 We covered that of AliExpress, one of the Alibaba group's businesses that raked up-to $14.3 Billion in sales last year during the 11.11 global shopping event and would list out the various promotions for GearBest platform users in this year's 11.11 shopping festival.
GearBest's 11.11 Shopping Festival Schedule
GearBest announced earlier-on that their 11.11 global shopping festival for 2016 is going to be unique and different from all others.
It will start earlier and last for more than a week, unlike that of Alibaba that goes for 24hrs only. It is scheduled to start on the 7th day of November 2016 and would run through the 15th day (ie. November 7-15).
They introduced three (3) special kinds of events/promotions for this year's 11.11 online shopping festival. They are to run concurrently and would all begin today to end on November 15th, 2016. The promotions are as follows: –
Coupon Monsoon
Coupon Monsoon is the first promotion group for this year's GearBest 11.11 shopping festival that starts today. It promises multiple savings on selected products. They introduced 4 types of coupon discounts for this category. It includes:-
Panic Buying: NOV 7-11 at 16:00 UTC daily.
Brand Coupons: 10% to 16% OFF killer brands.
Category Coupons: Get 10% to 15% OFF hot categories.
Random Coupons: Grab them before they're gone forever.
Gift Rain
Gift Rain promises a wide choice of products to be won by participants. Xiaomi Mi5 comes a-top of the list of items that can be won by users and shoppers alike.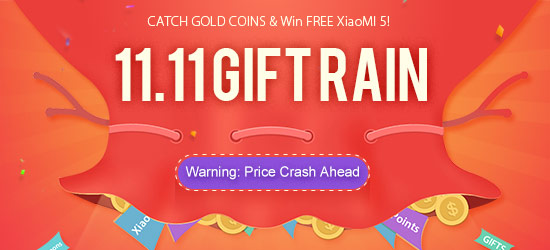 The gift rain 11.11 shopping festival promotion is scheduled for NOV 7-15 at 11am, 1pm, 4pm, 6pm, and 9pm UTC. Participants are asked to do any of the actions below to win big in this year's 11:11 global shopping event.
Log in to GearBest and catch gold coins when they rain.
More channels means bigger chance to win!
Share the activities to your favorite social media channel(s).
Remain focused on winning something big.
Get It Free Program
Get It Free Program is the last option in this year's 11.11 online shopping festival for GearBest customers.
All you need do is invite your Friends to register and shop via a unique gearbest link that would be given to you after registration and then stand a chance to get the item for free.
In Conclusion:
GearBest 11.11 sales promotion is on and would continue until November 15th. You can bank on the huge savings by visiting their special page or hold on for the bigger, better AliExpress sales on 11/11.