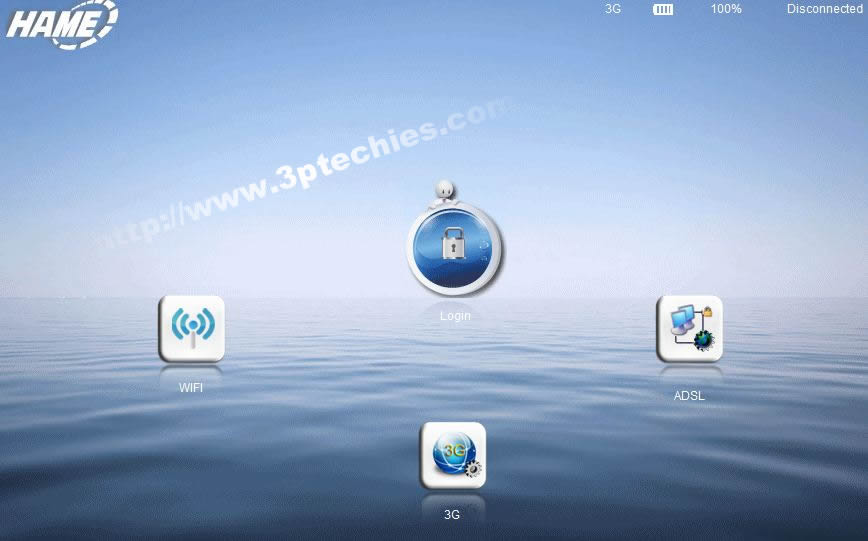 The Hame 3G Wi-Fi Router is the next best thing to happen to my traveling escapades after purchasing my current Samsung Galaxy Note.
I love this pretty affordable device that has been a very big asset to me. To some, the name "Hame" as a brand could be so strange to them, well that was how it was with me at first.
The Review
Hame 3G Wi-Fi Router is a 3G Wireless Modem from a top Chinese Company,Hame Technologies.
Since the production in early 2012, there has been series of models, the most popular one being HAME MPR-A1.
The HAME MPR-A1 3G Wi-Fi Modem is 100% compatible with 3G, HSPA+, HSPA, CDMA 1X EVDO USB Modem, iPhone and android.
It is also compatible with all latest versions of Microsoft windows starting from Windows 2000, It can also run on Linux operating system.
The HM-A1 Wireless Router also has a built-in battery of 1800 mAh capacity which provides a continuous operating time of 3 to 6 hours.
You can charge the battery using a mini USB port or through a power adapter.  It can also be used effectively as a power bank for charging mobile phones including ; iPhone, android and most Chinese phones.
Another awesome feature of this device is the ability to connect an iPhone to it for sharing your internet connection without having a 3G USB modem.
Features of HAME MPR-A1 3G Wi-Fi Router
The Hame MPR-A1 3G Wireless Modem can work as Mobile power bank for charging iPhone, android phones, tabs, iPad and other smart phones.
It comes with a built-in Ethernet port, which allows it to convert cable broadband to Wi-Fi. You can also use it to extend other Wi-Fi network instead of purchasing a different access point.
It is fully compatible with more than 420 kinds of 3G USB modems including Huawei, ZTE, Alcatel, Vodafone, D-Link, TCT, Epivalley and many other brands .
It also Supports the sharing of data plan via iPhone.
Features in Bullets
With a Built-in 1800mAh Li-polymer battery the Hame MPR-A1 3G Wireless Router supports the charging of iPhone battery, Powers 3G hotspot for hours without direct power or USB connection.
You can easily find out how much battery power is left by pressing the battery indicator button.
Mini AP, ADSL/DHCP Access Automatic Recognition
The Hame MPR-A1 3G Wireless Modem comes also with a  Built-in Ethernet port that makes it very easy to convert LAN to WiFi.
It also lets more people surf the internet under the WiFi coverage area by serving as an access point used for extending WiFi connections.
We have already outlined several 3G modem that's fully compatible with Hame MPR-A1 3G Wireless Router.
It makes the making of WiFi connection seems so easy.
Need more features? 
The video below will guide you in English Language and you can also ask us any question using the comment section.
Guide and Manual Setup Instruction For Non-Chinese Users
When I first purchased the Hame MPR-A1 3G Wireless Router, I was shocked to see only Chinese manual with no single English references in it.
I visited their website and found that one even harder than the guesswork I was doing all night trying to figure out a way to manually add my local APN settings to it.
This tips should guide you on basic settings needed to get all your Hame 3G Wi-Fi Modems working properly as a non-Chinese customer.
At the end of this section, you should be able to;
Change the admin dashboard language from Chinese to English
Change both your admin and Wi-Fi Password
Create a unique name (SSID) for your Wi-Fi
Change your APN and Mobile Network related options
Setup Firewall and other dashboard related stuff
How to Change from Chinese to English Language
Maybe Hame didn't expect their product to go as for as Africa, Europe and America without remembering there's eBay, aliexpress and Dhgate.
Any way, that's left for them to worry about. Now to Configure your Hame 3G Wireless Router to use English instead of Chinese when using the admin dashboard. Kindly follow the steps below;
Turn on the Router by pressing the power-on button by the side
Open your favorite web browser and enter  http://192.168.169.1/goform/setSysLang?en
Use

hame

or admin as the password depending on your device (mine was hame)
If requesting for both username & password, combine both either ways (hame/hame or admin/admin)
Now to change Your admin and Wi-Fi Password
Continue from the dashboard by hovering over "admin" select "management" and change the settings under "Administrator Settings" to your own preferred variable. (default is hame/hame or admin/admin)
Changing Default Wi-Fi Password
This is very much like that of the admin details ==> Just hover over "Wireless" from the main menu and select "WIFI Settings" ==> Change Network Name (SSID) and Pass Phrase from there. Remember to select a security mode or leave it at the default option.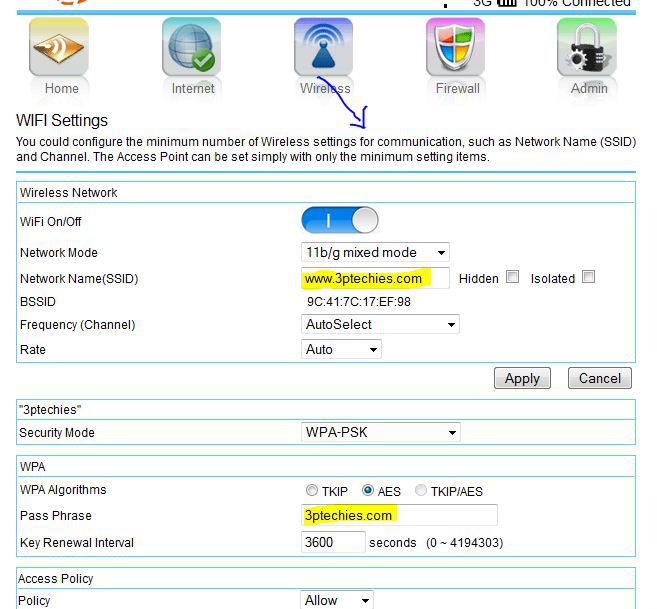 Creating a Manual APN Settings to Match your Mobile Internet Service Provider
Everything about Hame 3G Wi-Fi Router is automated from setup to connecting to the internet, but most mobile telecoms operators do not support automatic profiles and as such will need a manual APN configuration.
Hover over "internet" from the main menu and select "WAN Network"
Choose 3G as type and Check the Manual APN box
Enter your Access Point Network details as required and hit "apply" button to save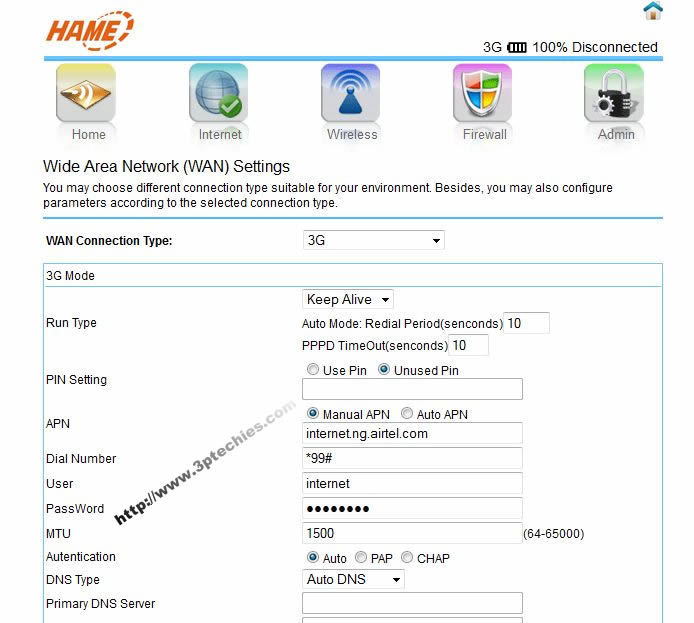 APN Settings for all Network Providers in Nigeria
If you are using this modem in Nigeria or using any of the Nigeria telecoms service provider, here is the various APN settings that should work for you.
If you are outside Nigeria, Ghana, Kenya, South Africa, Germany, France, Mexico and Jamaica, you can visit here for a more comprehensive list of APN settings or get them from your network providers over the phone or from their various websites.
Other advance features that's available in the Hame 3G Wi-Fi Modem admin interface can be tweaked following the above examples.
I have also uploaded the Hame 3G Wi-Fi Modem English Manual here for download.
Drop your challenges below, if there's any.