Many a times I have been approached by friend's that wants a forum or discussion board section alongside their blog running on the wordpress platform.
This is something I can't see being any difficult but some have already resorted to using a separate bulletin board script software like the smf, vbulletin, phbb, punbb, mybb and the rest of them for their forum section.
Frankly, I myself being a lover of Simple Machines Forum (smf) open source work also used their script for our forum section styling it to have a look similar to that of the blog.
Now this guide and tutorial is to guide you towards choosing a better and customizable bulletin board option for your wordpress powered blog or website.
Must Read : How I added 4 Footer Widget Area to my Smf Forum
There are many possible ways you can add a forum to a wordpress powered blog depending on what you are used too, the end result should be to be able to give your users a better user experience and also to prevent them from having to register separately as a member of your forum and separately as a member of your wordpress blog / site.
How to install a discussion forum to your wordpress powered site Migrating from another
If you are already used to popular forum software like; vbulletin, smf, phbb and the rest of them and have now decided to move them over or integrate it with a wordpress site, awesome plugins like; vBSSO, SMF2WP and WP-United can help you to quickly integrate your vbulletin, smf and phbb bulletin board respectively with the wordpress platform so as to allow a single username and password for both the forum section and the blog or news section.
The three plugins listed above will be so useful if you plan continuing on your favorite forum platform while still retaining your wordpress powered blog or website and without tampering with their various databases and users' info.
How to install a discussion forum to your wordpress powered site without Migrating from another
Frankly, this is the major focus of today's tutorial, that is; how to add a forum to wordpress from scratch (haven't previously used another forum platform) as well as tips and useful plugins for managing your wordpress powered forum.
For the sake of perfection, popular opinion, general acceptance, age and ease of support, we are going to introduce the bbpress plugin as our favorite player when it comes to creating a discussion forum in wordpress.
Must Read : Modification (mods) : Tweaks and Basic Guide to Smf Customization
Installation Guide, Configuration and Basic Customization for the bbpress "WordPress Forum Plugin"
Having a discussion board, question and answer board, topic suggestion board or even a full forum section in any wordpress powered blog or website has been very easy since the introduction of the bbpress plugin, as all you will need to have your forum live is just to install the damn plugin the way you will normally install others and start enjoying a lively forum.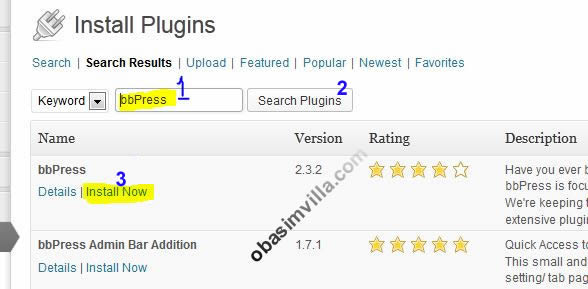 —> Log in to your wordpress admin dashboard
—> Hover over plugins from the left and choose "add new"
—> In the search box, enter "bbPress" and hit the "search plugins" button as seen in the screenshot above
—> Hit the "install now" and "activate plugin" buttons respectively.
Your forum is now installed and activated, all you will need do now is to start configuring it, with those initial setup guide and options.

—> From the left bar again hover over forums and choose "new forum"
From the next window, you will have an editing panel that looks exactly like the one you will normally see when creating a new post, from there you can decide what kinda board you really want.
Taking from the image below -;

You can clearly see that all we wanted was just a single discussion board with only a single category which can differ depending on what you want.
—> You can have as many category as possible under a single forum eg. Technology board or forum can have categories such as; Internet, Phone, Computer ect. under it while Entertainment can have; Sports, Celebrities, Fashion shows etc. under it.
—> You need choose "forum" from label 1 above if what you need is another discussion board entirely different from the other one
—> Only set public from label 2 above when you want the board to go live.
—> Hit the publish button to have your forum go live
Bonus Tips:
#1
Install the "bbPress Genesis Extend" plugin to have bbpress work fully well with your genesis framework
#2
Try the "Better bbPress Signature" plugin to have a better signature area for your wordpress forum users
#3
You can make use of many available shortcodes and css to further style your template or forum look, one of the most common practice is to create a new page titled "Join or registration" and adding the shortcode
[bbp-register]
in it, providing a link to it in your site's frontend to allow easy registration. The use of widget is also recommended as the plugins comes along with many useful widget that can be found from the widget section of your theme.
Also see : If you want traffic; don't use fonts, Use TypeFonts
Concluding Lines
You have learn how to create or add a forum to a wordpress powered blog or website right? you can ask me questions on any area I wasn't very clear enough or drop your useful suggestions as well as sharing this tutorial with your friends, hopping that it will make things a lot easier for them .
I also do hope that this will encourage you to install a forum on your wordpress blog without having to go through the process of using a sub-domain or installing another smf software in a new domain entirely.