Last time on 3rd Planet Techies, I compiled a comprehensive list of mobile banking apps download link for all Nigerian Banks, but will be talking about how to buy Recharge Card for all banks in Nigeria today.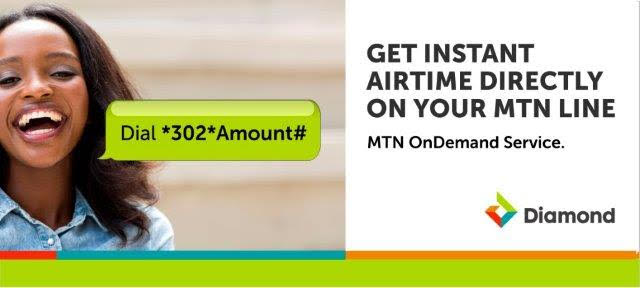 As seen in the image above, this was the message I got from Diamond newsletter some weeks back and was wowed with the speed at which the transaction got completed without glitches of any form.
Instead of sharing the mobile airtime recharge code for Diamond bank alone, I have decided to extend it to every other banks that's offering the USSD mobile airtime recharge service via the user's bank account balance.
Why this Option?
USSD airtime recharge option can come in very handy when traveling, in a new location and/or when in need of urgent top-up for either data or voice calls.
This is far better than the regular quikteller option that requires an internet connection or you, going to the ATM centers to top-up your airtime.
Another amazing thing about using the USSD method for airtime top-us is that, you can do this with a feature phone (eg. Nokia touch) and from the comfort of your home.
It is completely free, reliable and secured as it is linked to the mobile phone number that your bank account is linked to.
The USSD Codes
Here are the various USSD codes to use for recharging your mobile lines from your bank account. They should solve the problem of how to load airtime to your mobile phone lines from your bank accounts.
These codes can work on smart-phone and features phones alike. This means that you can even load airtime to your Nokia touch with these codes as no internet data access is required to use them.
For Diamond Bank: Dial *302*amount#
For MTN Diamond Y'ello Account: Dial *710*555*phone no*amount*pin#
For Access bank: Dial *901* amount#
For Stanbic IBTC Bank:  Dial *909*amount#
For GTBank: Dial *737*amount#
For Eco Bank: Dial *326*amount#
For FirstBank: Dial*894*amount#
For Fidelity Bank: Dial *770*amount#
For FCMB: Dial *389*214*amount#
For Sky bank: Dial *389*076*1*amount#
For Heritage bank: Dial *322*030*amount#
For Jaiz  bank: Dial *389*301*amount#.
For keystone Bank: Dial *322*082*amount#
For Sterling Bank: Dial *822*amount#
For UBA: Dial *389*033*1*amount#
For Zenith Bank: Dial *966*amount#
For Unity bank: Dial *322*215*amount#
More Details
Note: Read this section only if you are a GTBank customer, else, the instruction above should be serve for all persons.
This service can be used to buy airtime for yourself and friends alike. Using the Guaranteed Trust Bank format as a sample for this section, you'll need to follow the tips below.
When Recharging Your own Line
If you run out of airtime or needs buy a recharge card for your phone (no internet access is required for it), simply dial the USSD code *737*Amount# using the registered phone number.
Your account will be credited with the amount entered. for example, dialing *737*200# will credit your phone with NGN200 airtime.
When Recharging Your Friends or Family's Lines
To send recharge card to someone from your Guaranteed Trust bank account using this service, you will need enter the USSD code, amount and the person's phone number.
To wit, dial *737*Amount*Phone number# to buy a recharge card for someone else. for example, dialing *737*200*080000000# will send NGN200 airtime to 080000000
Other Things to know (For GTBank users)
Last four digits of your ATM card is required to complete the "buy for a friend" option
This service is available to only MTN, Airtel and 9Mobile subscribers
You need use the phone number registered with GTBank for this service
You can add new numbers by visiting a GT Bank customer care service
The service is free and limits recharge amount to NGN5,000 daily
Got a question or contribution? Use the comment section at once to let us know about them.