Mobile power banks are fast becoming inevitable for our power-hungry smart devices, especially when traveling or on a long transit.
Xiami phones and accessories are top-notched and usually sold out in few days after launch, we received a review copy of their latest 20000mAh power bank (Xiaomi Mi) from Gearbest late 2015 but decided to make the review after use and prolonged testing.
The features of the Original Xiaomi Mi 20000mAh mobile power bank is going to wow you as it has the capacity to charge MacBook, smart phone and tablet devices.
We are going to walk you through the review, starting from the review main, the features, the technical specification, and where to buy.
The Review
The 20000mAh capacity mobile power bank from Xiaomi looks very premium. The copy we received is white and does come with a 12.5 inches USB cable and a user manual in Chinese.
It worked out of the box and had like 25% battery before charge. We left it to charge until 100% before use. We will be sharing some of our experiences based on our use so far.
The Build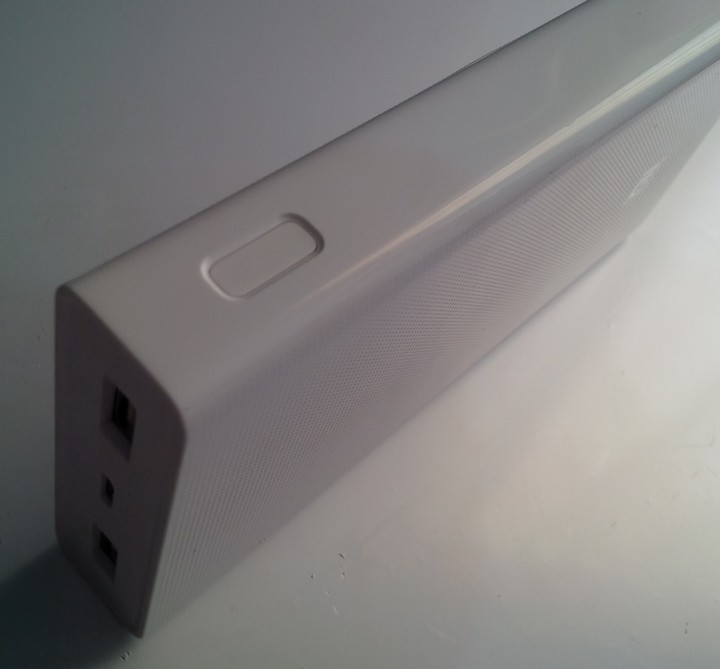 The Xiaomi Mi 20000mAh mobile power bank has a rectangular shape with rounded edges and is built with rugged users in mind, the bulk of the casing is CNC machined from a single piece of aluminum, and perfectly anodized to make it lightly textured for extra grip.
The look and feel is very premium with a water and corrosion resistant surface. The top panel is made up of a mini-USB port for input, 2 USB port for output, and 4 LED indicator light to show the battery level.
On the side panel, there is a rectangular capacity check button, used to show battery level (from sleep mode) and as a reset button when the need arises.
The specs and regulatory labels is stamped at the bottom panel while the front panel is professionally branded with the shiny silvered Mi Logo.
Charging and Discharging
The copy we received for this review seems to be a bit faulty as it takes as much as 12 hours to charge the power bank to 100% as opposed to the 7hrs listed by Xiaomi.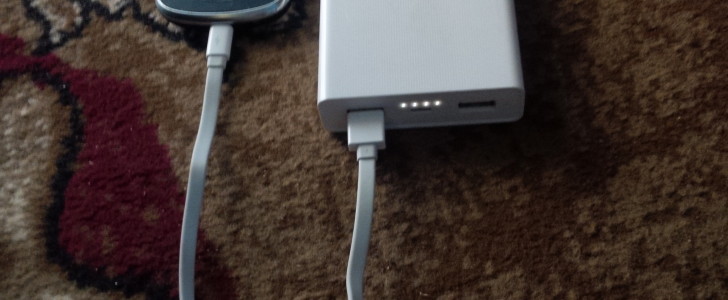 The quick charge feature was amazing as we were able to charge a Blackberry q10 smartphone from 10% to 100% under 2 hours. Other devices we charged with this copy was amazingly fast and efficient.
All the other power banks we have had in the past (including the laptop's USB port) has failed to charge the Samsung galaxy note 10.1 tablet (optimally), owing to the high capacity battery that's saddled with it. But the Xiaomi Mi 20000mAh power bank was able to charge it from 0 to 100% without any noticeable difference from charging with the mains.
The standby time and discharging speed is amazing as we were able to charge Samsung galaxy star Gt-S5282 times three (3x), Blackberry q10 smartphone times two (2x), and few other devices for hours without losing more than 2 bars from the battery status indicator.
Performance
The power bank performance was very good as we were able to charge several smartphones, tablets and other electronic gadgets such as Bluetooth headpiece and hand-held devices without a single flaw.
The lithium-ion battery that's packed with this model of power bank is sourced either from LG or Samsung and is expected to meet your consumption needs.
The Features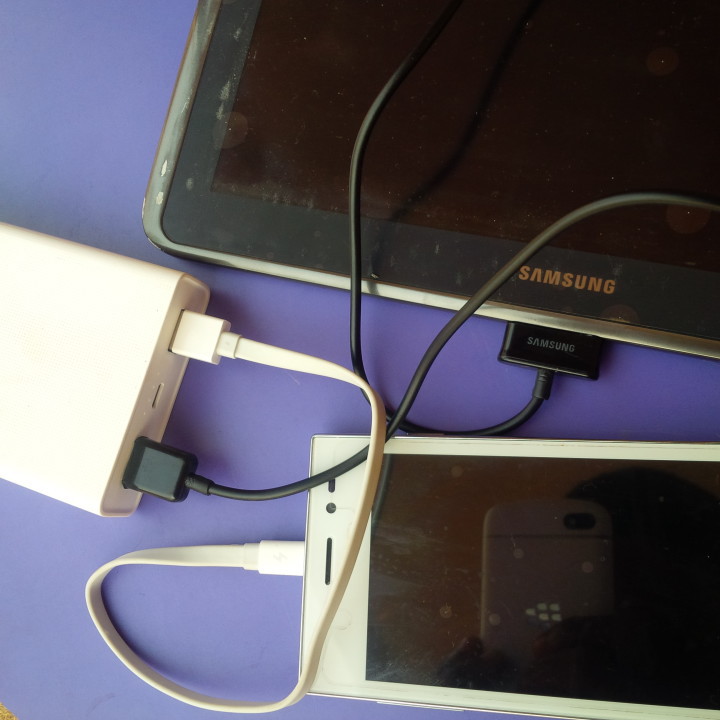 Xiaomi Mi 20000mAh capacity mobile power bank is said to be water and corrosion resistant, and can withstand as much as 50kg pressure limit.
The features are great for the retail price and does have everything (times two) you'll expect from a power bank of this price range.
As clearly outlined in the product's page, the Mi 20000mAh power bank is built with first-class lithium-ion battery and features –
2 USB outputs
the ability to charge iPhone 6 as much as 7 times, iPad mini 3 times, Macbook 1.2 times and Xiaomi Mi4 smartphone 4.5 times
Fast charge technology (DC 5V / 2A 9V / 2A 12V / 1.5A)
4 LED indicator light to show the battery levels
Reliable microchip protection (9 protective layers produced by Texas Instruments)
Heat resistance, Input overvoltage protection, Output overvoltage protection, Short-circuit protection, Incorrect installation protection and Overcharging / total discharge protection
Technical Specification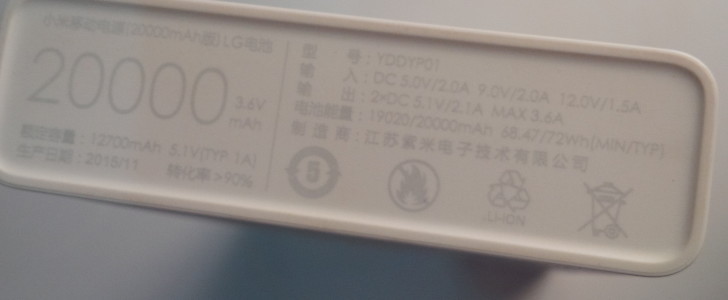 Xiaomi Mi 20000mAH power bank is a multi-purpose, dual USB portable power accessory that's great for nerds and regular smart phone users alike.
It is spec'd optimally and with the heavy-users in mind. It is definitely going to suffice for your power consumption needs. The full technical specification is outlined below.
Manufacturer:
Xiaomi
Model:
Mi Power Bank
Type:
Lithium-ion rechargeable cell
Power charging:
USB Cable
Capacity:
19020 / 20000mAh 68.47 / 72Wh (MIN / TYP)
Input:
DC 5V / 2A 9V / 2A 12V / 1.5A
Output:
2 * DC 5.1V / 2A MAX 3.6A
Charging temperature:
0℃-45℃ (TYP)
Discharging temperature:
Initial: -10℃~+50℃(TYP)
Continuous: -20℃~+60℃(TYP)
Safety:
Supports protection from over-voltage (input and output), over-current (input and output), short circuit, over-charge, over-discharge, and battery Positive Temperature Coefficient (PTC)
Compatibility:
MacBook, Tablet PC, Smartphones, digital cameras and handheld gaming devices (or PDAs)
Size:
141.9 x 73 x 21.8 mm
Weight:
338g
Color:
White
In the Box:
1 x Power bank
1 x user manual in Chinese
1 x USB Cable of Length: 318mm (12.5 inches)
Where to Buy?
Xiaomi Mi 20000mAh mobile power bank is available in most retail store and can be bought online from the reliable online shopping websites.
The review copy we received was shipped to us from Gearbest and can easily be purchased from the product's listing page here. They'll normally ship it for free irrespective of your location.